Good things come to those who wait. And those who waited a year for Dreamcatcher's return were London In Somnia's, who gathered in full force for the first show of the European Invitation from Nightmare City tour on Thursday 24th October. Not even the rain, which according to member Gahyeon had been pouring down all day, could deter the fans, who waited for hours in the dreary weather to see the girls. But the waiting paid off. Summoned once again by their In Somina's through My Music Taste, who organised the entire European Tour, Dreamcatcher were back.
As the show was about to begin, music swelling and screams rising, it was obvious that there were many more people than at the show last year. In such a short space of time, Dreamcatcher have amassed a fiercely loyal fanbase. Their In Somnia filled the hall to the very edges, something that Gahyeon commented on later in the show. "Last time we were here, the venue was only half full. But now there's a lot more of you." The pride in the replying cheers was just a small snapshot into the strong bond that Dreamcatcher shares with their fans. And it was present throughout the entire show.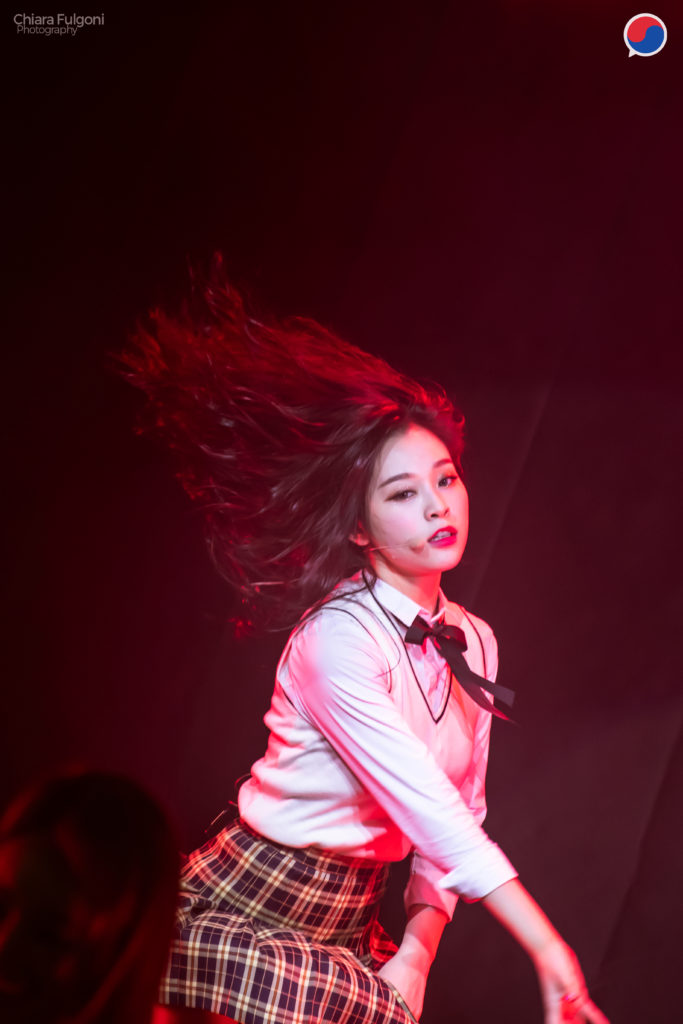 The girls, dressed an individually styled school uniform inspired attire, opened with greeting the audience. As they usually stand seven members strong, the absence of member Handong was felt immediately. Dreamcatcher did not let this go unspoken. Far from it. They acknowledge that she wasn't there, promising that they would bring her with them next time. At this point, a generous fan stepped up to help ease the absence somewhat. An almost life-sized cardboard standee was passed through the crowd until it reached the stage where Sua took it happily. There was a lot of laughter over this, and some members were even happy to point out that they were now taller than Handong. The playfulness of the moment really allowed that close bond between the girls and their fans shine, all within the first few moments of the concert. 
It wasn't long after this that they swiftly transitioned into their first performance. Fly High, a fan favourite, set the tone for the rest of the evening – high energy, fun, yet commanding. Dreamcatcher's stage presence cannot be understated. They filled the small stage not only with their polished choreography but with immense power. They are truly captivating to watch, their smiles genuine, the intensity of their gazes during key moments genuinely alluring. A year has made them assured in their places on stage and the added confidence radiates from their performances. This was particularly evident going into the next song. Chase Me was an incredibly strong debut song, one that established Dreamcatcher's concept with little hesitation. Now, the girls match this lack of hesitation. The song is powerful and the members did not hold back in their performance. 
And what they paid forward in performance, the crowd paid back in their response. Fan chants were executed to perfection – understandably as In Somnia's have now had a long time to learn them – with some male voices in the crowd being particularly loud.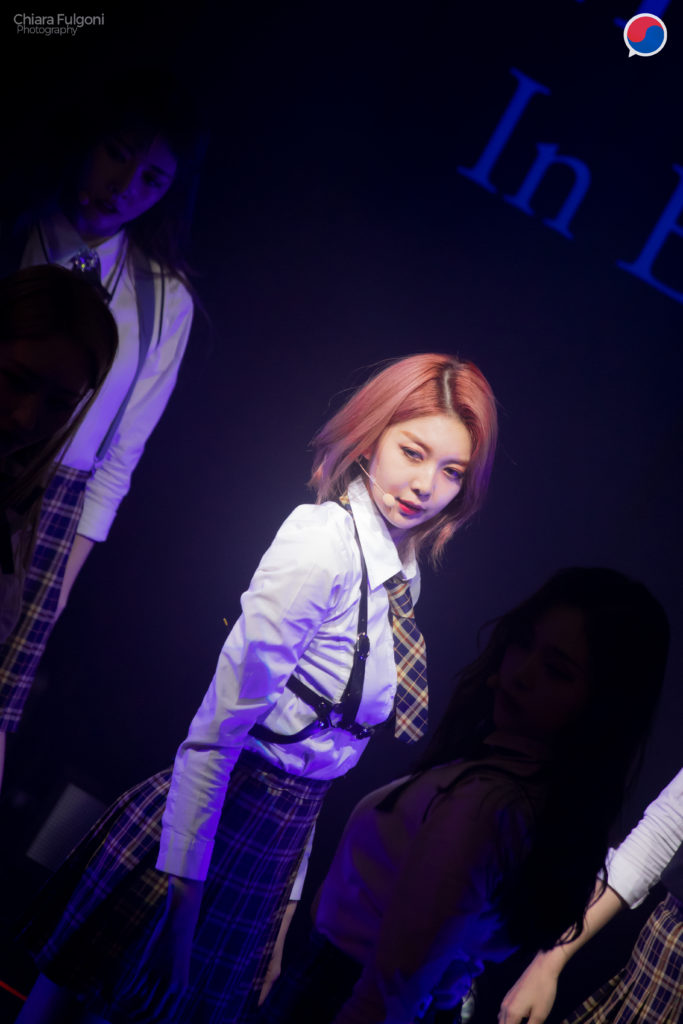 It was perhaps a good idea to calm things down a little with their next song. It's Okay, a track from their 2017 mini album Prequel, gave the chance for the group to sing directly to the fans. Their voices could be heard distinctly, with Siyeon, in particular, offering up some wonderful high notes. Giving some attention to lesser-known B-Sides, such as Wonderland from Alone in the City, added to this lower energy section. Singing with cardboard Handong was also a popular pastime throughout these performances. The relaxed wandering of the members on stage, interacting with fans by throwing out finger hearts and glowing smiles, allowed everyone to catch their breath after the opening.
But that lull did not last long. Soon, they threw themselves into a full group cover of Camilla Cabello's Havana. This had been seen before by many fans, but never in person. Thus, it's safe to say that quite a few members of the audience got rather excited to see it live. The girl's vocals carried well, and their choreography was on point. And to keep with this theme, maintaining the excitement from the cover performance, Dreamcatcher launched into What, followed up directly by Goodnight. With these two songs perhaps being some of the best to sing along to, especially with the chanting during What's chorus, the atmosphere truly felt heightened.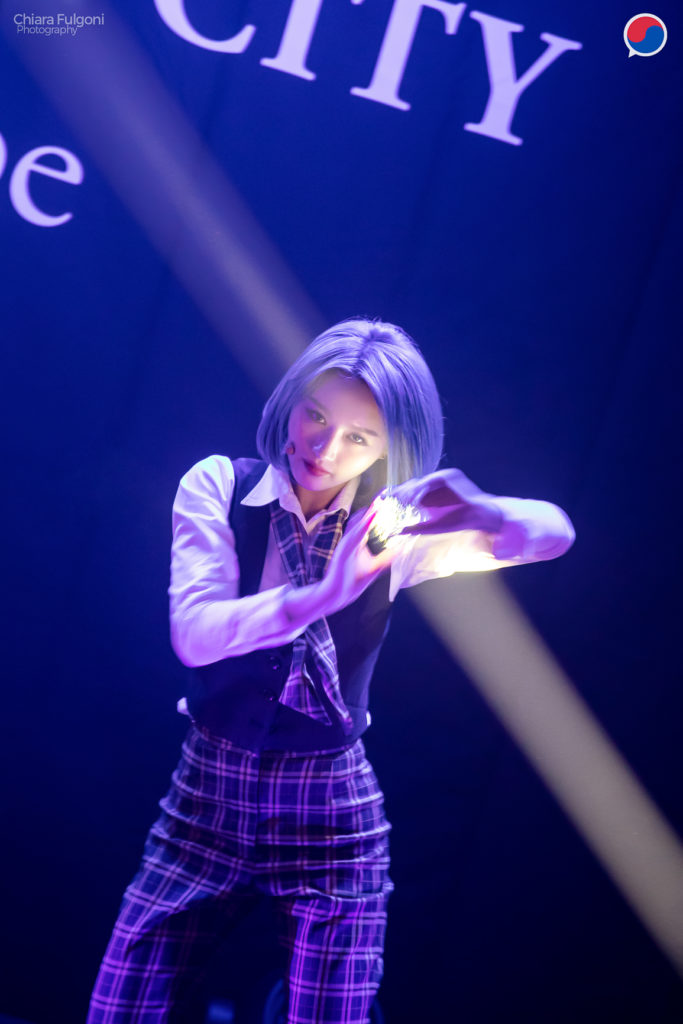 With Dreamcatcher, their duality is one of their biggest draws: Dark and serious when performing to their concept, bright and lively when not. This also means that they're more than capable of switching up their style to match with other concepts too. Splitting up off stage, Siyeon and Sua returned alone, armed with their unit stage – a cover performance of Taemin's Sayonara Hitori. Initially, there was a murmur of confusion, maybe at the song choice. If there was any doubt in the room, it was quickly erased. The initial gentleness of the song contrasted with the later intensity fitted bot Sua and Siyeon perfectly. For Dami, Yoohyeon, Jiu, and Gahyeon, two lighter songs gave them the chance to provide a little bit of extra fan service. Twice's TT followed by Red Velvet's Bad Boy – cute and sexy as some might put it. But given the fact that huge smiles were given all throughout, it was hard to take the covers too seriously, in the best way.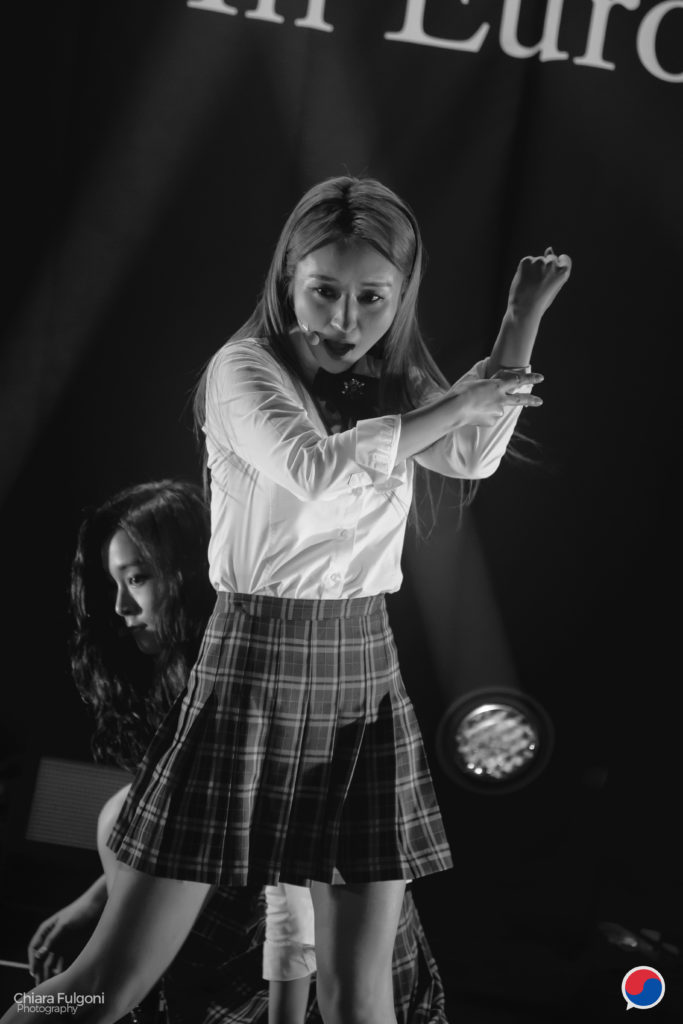 Trying other artists singles, however, would never hold up to Dreamcatcher's own singles in a sea of In Somnia's. You and I was the next for the group to take on. A particular moment of surprise came when Dami performed the magic trick she became well known for during promotions for the title track. Perhaps it was due to the fact that this was not unexpected that it felt like seeing the small illusion for the first time once again. The extendable cane appeared and the crowd near enough went wild, sparking a small smirk from Dami. The second of these powerful singles was Piri. This stands as one of Dreamcatchers more experimental releases, taking influence from the more diverse discography outside the main singles. Make no mistake; Dreamcatcher knows their sound, and they do it well. Yet the heavy EDM or quieter, acoustic tones of some of their other tracks can often get forgotten outside of the more dedicated fan base. Piri, with its heavy bass, synth-driven melodic lines, and overall more diverse instrumentations, makes for a song that is still true to the sound the group has become known for but allows them to stray with little consequence. On stage, this is translated in assured dancing and some great moments where the pace is slower, building anticipation for the low base drop and chorus.
Of course, a k-pop concert would not be complete without some interaction between the songs, and Dreamcatcher were more than happy to provide. Taking a moment to pause and discuss their newest mini-album, Raid of Dream, the girls asked the crowd what their favourite song out of the five found on the new release was their favourite. A resounding cry of Silent Night was returned; a song that almost feels like a sequel in style to the ever-popular Sleep Walking. Both songs abandon all pretence of rock-inspired style for full EDM, and it's a sound that may one day be an interesting avenue for them to try in their lead singles, if not at least a blend. The group teased, asking whether fans would like them to perform Silent Night. Instead, they played a snippet, allowing the girls to sing along and share it with those who requested it. This then happened for all of the songs on the album, ending with Deja-Vu, the title track. When the small part of the song being played stopped, In In Somnias continued to sing. In fact, they sang the entire chorus acapella, putting huge smiles of surprise on the girl's faces as they listened. It was a tender moment and one that both the group and fans in London will no doubt look back upon with pride.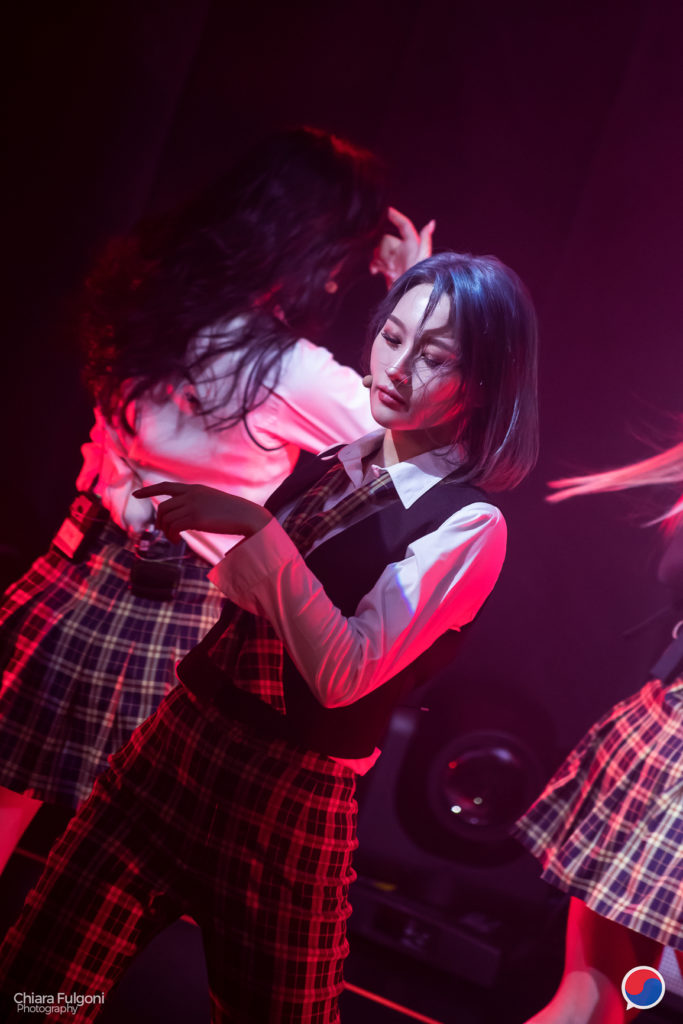 But it's always best to leave it to the professionals. Dreamcatcher took on the song themselves for one of the next performances. Deja-vu is again a song with varying pace and intensity. It's also a song that's recently been promoted. There's a certain kind of thrill that comes with hearing a newer song for the first time, something that the artist on stage inevitably picks up on. Feeding off the energy in the room, the performance they gave for this song stood out.
All too soon, the evening drew to its close. It was during this goodbye segment that Dreamcatcher acknowledged the dedication of fans in London, and how much their fanbase has grown. With promises made to return, everyone knew this was not quite the end. But the heartfelt words were perfectly timed none the less. The second the members disappeared off stage, the atmosphere shifted. In the dark, it took one In Somnia to begin chanting the group's name for the whole room to chime in, catching like fire.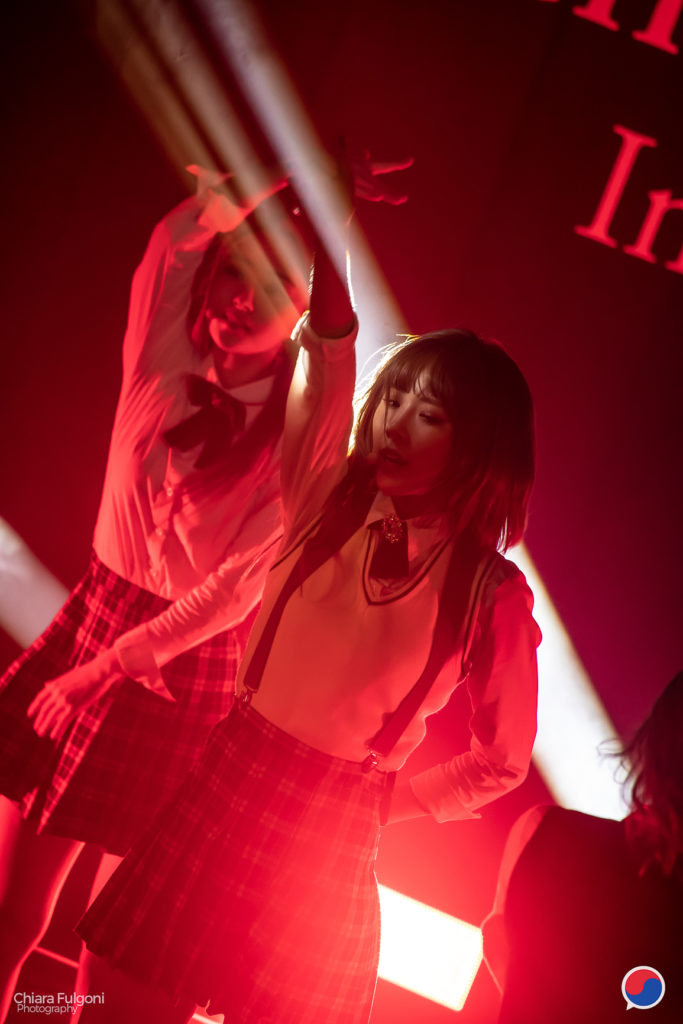 Then, out they came once more, adorned with tour hoodies and ready to forgo the pristine choreography to once again play around with the crowd. For the encore, the girls sang along to tracks such as Mayday and July 7th. There was a lot of giving from the audience too. Light up signs for Sua and Jiu, using their real names, a panda hat for Dami, and many funny stills of the girls could be spotted, items that Dreamcatcher took with pleasure and had much fun with on stage. At the very last minute, the customary signed flag was brought on stage for a photo opportunity. Capturing the moment with their London In Somnia's, Dreamcatcher thanked everyone one last time and walked off stage.
As is often the case, the energy from the fans did not subside. Though a certain tiredness could be felt in the air, it only went to show how much the fans poured into the concert, just as much as Dreamcatcher did. For a group that debuted a mere two years ago, they have started to achieve something that most girl-groups find challenging – growing and loyal and passionate fanbase. There's no doubt that when the girls return – when, and not if, as they will surely be called back by In Somnia's once more – there will be even more fans awaiting them. And with the dedication that the group shows to their concept, genre, and performance, it's no wonder everyone keeps coming back for more.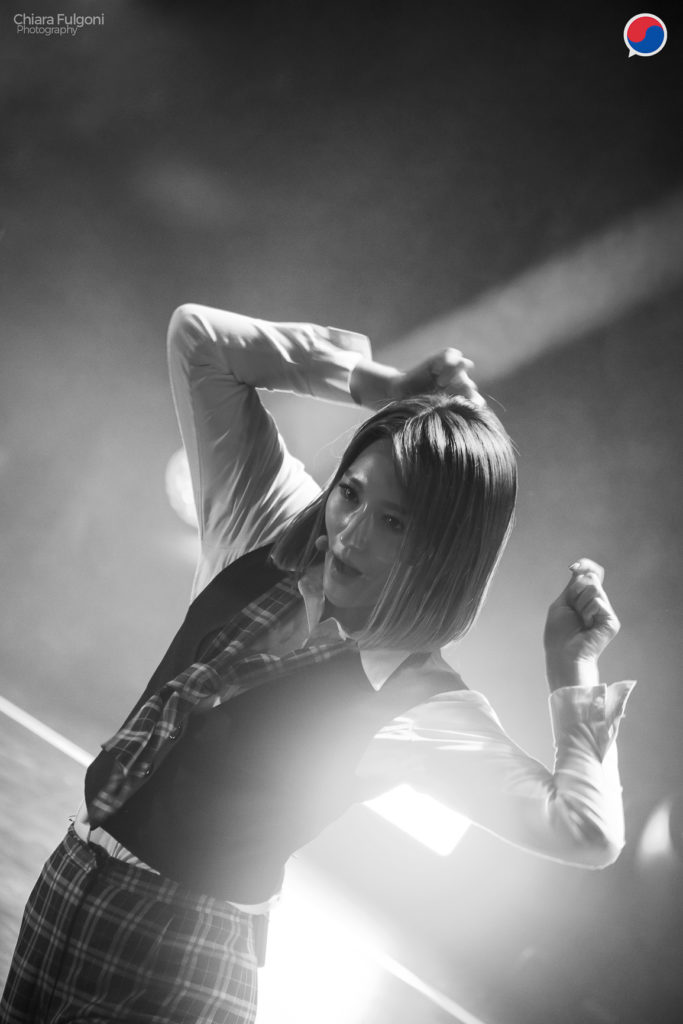 Thank you to My Music Taste for our own invitation to nightmare city!