Let's start by saying two things – this book has an intended audience. However, that audience is not me. This book also comes with an ADULT CONTENT WARNING.
Plot:
The Amazon plot description of this book is as follows:
When an Access All Areas pass gives more access than you could dream of…

If you were offered the opportunity of a lifetime to be the official world tour photographer for popular Korean pop group, would you turn it down?

I sure as hell didn't.

An all-expenses paid trip to nearly twenty tour dates in cities around the world with six ridiculously sexy guys? You'd have to be crazy to turn that down!

Only, it turns out that a photographer wasn't the only thing I was doing on that tour. I've got my hands full with keeping group discord, visa restrictions, and a growing list of logistical problems turning the tour into a nightmare out of the photographs.

If that wasn't enough, I'm attracted to the members of Onyx.

And they're attracted to me.

Now I've also got to hide a relationship with Onyx from the world too, because if I don't, it's not just the tour that could get canceled.

ONYX: Truth is the first book in a Why Choose fast-burn romance and ends in a HFN. This book contains strong language and sexual situations that might not be suitable for a younger audience. Subsequent books in this series also contain some MFM, MFMM, some members who aren't afraid of each other's bodies, and one member who likes to watch… If none of that is your thing, you should probably spare yourself and not read this.

Join Onyx on their "Our Truth" World Tour now!
I have to admit, I went into this blind and naive. If I had been a big reader of fanfiction, I might have known what those anagrams were. I also didn't read any reviews (At the time of writing this review, the book has 4.7 out of 5 stars on Amazon, with 21 ratings) or the author description. What I expected from the book was a Mary Sue who, while working with a group, would find out numerous members of a group were into her, resulting in some form of a sexual situation – I had at least seen that warning. However, it is that, and more!
J.S. Lee / Ji Soo Lee's bio on Amazon states:
After completing the book, I googled 'Reverse Harem' for a little more insight, only to discover that this is a relatively popular genre within Manga and Anime. While I have heard of 'Ouran High School Host Club' and 'Fruits Basket', I had no idea what they were about. So, this book certainly taught me something!
That is the main premise of this book, and the following instalments 'ONYX: Heart', 'ONYX: Love' and 'ONYX: Unity' – though I get the impression that the number of members involved will grow. ('ONYX: Forever' releases in July).
As you begin reading, you
realise that there is a history for Kate (the main character) and her best friend Holly, who runs Atlantis Entertainment. There is, in fact, a whole 'Atlantis Universe', though it does state the ONYX series is written so you can enjoy this series without reading the others.
This is one of the biggest positives of this series; the world-building is extensive. Lee has created a whole entertainment company, the groups have full biographies and are fully imagined Kpop stars. For example, Lee imagines Youngbin of ONYX to look something like Cory of 24K.
Given her extensive world-building, it is clear Lee knows her Kpop – the book chapters are even all named after Kpop tracks. This is an interesting addition and gives the reader an insight into different tracks from Korea, some lesser-known, that inspired elements of the book.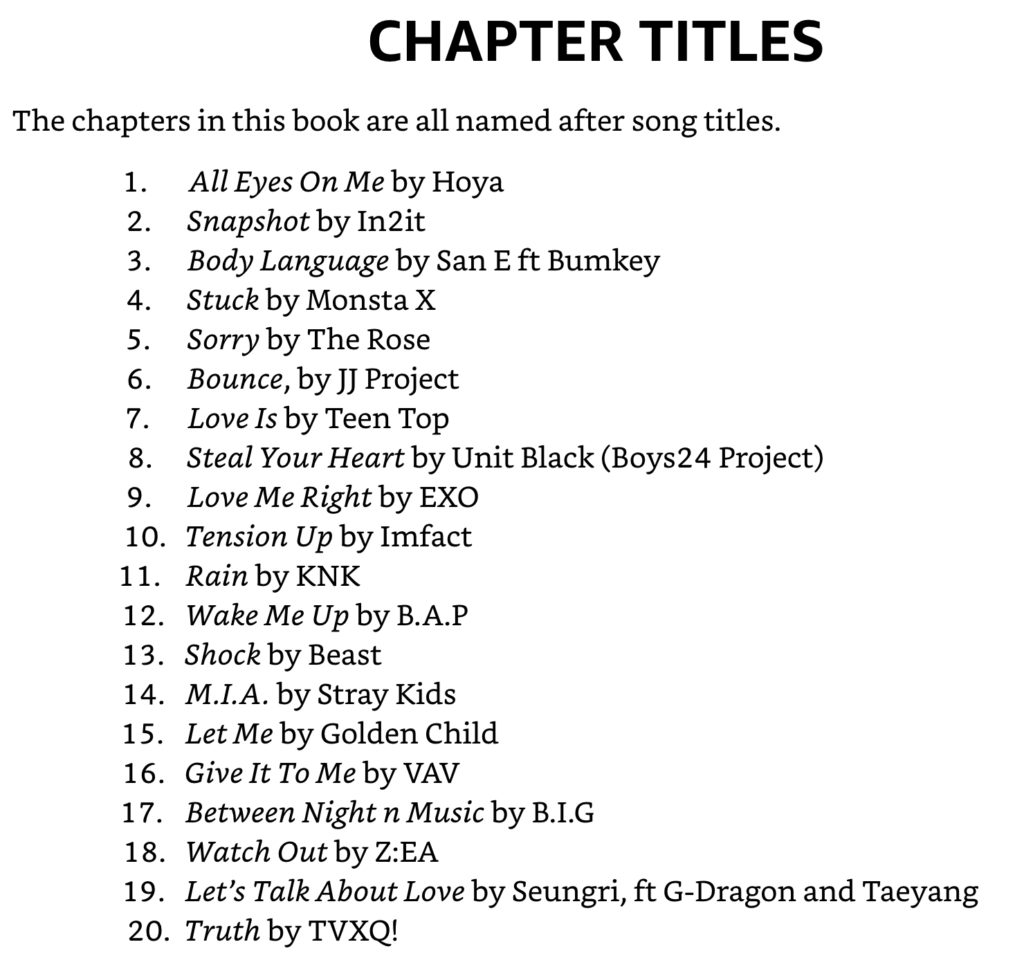 ONYX:
ONYX is a six-member kpop group said to have debuted two and a half years ago. They've had all kills, but they've also had a scandal. One month prior to the story, Oh Bohyun leaves the group and is replaced by CX. Their first-ever world tour is about to kick off, something which would have been less believable even just three years ago, but the likes of MyMusicTaste make this much more possible now.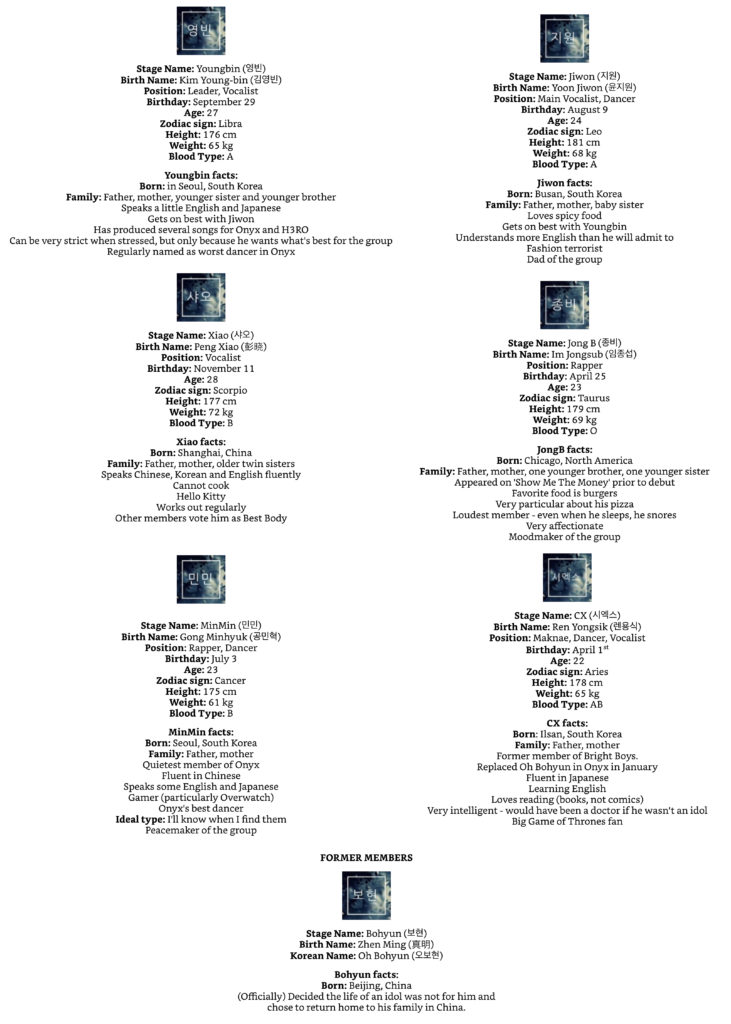 CLICK ON THE IMAGE FOR FULL-SIZE BIOS (one line omitted from Bohyun's due to spoilers)
As you're introduced to the group, you're given just enough information about them to make them feel legitimate. For example, Jong B appeared on "Show Me The Money" before debut, bringing immediate association to the likes of Joohoney of MONSTA X or Bobby of iKON. Although the information isn't too much to become unbelievable, we're not led to believe he made it past auditions and rivalled Bobby in a pre-debut anomaly win.
Kate:
The less-believable elements come from Kate. Kate is a Mary Sue character. Aside from being an attractive white girl, she's not overly described – her blond hair is dyed, so her appearance is fluid –  and she had those predictable and maybe even boring flaws. For instance, she doesn't pack a coat for winter in Korea and blames it on being American, despite having lived in Japan and worked in Korea. She also happens to mutter all of her thoughts just so every member of ONYX is able to know what she is thinking about!
Mary Sues are a staple of fanfiction, and to some extent allow a reader to project into a narrative – Kate's predictable character traits (surprise, she manages to avert a scandal despite often knowing next to nothing about Kpop) allow anyone to be her.
So: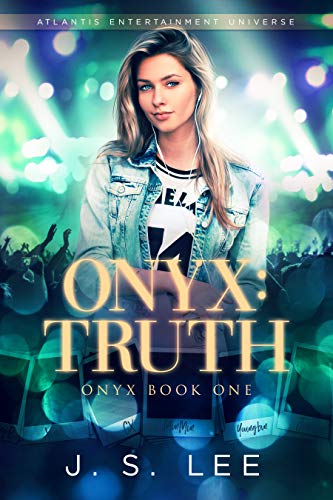 This is an easy read. It is a fast-burn story, so the sexual themes and the development of the 'reverse harem' happen very quickly, despite being unrealistic. But the style of writing doesn't feel like it would work to be a slow-burn. Elements such as Kate's lack of filter between brain and mouth, for instance, would feel too much, and just annoying, if the aim was to build tension (sexual or otherwise).
'ONYX: Truth' mixes adult themes with character development and emotional friendship building. If you love fanfiction with original characters and aren't averse to the R/18 ratings, this could be a book you enjoy. In fact, the series and extended universe might be just your cup of tea. I guess this is 'Twilight' meets '50 Shades', only with Kpop.
Disclaimer, I wasn't a 'Twilight' or '50 Shades' fan, but that is why the 'ONYX' series could be incredibly popular among fans who are familiar with fanfiction and know they are picking up a story that contains sexual situations. The 'ONYX' series is a fantasy scenario, one with a main character you can easily mentally replace if you so wished. It is the kind of media you can escape in and not really have to think too much about the plot. It's not complicated, it's just smut and fluff (I do know some fanfiction words) that you can lose yourself in.
READ ONYX: TRUTH
The 'ONYX' series is available in paperback, though on Kindle costs either £3.99 or is free with Kindle Unlimited. Prime subscribers can get one book free per month with the 'Kindle Owners' Lending Library'. Kindle Unlimited is £7.99 a month (standalone to Prime) but you can currently get TWO MONTHS FREE – meaning you could actually get through a lot of Lee's books and pay nothing! A win if you're not an Amazon fan, or you're watching your spending through lockdown.
This offer runs through to the end of 2020 and we are not being paid to promote this
Below are some thoughts on the book that include spoilers.
SPOILERS:
As I said at the beginning of the review, I am not the intended audience for this story. However, I wanted to delve more into that, so that anyone who wasn't compelled to read it, could get more of an idea why this isn't for everyone.
The reason I am not the intended audience is that primarily I rarely read romance or rated-adult fiction. At the same time, I know a fair amount about Kpop and can therefore over-analyse the world much more than you're supposed to do.
This is a Mary Sue story. It is 'Twilight' meets '50 Shades'. Both of those stories started as fanfiction – 'Twilight' was 'Harry Potter' fanfiction and '50 Shades' was 'Twilight' fanfiction. Both characters from these books, Bella and Anastasia, are also Mary Sue characters. A Mary Sue works best when they are the self-insert, wish-fulfilment kind of character – you can be them and you get to fulfil some kind of wish or fantasy through them. Kate is this as I covered above, but if you are critical of the Mary Sue style, there are plenty of things that will irritate you in the first 'ONYX' book.
Why is this twenty-something-year-old woman who knows very little about Kpop (even though she worked with H3RO) able to be a group photographer?
She's a photographer and doesn't know what SNS is?
Why is she able to be so familiar with the idols? (She is pulled up on this once, but it then continues.)

Why is a photographer left on a shoot with a member without company personnel?

Why is a photographer with very little Kpop knowledge suddenly allowed to be in the inner circle of a group's team?
These flaws spill into the flaws in the Kpop world-building. While the world is on-whole realistic, there's still moments where enough knowledge of Kpop leads to plot holes.
ONYX IS UNBELIEVABLY SUCCESSFUL?
ONYX is popular enough to play at Gocheok Sky Dome baseball stadium in Korea. Comparison wise, EXO, BTS, BIGBANG Wanna One, IZ*ONE and X1 are the groups who have played here. EXO became the first group to play a dome concert in Korea, putting on 'Exo – Love Concert in Dome' at Gocheok on October 10th 2015, with 22,000 tickets sold for the one-off event. The above-mentioned groups have since played multi-night concerts here.
Smaller groups aren't playing this venue and certainly aren't playing dome shows, so could that mean ONYX hold similar popularity to BTS and EXO domestically (even for a one night concert on their world tour) – in just two and a half years? This could mean ONYX is the quickest group to rise to domestic dominance EVER, if we omit groups formed of other idol-group members, or through a talent search with a pre-set end date.
However, they sold 2000 tickets for their first North American show (Canada). And okay, EXO has never played a show in London despite holding the title of the most successful domestic group until BTS flexed their powers in the past couple of years, and their first Canada show sold 7.8K tickets around four years into their careers compared to the 70K sold in Seoul. When a group is domestically strong, international markets aren't always too important.
Again, are we looking at a group more domestically powerful than EXO, that's, therefore, within a company akin to SM Entertainment?
If that's the case, this poses another question:
Why would they risk this to bring in a member from a group who had such a massive scandal?
To answer some of the previous questions, there are parallels to real groups that help make the overall world gel.
EXO and SuJu survived losing Chinese members who then went on to promote in their home market
Bohyun's official reason for leaving is 'the idol life wasn't what he expected' but he then promotes in China causing a backlash from fans. This happened to Yoon Kyesang of g.o.d who left to return to 'normal' life, but quickly found himself acting and garnering negative attention from fans.
Would this all be more believable with a smaller group and a smaller company? Probably not, because really, the Kpop world is second to this reverse harem that I only just learned is a 'thing'. People aren't reading this for the ins and outs of Kpop companies. I over-analyse.
ALSO:
In a smaller gripe, I have some issues with the choice of wording in sexual situations. Though as someone currently reading Game of Thrones and knowing the words George R.R. Martin chooses to describe body parts, Lee's choices are more than acceptable. I doubt it will bother anyone who has read a variety of fanfiction authors with varying styles.
On the plus side, the book promotes safe sex, and now that I know what those abbreviations mean, the series looks like it will go on to include scenarios that don't shy away from the male-male shipping many fans enjoy. Though admittedly, the first book does essentially see the three members included in the reverse harem go 'no homo'.
OVERALL:
Overall, 'ONYX: Truth' is a perfectly acceptable escapist piece of fiction for Kpop fans. Although the series would only gain three stars from me personally, the five-star reviews are understandably the rating from the right audience.