During a twitter AMA, focused entirely on Kpop, French songwriter and producer Alawn, dropped some news about his latest project.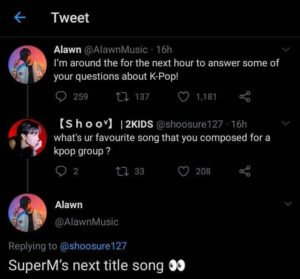 When asked what his favourite song to compose was, Alawn drew attention to 'SuperM's new title song'.
Alawn has been credited to titles such as NCT127's Punch, WayV's After Midnight and VICTON's Mayday.
Safe to say that we are all excited to hear the next SuperM title song and to know why Alawn totes it as his favourite.