SOK online FEST, the first K-pop festival from Spain, will be held on August 29th at 2PM CEST.
This unique festival creates a special connection between K-pop artists and fans. Spectators will not only watch the performances but be able to take part in a Q&A or giveaways with the promoter and artists through social media.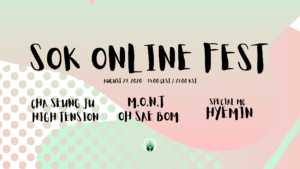 The line-up has 4 groups and solo acts, with Hyemin MCing the event. These acts are boy group M.O.N.T (몬트); member of MAXXAM Oh Saebom (오새봄); R&B indie singer Cha Seungju (차승주); EDM Duo High Tension and the MC herself, Hyemin.
SOK online FEST is organised by SOK Entertainment – promoter and producer of K-pop events in Spain.
Tickets can be purchased here.
For more information on the event, visit the SOK Entertainment website.