Fancy learning a new language this year? Or perhaps want to improve the one you already know?
King Sejong Institute at the University of Lancashire has launched its 2020-2021 classes. Due to COVID-19, all classes will be online. Intermediate and Beginners classes are being offered.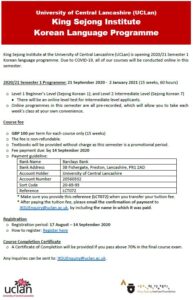 An announcement was made through the 'London Korean Links' Facebook group.
The first semester will be from September 21st, 2020 to January 2nd, 2021. To access the course, you need to register before September 14th, 2020.
All classes are pre-recorded so you can learn in your own time.
For more information about this specific course, email IKSUEnquiry@uclan.ac.uk. To register, follow the link.