A refund is definitely NOT what you'll be asking for if you have watched the "Don't touch me" music video.
The project power quartet consists of Jessi, Mamamoo's Hwasa, Junghwa and Hyori, and was formed by the "How do you Play" variety show, Jimmy Yoo being the group's manager. Released on October 28th on YouTube, the visuals and concepts really screams female power!
One iconic aspect of this group and song is the range of K-Pop generations present in one video. Ranging from modern day artists such as Jessi and Hwasa, to much earlier artists such as Junghwa (who debuted in 1993, two years after Hwasa was born!). It really proves that age and era certainly isn't a boundary when being a current day idol. In regards to the actual song, it reminded me of late 2000's K-Pop in parts, and the beat for some reason reminded me of Shinee's Lucifer, although both beats are completely different. It also sounded like a typical EDM track with the recurring electronic sound effects, really making it the perfect nightclub rave tune.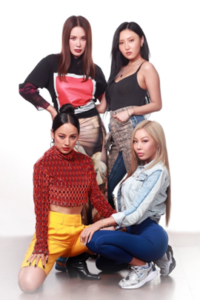 From the song, I gathered the meaning is about having free will to do what they want, not coinciding with or conforming to societal norms. The girls are celebrating being able to dress, look and act how they want and perhaps the repeated lyric, in the chorus, "Don't touch me" tells people not to throw their comments and insults as they do not phase them. However, they also do explore the previous agonies that they experienced to be able to have this strong mindset:
"Tears are what made me, after all I am used to it".
In a previous album review where I reviewed Jessi's Album "Nuna", I covered the song "Star", which really dove deep into Jessi's career as an idol and performer, highlighting the hardships she has faced on her journey to becoming the artist she is today. I find it admirable when idols are able to cover this topic in their songs, as it really shows that their journey hasn't been easy or without struggles.
The girls gave me assassin and mafia vibes, with the presence of weapons and badass outfits and perhaps more businesswomen vibes with the long, matching, striped dresses. Some of the outfits also reminded me of Charlie's Angels, especially with the black outfits in the beginning of the music video. It is obvious that choreography was not the focal point of this music video, as it is quite basic and not as energetic as your typical idol groups. However the vocals and visuals really made up for it, as those aspects shone in the video.
Overall, the music project group really exceeded my expectations and smashed their debut. I was really excited after the collaboration between these four artists was announced, ESPECIALLY since it involved Hwasa and Jessi, which is a collab I have been waiting for!
What are your thoughts on Refund Sister's debut?