Out today, 'We Can Do Better Than This' features 35 extraordinary voices sharing their stories and visions for a better world for LGBTQ+ people, edited by Amelia Abraham.
As a society, we talk about achieving 'LGBTQ+ equality', but around the world, LGBTQ+ people are still suffering discrimination and extreme violence. How do we solve this urgent problem, allowing queer people everywhere the opportunity to thrive?
In 'We Can Do Better Than This'. 35 voices explore this question. Through deeply moving stories and provocative new arguments on safety and visibility, dating and gender, care and community, they map new global frontiers in the fight for LGBTQ+ rights.
Pabllo Vittar pleads for the end of hate murders. Olly Alexander champions inclusive sex education in schools, and Beth Ditto calls for a revolution in representation. Elsewhere, Mykki Blanco sets out a vision to end HIV stigma, Owen Jones demands improved LGBTQ+ mental health services, and Travis Alabanza images a world without gender policing.
Don't Be Afraid To Be The First – Holland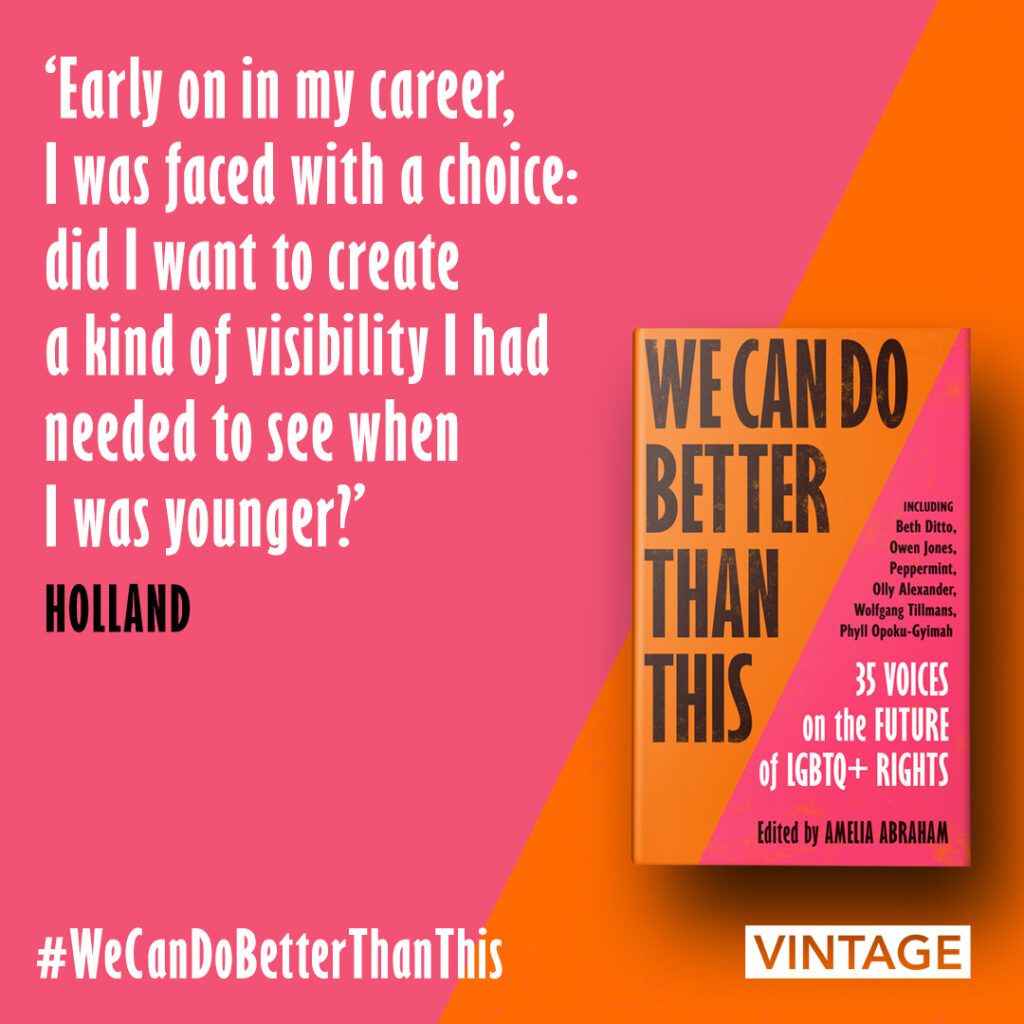 In his chapter, Holland – South Korea's first openly gay kpop idol – details some of the bullying and trauma he faced at school upon understanding his sexuality and wishing to live his truth.
He speaks of learning the value in his truth both for himself and for many others. He mentions his role models – Lady Gaga, Troye Sivan, Madonna, Celine Dion – and notes that he needed to see himself represented in his home country. This spurred his decision to be that role model at home.
Regular readers of UnitedKpop will know much of how homosexuality and the LGBTQ+  community is perceived in South Korea, but Holland details this for those who do not – even explaining elements he hadn't realised were so prevalent.
While Holland's vision for the future is focused primarily on 'normalisation' through exposure in South Korea, it is a vision that rings true worldwide. The more representation is visible – the less it seems 'different.
Sex?! Relationships?! PrEP?! – Olly Alexander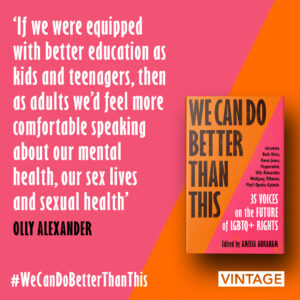 A favourite of many Kpop fans, Olly Alexander of Years & Years is, of course, a contributor to this book. Unapologetically himself and a queer icon, Olly (while open about his fluctuating mental health) is confident in his truth – but this was not always the case.
Olly went to high school in the early noughties, meaning his sex education lessons only taught heterosexuality. Anyone around the age of 28 and up will have had sex education lessons under Section 28. Section 28 was a British law that prohibited the "promotion of homosexuality", introduced by Margaret Thatcher's Conservative government. It was repealed in Scotland in 2000, and in England and Wales in 2003. However, ten years later many school authorities still contained wording similar to Section 28 in their Sex Ed guidance, and its effects are still felt today despite DfE guidance prohibiting 'discriminating on the basis of sexual orientation'.
Olly discusses his mental health, his learning journey, dealing with his internalised homophobia towards himself and his fears of being open and honest in discussion.
He also covers his role in Russell T Davies' Channel 4 miniseries 'It's A Sin' and his important work in open and honest conversation about HIV education and prevention.
We're still working our way through 'We Can Do Better Than This', but it is an emotional and pivotal read. Whether you identify as LGBTQ+ or just wish to be a better ally, this book is more than worth a read to further your understanding and empathy.
——
'We Can Do Better Than This' is edited by journalist and author Amelia Abraham, with writing from:
Amelia Abraham · Amrou Al-Kadhi · Travis Alabanza · Olly Alexander · Jonathan Anderson · Yasmin Benoit · Mykki Blanco · Kate Bornstein · Vincent Desmond · Beth Ditto · Naoise Dolan · Adam Eli · Shon Faye · Fox Fisher · Hannah Gaby Odiele · Andrew Gurza · Holland · Levi Hord · Mazharul Islam · Juliet Jacques · Owen Jones · Sasha Kazantseva · Riyadh Khalaf · Madison Moore · Leticia Opio · Phyll Opoku-Gyimah · Peppermint · Tom Rasmussen · Matthew Riemer · Juno Roche · Bobbi Salvor Menuez · Shura · Carl Siciliano · Wolfgang Tilmans · Pabllo Vittar.
UnitedKpop is a community of diverse people from all backgrounds. We continually work to better ourselves and the greater Kpop community by amplifying voices from all aspects of life. A large percentage of our contributors identify as LGBTQ+ and we celebrate this every month of the year – not just pride.

Though with that being said, Happy Pride Month to all though who identify as LGBTQ+ whether out and proud or living your truth quietly. We love you all!