[HEAL Together] London. February 14, 2023#HEALTogetherTour#HEALTogetherUK pic.twitter.com/Jwm5Z4gD32

— 더로즈_The Rose (@TheRose_0803) February 17, 2023
For many Valentine's Day is a day full of happiness and love, with many people choosing to spend the day with those they love or asking the person they most want to be with. However, for those who don't have a valentine the day can be difficult, and as someone who this year didn't have a valentine. It came as a no-brainer when announced in December last year that the band would be coming to the O2 Forum Kentish Town to spend the day with the idols I love.
With the lights dimmed and only the multicoloured lightsticks filling the sold-out Forum Kentish Town. Black roses would erupt as the band entered the stage. First, warming up with '~,' as well as 'Definition of ugly' from their latest album 'Heal' captivating Black Roses with their suit and tie attire. The band not only sounded great but also looked the part as well.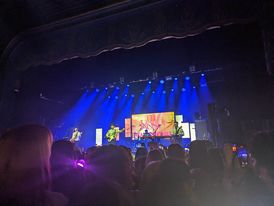 Next, the crowd would be treated to some of the band's older discography. Before, being treated to a performance of 'Modern Life' by the leader and main vocalist Woosung. This led to the introductions, welcoming the audience to the show, and wishing everyone a happy valentines day, with Woosung even asking the crowd if they had valentines and asking if he could have 700 valentines to which the crowd was very onboard as the screams of "Yes" echoed through onto the stage.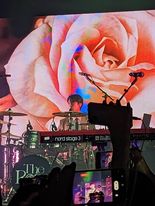 Then Jaehyeong would have his moment to shine. And after the band would talk about his writing ability and the new album as a whole. The bassist would start emotionally talking about his writing process over the years. Before pouring his heart out performing with much of the crowd feeling these emotions, singing the likes of 'Childhood' and 'I.L.Y.'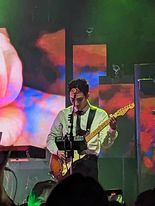 The band would soon change the tempo, however, and after a beautiful moment was where a couple would become engaged. The band would start to ignite the crowd, performing songs 'Yes' and 'Time.' Getting the audience to sing along as they would finally finish the night with a huge reception with Black Roses singing word for word on the songs 'Cure' and 'Sour.'
This would be the end of the night before the encore, where after a quick change into their tour shirts, each member would come back out one by one and sing individually to the crowd as they performed 'Black Rose.' This would be followed by a tour picture with the fans and an extended version of 'Sour' as they waved bye to the crowd, throwing out roses and saying their goodbyes.