It's been little under two months as EXO made their swift return with their 4th Full Album Repackage 'The War: The Power of Music', yet they're still proving that they're a formidable force by easily sweeping through the charts despite making a comeback so soon after 'The War' in July!
See more: [NEWS] EXO shoots up in the UK iTunes Album Chart!
The M/V for 'Power' is nearly at 4 million views and has been linked in below, which looks to be an origin story that provides a possible alternative backstory (in contrast to the MAMA era) to how they acquired their superpowers.
The album has charted in 48 countries, reached #1 in 24 countries and has currently reached a peak of #3 on the UK chart! EXO-L's all over the UK have continued to show their love for the boys EXO remains to be the highest ranking K-Pop group on the British charts, having previously broken the record in July by reaching #3 on the main Album Chart and once again by breaking their own record at #2 on the UK Pop Chart.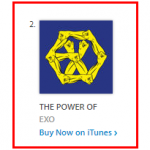 [UPDATE 7/9/17] EXO officially peaked at #2 on the main UK iTunes Album Chart!
You can purchase EXO's album on iTunes here for £2.49 and you can also stream it here on Spotify!
---