If you're enjoying the UnitedKpop Netflix Film Festival then Film4's schedule on Tuesday (8th January) may have something to tempt you!
At 10.55pm Film4 (Channels 15 on Freeview / 315 on Sky / 428 on Virgin Media / 300 on Freesat) is showing Lee Chang-Dong's 2010 film Poetry, known for winning Best Screenplay at the 2010 Cannes Film Festival.
Starring Yun Jeong-hie and Lee Da-wit Film4's website describes Poetry as the 'deceptively simple tale of a Korean grandmother coming to terms with the early onset of Alzheimer's while dealing with the fallout from a serious family crime'. Despite it's late night scheduling the film is a 12 certificate.
If you watch Poetry be sure to come back and let us know how you found it!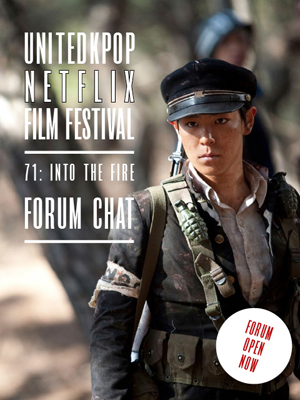 For those of you that have been watching anything from the Netflix service over the past weeks don't forget to visit our forums! We've just opened a 71: Into The Fire forum chat where we'd love to find out your opinion on one of South Korea's highest grossing films of 2010! The 71 forum will stay open until the end of the festival and you'll find UnitedKpop staff more that happy to talk to about the film too.
Also, you can still read our Film Guide if you've run out of films in the Netflix selection.
Please Note: UnitedKpop is not affiliated with Netflix and are not responsible for any charges brought to you outside of the one month free trial of their service, it is your own responsibility to read the terms and conditions upon signing up to their website and cancel the service before the second month if you wish to do so.