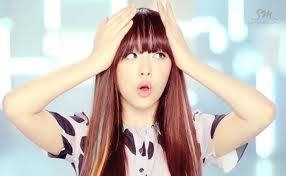 Over the past few months, coloured hair has been catching like wild-fire in the world of K-pop. It seems that, recently, idols have been adopting a pink-strands-and-rock-out attitude and it doesn't look like they're going to stop anytime soon…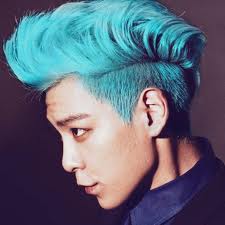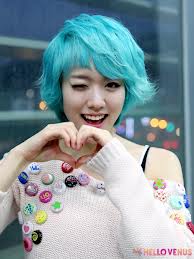 It's almost impossible for anyone to have missed TOP's dazzling mint blue hair! Fans were astounded when he unveiled his new look in 2012 since the rapper hadn't ventured out using unnatural colours in his hair before. Surprisingly, the Big Bang member appears to suit this look well and I have a feeling it might feel odd for us to see him without this icy tint in the future! Lime from Hello Venus also wore a similar colour although her hair was mostly a more pale colour than pictured above.
To imitate this look, you can buy La Riche Directions Neon Blue hair dye for around £5.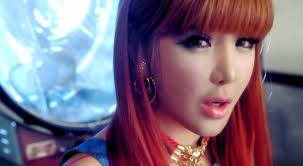 Next, Park Bom's hair in 2NE1's I Love You music video. Bom's hair was dip-dyed, having a soft ginger colour on top that faded into a warm pink colour. The split between the colours was  50/50, so the transition to pink was smooth and elongated Bom's already lengthy hair-do.
To achieve this look, you will need L'Oreal Feria Mango Intense Copper hair dye (£5.00) and La Riche Directions Hair Dye in Flaming Pink (around £5). For a smooth gradient when dip-dying hair, it's a good idea to tease the section of hair you are dyeing (by pushing it up towards your head with a comb) before you put the dye on.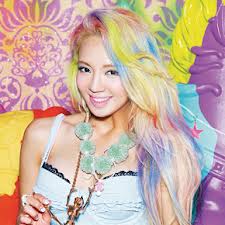 Not one colour like TOP, not two colours like Bom, but four colours for Girl's Generation's Hyoyeon! Hyoyeon's hair in her I Got A Boy teaser was a splendid array of colours, so much so that it looked as though Hyoyeon had entered an art classroom and sort of swished her hair around a bit. Although the colours were randomly placed, this gave the style a spontaneous, carefree feel and Hyoyeon's flowing locks helped to achieve this.
If you want hair like Hyoyeon's, check out the range of colours from Stargazer, Manic Panic, La Riche Directions or Crazy Colour Hair Dyes. Again, as with dip-dying, remember to tease before dyeing! Otherwise you'll get odd, angular shapes of colour rather than the soft, fuzzy colours like Hyoyeon's.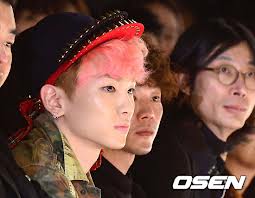 SHINee's Key is pictured here at Seoul Fashion Week in 2012 sporting a fluffy candy pink fringe. This wasn't a full head of colour but the bright shade of pink was a fun addition to Key's hairstyle. The style was versatile as Key wore it as pictured above and also with a poker-straight fringe. Personally, I feel the fluffier style was a better choice because it suited the colour and gave the overall hairstyle a lighter feel.
If Key's fringe looks like something you'd like to try, use Crazy Colour in Candy Floss (£3.99). Feel free to play around with the texture of your hair like Key did!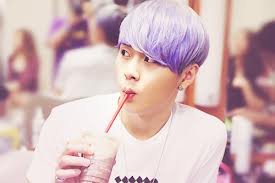 Another colour convict, Beast's Junhyung and his sleek lilac cut. His hair was all one colour and complimented his skin tone, which is often not the case with purple hair; those with pale skin have the best chance to pull off purple hues. Junhyung paired his lilac head with an über long fringe and a neat cut.
The dyes I found closest to this colour are Manic Panic in Electric Amethyst and (£8.99) and La Riche Directions in Lilac (around £5) but the Manic Panic dye is slightly brighter than Junhyung's and the Directions dye is slightly more pale, like a purple-grey colour.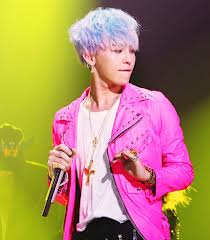 TOP's partner in crime, G-Dragon, has been seen with a crazy number of varying hairstyles over the past year which I'm sure comes close to almost ten styles! This particular candy-floss-esque topping was a cool combination of ice-blue and pale pink which, similar to Key's pink fringe, was worn fluffed up. The style was one of the most tame sported by the Big Bang member last year, even with the eye-popping colours, and was carried off well by G-Dragon's confidence.
Get your Crayon with Crazy Colour Hair Dyes in Bubble Gum Blue and Marshmallow!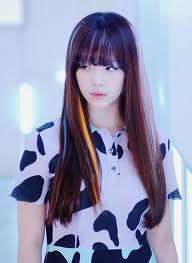 Back to small splashes of colour with Sulli from f(x). Sulli can be seen in f(x)'s Electric Shock music video with this exciting head of highlights. It seems that idols sporting more than two colours don't stick to one colour palette, often mixing contrasting colours for a fun and unique style. Sulli is no exception. Pink, orange and blue strands were weaved through her long locks for a modern, contemporary effect.
In order to recreate a similar style to Sulli's, check out the same brands as mentioned for Hyoyeon (see above). Remember to use foil if you're doing this at home – you have to fold foil around the hair with the dye on (make sure it's fully enclosed!) if you want to avoid random splodges of colour on the side of your head… It's also a good idea to dye strands of hair that grow from underneath others – if you dye strands that start from the very top of your head, the end result can look strange, unprofessional and be called what is known only as a domestic disaster…
(All hair dyes mentioned are available online and in commercial UK stores.)
What do you think about idols with wacky hair colours? Are colours a hair do or a hair don't..? (Sorry.) Which idol's hair did you like the best? Let us know in the comments!