Picked up a copy of this week's Time Out magazine while walking around Central London today and spotted brief details on Teen Top's forthcoming concert at Kentish Town Forum in the music/upcoming events pages.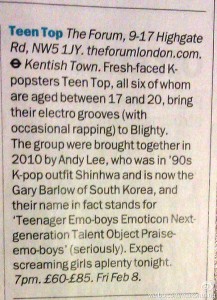 Nice to see some Kpop concerts get a mention in a magazine or papers, no matter how small the column may be. I don't know Teen Top's music very well since I haven't been following Kpop as much as I used to, so it was interesting to read what the writer had said about the band.
On the other hand I've listened to Shinhwa so I know who Andy Lee is but I had no idea he created Teen Top which is quite impressive. Is he the Gary Barlow of South Korea though? I honestly haven't sat down to think of any Korean musician who could be of that status or wrote similar lyrics to Gary. Might research on this when I'm free.
Teen Top fans, hope you enjoy yourselves at the London concert.