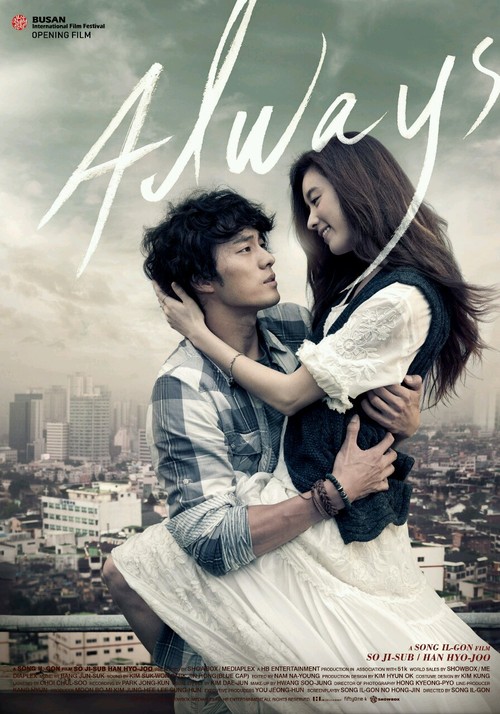 With Valentines nearly upon us, it's only fitting that we take a look at a choice selection of love-filled Korean films, and I'm going to recommend a few in this genre that encompass the feel of Valentines! Romance films aren't exactly my favourite- fantasy, horror and comedy are more my style – but these five films that I recommend as ideal Valentines watching were worth coming away from my preferred genres for.
I hope you enjoy these as much as I did!
A Moment To Remember
A Moment To Remember is a love story about a young couple, Su Jin and Chul Su, whose love is tested when 27 year old Su Jin is diagnosed with a rare form of Alzheimer's disease.
The movie is kind of split into sections which each follow their lives, from their initial meeting to their courtship, their marriage and the revelation of Su Jin's illness. This film is touching and bittersweet, and is a wonderful story of enduring love as a wife begins to forget her husband.
As such I would recommend this as the kind of film to watch at Valentines if you like to cry, and definitely if you are a fan of the film The Notebook.
My Little Bride
I could say that this is a typical Korean rom-com with an arranged marriage as the main plot point, but it still has a unique charm that keeps you watching.
Sang Min and Bo Eun have known each other all their lives, and with Sang Min being a few years older, they have never quite seen eye to eye. They are quite content being out of each other's lives, but this changes without their approval when it comes to light that their grandfathers had wanted their own children to get married. This means that because both men had had sons, they move their eyes onto the next generation, and when Bo Eun's grandfather falls ill and requests that they marry as his last wish, they feel like they have no option but to agree.
From here on out, it's a lot of typical miscommunication and awkward situations between the newlyweds, seeing as Bo Eun is still in high school. Being only 15 years old, Bo Eun wants to live the life of a girl her age and as such some funny, yet touching situations occur.
I really did enjoy this film, and if you're a fan of romantic comedies, then this is definitely for you!
My Sassy Girl
This is an absolute classic film and whether romance is your favourite genre or not, this is a film not to be missed.
I'm sure many of you will have seen this film already, but I'm just going to summarise it briefly anyway. This film is told in three parts and is about the chance meeting between Gyeon Woo and 'The Girl' (her name is never mentioned in the film). She is drunk on a train and Gyeon Woo begrudgingly helps her, and from there on out their lives become entangled. They have a fairly tumultuous relationship which is both funny and touching to watch as it progresses.
Always
This is an unusual love story, also known as Only You, about two people so unlikely to meet in any other circumstances. You can't help but root for the two of them and fall more in love with them as they gravitate together.
Always is a love story centred on ex-boxer Chul Min and a blind telemarketer Jung Hwa who meet when Chul Min picks up a night job as a car park attendant for the office that Jung Hwa works in. They start to become attached to each other and even come to realise that their pasts are connected in a less than favourable way.
I wouldn't like to say any more unless I ruin anything, but I haven't been so engrossed or invested in an onscreen romance like this for a long while. It's an unusual premise for a film and I think many of you would enjoy it.
What more can I say? I simply adore this film.
Windstruck
Okay, so if any of you have read my film recommendations before, you might remember me talking about this film. So yes, I'm recommending it for probably about the third time now. No regrets.
I'll just summarise my previous recommendation post for you, so as not to give too much of the storyline away.
This is another tragic love story, which is made obvious from the outset as the male lead also takes the role of the narrator and in a Romeo and Juliet-like fashion, leaves the audience with no doubt that someone is going to die.
This is the unlikely story over an over-zealous police officer, Kyungjin, and a high school Physics teacher, Kyungwoo, whose paths end up crossing more than once due to hilarious misunderstandings and accidents. They bond quickly and start dating, and they decide to go travelling around the country for a while. One of my favourite parts of the film is when Kyungjin ends up telling Kyungwoo the origins of a pinkie promise, which while it seems a little silly and fluffy at the time, it has great effect on the rest of the film.
I don't want to say too much more about the storyline as I really think this is a film that you should watch and be able to appreciate at the time. It has a fair bit of action mixed with bittersweet partings and promises that really didn't fail to capture my attention. If you like films that make you cry, then this film is for you. But honestly, even if you think this might not be your kind of film, I still highly recommend it; it is definitely in my top ten films of all time.
If you watch any of these, I hope you enjoy them! Single or taken, I hope everyone has a good Valentine's Day!
(But if romance seriously isn't your cup of tea, why not check out the UKP Netflix film review? It's full of film recommendations with a variety of genres…I defy anyone to not find a film they'd like in there!)