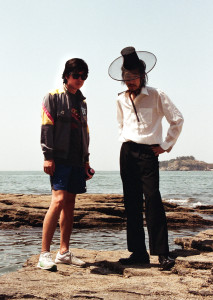 Let's meet another band performing on the Korea Rocks tour. Say hello to Goonamguayeoridingstella aka Goonam.
Goonam are Ung Joh (Guitarist/Vocalist) and Byunghak Eem (Bassist). The duo are one of those music acts you might have trouble with when it comes to defining their music genre. They combine elements of rock, psychedelic pop, blues, surf, reggae, and even a touch of 'groovy sonic concoctions.'
Their 2007 debut "We Are Pure" ranked no. 70 on 100Beat.com's 100 best Korean CDs of the 2000s. As well as being nominated for awards like Best Modern Rock Album at the 2012 Korean Music Awards with their recent release "Woojung-Motel," Goonam have performed internationally at music festivals such as Japan's Summer Sonic festival, SXSW, and Canadian Music Week.
An Exclaim review of Canadian Music Week said, "Goonam laid out a slick and summery blend of '70s-era grooves rich with hypnotic bass lines, smile-inducing melodies, and an endless shower of expert guitar licks and gallivanting solos."
What a surreal description of Goonam!
–
For those that haven't heard of you, please introduce yourselves. How would you describe your music to new people in five words?
We're a band from Seoul named Goonam. Five words that describe our music are water, fire, earth, talk, and destiny.
Who do you see as your musical influences?
We're inspired by the nomads of the world.
What got you started as a group? How did you form?
I met Byunghak in high school. I saw him at school one day and he was wearing sunglasses. I thought he looked cool. I called to him and told him to come speak with me. I'm two years older than him, so he had to come. I said we should make a band together. That was in 1997. Until 2005 we just made music for fun at home. But after that we started performing live and taking things more seriously.
What kinds of hardships have you faced together as a group, what kept you strong?
I think all indie bands face similar hardships in terms of trying to make a living with music and getting your music heard. A love for what we're doing, and for each other, has kept us strong and has inspired us to keep doing what we do.
In your opinions, what era was the best for rock music in Korea? (What years were the best?)
I think the 1970s was the best era for rock music in Korea.
Do you like any Western musicians, if so, who?
We're big fans of David Bowie's work.
Outside of rock music, what music do you all listen to?
I like sexy music like Sade.
What are your thoughts on idols, such as 2AM's Jinwoon, performing rock songs? Do you feel they do the genre justice?
We've never given any thought to them at all. We've got no relation with them, so it doesn't matter to us what they're doing.
As a group, what are your main aims for 2013 and the future in general? Do you have any goals?
We just want to be satisfied with our lives and music. This year has been very good for us so far. In March and April we were able to play concerts in the United States and Canada. And now we're preparing to tour in the UK as part of Korea Rocks. We're very satisfied right now.
How was your North America tour? What did you enjoy the most about the tour?
The tour was a lot of fun. It was exciting to explore new cities and to play for new audiences. Our favourite part of the tour was hanging out at night and chatting with each other, other musicians, and music fans.
How does it feel to have this opportunity to perform in the UK?
We're really looking forward to it. We're a bit worried about packing all of our stuff. With clothing and musical equipment we have a lot of luggage to take to the airport! But once we land in London, I think we're going to have a lot of fun.
What have you heard about the UK? What do you think it will be like?
We're heard there are a lot of great parks in the UK. We really enjoy hanging out and relaxing in beautiful parks. I hope we can find some time during the tour to spend a few afternoons chilling out on the grass or a bench in a big park.
Is there anything you specifically want to do in the UK? Such as visit certain places or eat particular foods?
There are a lot of great beers in the UK. We want to visit some pubs and enjoy the tasty brews there. We hope we can make some new friends while we're in the UK, too.
–
For more on Goonam
Facebook / Twitter / Soundcloud
Korea Acts Tour Dates:
April 24: Kent, England @ Tunbridge Wells Forum
April 26: Wrexham, Wales @ The Bank (Focus Wales)
April 27: Wrexham, Wales @ Yales Café Bar (Focus Wales)
April 28: London, England @ Barfly
May 1: Manchester, England @ Night & Day Café
May 3: Liverpool, England @ Studio 2 (Liverpool Sound City)
May 4: Liverpool, England @ Kazimier Gardens (Liverpool Sound City)