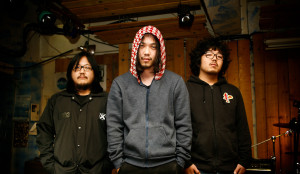 Continuing our interviews with the Korea Rocks tour groups, we now present to you an interview with post-hardcore/post-rock act Apollo 18.
Consisting of guitarist/vocalist Hyunseok Choi, bassist/vocalist Daeinn Kim and drummer Sangyun Lee, Apollo 18 are an award-winning band who formed in the summer of 2008 in the suburbs of Seoul, South Korea. After releasing EPs and working on full-length albums, they played at sold-out Tokyo gigs for Japanese indie label Zankyo Records' fifth anniversary party. In November 2009, Apollo 18 were awarded the government-sponsored "Hello Rookie" prize for being South Korea's most promising young act. Their further rise to top status was cemented with their "Rookie of the Year" win at the Korean Music Awards in March 2010.
Apollo 18's "Sonic Boom" (from the latest EP "Black") was nominated for "Best Rock Song" at the 2012 Korean Music Awards.  In March 2012, the band were selected as MTV Iggy Artist of the Week and in May they opened for acclaimed American indie act Blonde Redhead in Seoul.  They also toured Canada, playing four concerts in five days that included a stop at the Pop Montreal music festival.
Apollo 18 are currently working on a new full-length, like "Red," "Blue," "Violet," and "Black" and the next album will see them experimenting in different styles and structures.
Indieful ROK says, "I don't know how they do it, but in spite of all the awesomeness displayed on record they are even more incredible live. If there's one Korean indie act that could tour the world today, Apollo 18 is it."
Roll on with Korea Rocks we say! Just hearing that statement is making us excited.
–
For those that haven't heard of you, please introduce yourselves. How would you describe your music to new people in five words?
Hi, everybody! We're Apollo 18 from Seoul, Korea. We won Rookie of the Year at the 2010 Korean Music Awards, and we've toured internationally in Japan, Taiwan, Canada, and the United States. We're going to be playing gigs soon in the UK as part of Korea Rocks! I think the best way to describe our sound in five words is "Listen to it for yourselves!"
So who do you see as your musical influences?
We all like a wide array of music including hard rock, alternative rock, hardcore, metal, jazz, blues, pop, electronica, folk, classical music, and psychedelic music. With Apollo 18 we try to find a middle ground between all the different styles of music that each member likes.
What got you started as a group? How did you form?
I used to make solo music under the name Jellyboy. I wanted to perform my music live so I placed an ad online to look for some backing musicians. Hyunseok and Sangyun were two of the people that I hired on to help me play live. The three of us had really good chemistry so we decided to make a new band together. But they had to finish their Korean army service first. They both finished their military commitments in 2008, and that's when we started making music as Apollo 18.
What kinds of hardships have you faced together as a group, what kept you strong?
We haven't faced any real hardships. We're like a family. I think of Hyunseok and Sangyun as my real brothers. And I know they feel the same way about me. Because we have such a close relationship sometimes we disagree with each other, but working through those small issues make us a stronger family.
In your opinions, what era was the best for rock music in Korea? (What years were the best?)
I think 2008 was the best because that's the year Apollo 18 formed!
Do you like any Western musicians, if so, who?
I'm personally a big Nirvana fan. When I was in high school I bought a video tape of a Nirvana concert. I thought Kurt Cobain looked so cool playing guitar. I started to play guitar because I wanted to be like him. I only began playing bass when we started Apollo 18.
Outside of rock music, what music do you all listen to?
We listen to all kinds of music. Old pop songs, classical music, jazz, blues, electronica, folk, and other styles as well. A good song is a good song, no matter what the genre is.
What are your thoughts on idols, such as 2AM's Jinwoon, performing rock songs? Do you feel they do the genre justice?
I don't care what idols acts do. I don't pay attention to any of the male idol groups. I do like watching all of the pretty girls in the female idol groups, though!
As a group, what are your main aims for 2013 and the future in general? Do you have any goals?
We want to keep making music together. That's our main goal. This year we plan to release a new full-length album. We had actually hoped to release the album last year, but all members of our group were too busy with other commitments to work on new music. Once our album is finished we'd like to do some more international touring in Asia and other parts of the world.
How does it feel to have this opportunity to perform in the UK?
We're excited about playing shows in the UK. Our past tours have all been solo tours, so it will be a different experience touring with other Korean bands like this. But I think we're all going to have a lot of fun.
What have you heard about the UK? What do you think it will be like?
I've heard the UK gets a lot of rain. I don't know if that's true or not. I don't have any ideas about what the UK will be like. I try to visit new places with an open mind. I'm sure we'll have lots of good experiences in the UK, and meet some very cool people as well.
Is there anything you specifically want to do in the UK? Such as visit certain places or eat particular foods?
I really, really, really want to visit Stonehenge. It's somewhere I've wanted to go to since I was a child. But I'm not sure if we'll have time on this tour to stop there. I hope we do!
–
For more info on Apollo 18:-
Facebook / Twitter / Soundcloud
Tour dates for Korea Rocks
April 24: Tunbridge Wells, England @ Tunbridge Wells Forum
April 26: Wrexham, Wales @ The Bank (Focus Wales)
April 27: Wrexham, Wales @ Yales Café Bar (Focus Wales)
April 28: London, England @ Barfly
May 1: Manchester, England @ Night & Day Café
May 3: Liverpool, England @ Studio 2 (Liverpool Sound City)
May 4: Liverpool, England @ Kazimier Gardens (Liverpool Sound City)