The hype over the arrival of Psy's song Gentleman has managed to hit the UK newspapers. Today's Metro had a large article on the rapper's new single and a description of said track's new music video.
The writer of the article Sam Smith mentions how the Gentleman MV managed to gain 22m hits in 24 hrs after being released on the internet and that the world is far from tired of the "chubby rapper" as 160,000 watched a live stream of Psy's "Happening" concert at Seoul World Cup Stadium last Saturday where he performed in front of 50,000 people.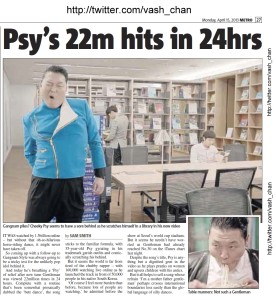 Did you manage to watch Psy's Happening concert last week?