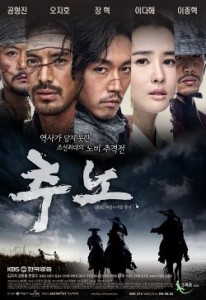 Chuno / Slave Hunter is a 24-episode action, historical drama that takes place during the Joseon Dynasty.
Lee Daegul [Jang Hyuk]: Daegil was born into a noble family but his life was ruined when Won Ki Yoon, a slave his family owned, burned the family house in order to rescue his sister Eonnyeon who was locked in a shed to die of dehydration because she and Daegil were in love. Angry and filled with revenge, Daegil survives the harsh streets for ten years and makes a name of himself as a Slave Hunter, hoping to find his first love and often showing slaves a drawing of Eonnyeon to see if they recognise her.
Eonnyeon / Kim Hye Won [Lee Da Hae]: Daegil's slave and first love. After her brother Won Ki Yoon burns Daegil's house and runs away with his sister, they both settle with new identities and Won Ki Yoon makes enough money to become a Yangban. Eonnyeon now known as Kim Hye Won is forced to marry a nobleman she does not have feelings for and immediately runs away once the wedding ceremony finishes.
Song Taeha [Oh Ji Ho]: Song Taeha is a military General who once served the Crown Prince in China. He is demoted to a slave after being falsely accused of stealing military rations. When he manages to escape his slavery duties he embarks on a personal mission to find the only surviving child of the Crown Prince but soon becomes a wanted man with a high bounty on his head and Daegil is the chosen slave hunter to track him down. What Daegil does not realise however is that Taeha has met Eonnyeon / Hye Won by chance and they are both falling in love with each other.
The good
* This is not a typical triangle drama. In fact there are lots more storylines going on beyond the complicated triangle between Eonnyeon, Taeha and Daegil. For instance, Chuno is able to bring out the problem with slavery and how there is no equality between the slaves and the noblemen.
* The fight scenes are outstanding. If you are into martial arts films you might enjoy the gritty sword fights or hand to hand combat sequences. Majority of the cast trained to perform their own stunts while filming. Jang Hyuk is a real life martial artist in Jeet Kune Do and Taekwondo.
* Complimenting the furious action scenes, there is a great deal of comedy, especially from Daegil's friends General Choi and Wangson who are also Slave Hunters.
* Seolhwa the young street dancer who Daegil helps is an entertaining character. Kim Ha Eun plays her character very well. She's cute and fiery and able to stand on her own feet against the adults who enjoy teasing her like Wangson and Daegil.
* Jang Hyuk and Oh Ji Ho play their characters superbly. Both Daegil and Taeha are heroic in their own right. They show their honour and kindness in very different manners. Taeha is proud and loyal to his soldiers. Daegil is cocky and quick to be angered but when he cares for people, he does it subtly. I can see why Jang Hyuk was nominated for various awards for his portrayal as Daegil. He is worlds apart from his cheeky character of Volcano High. This was the first drama I had seen him in and the first time I've seen him being serious.
* As well as the main actors mentioned above, I think even the secondary cast featured in the series are entertaining when the storyline moves away from the goings on of Taeha and Daegil.
* "Man tears". I know a lot of people dislike it when men cry or think it's not manly for men to cry at all and sadly believe tears are just for women but the man tears you see in Chuno are heartbreaking. You see why they cry as much as the women do. Everyone is entitled to cry from a loss or deep betrayal.
* The cinematography throughout the drama is stunning. Very mountainous but also sandy and dirty to fit the mood of a particular scene.
* The score in the series is fantastic and deserves praise for bringing to life the scenes with romance, intense chasing, heartache and genuine happiness.
The bad
* While watching, there is a risk of losing track on the growing side characters with expanding side plots and it possibly detracts from the main storyline when you don't want it to.
* The political scandals going on within the palace. Truthfully it fits with the main story about the Crown Prince's surviving son but you have to be very interested in politics to keep focused and it drags over the series.
* Perhaps too many episodes in this series. 24 episodes which last just over an hour long with no break is tricky to get through quickly.
Overall I would definitely recommend Chuno as a drama to watch. It has the combination of fast exciting action sequences, romance, believable angst, an epic soundtrack and stunning cinematography. Oh…did I mention there are a lot of nice muscular ab shots in Chuno too? Not just from Jang Hyuk, mind you but from a few other actors as well.