How to wear your fandom with pride!
Up until now, any fashion related posts we've made have been about how to copy the style worn by idols in music videos. While MV fashion is most definitely awesome, if I want to rock a kpop look, sometimes I want wear something more subtle and at those times I try to incorporate the fandom itself into what I wear instead.
What I mean by this is that when looking for clothes and accessories to buy for a kpop look, instead of copying the idols style itself, I look for things in the official fandom colour, or even something with the band's name or song title.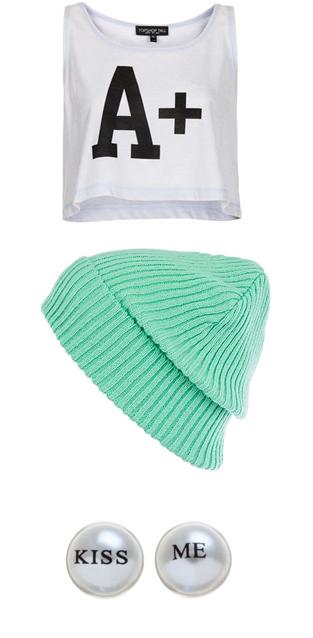 <
1. A+ Crop top (TOPSHOP) The actual fandom name of MBLAQ
2. Aqua beanie (RIVER ISLAND) The official fandom colour of SHINee
3. 'Kiss Me' earrings (New Look) Official fandom name for U-KISS
Not every fandom has an official colour or name, and at times like this, it pays to get a little creative! Here are just a few examples of how you can incorporate your fandom.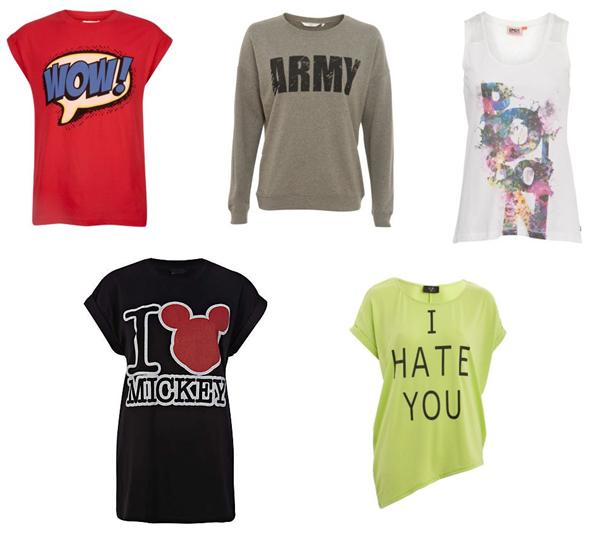 1. Red Comic Wow t-shirt (New Look – online exclusive) Reminds me of BIGBANG's Fantastic Baby!
2. Khaki 'Army' Sweater (New Look) B.A.P-inspired, as leader, Bang Yong Guk, wore a similar item on TV show Killing Camp.
3. 'Poison' t-shirt (New Look) The name of one of SECRET's latest tracks.
4. Black 'I heart Mickey' t-shirt (RIVER ISLAND) 'Mickey' is the stage name of JYJ's Yoochun.
5. Green 'I Hate You' t-shirt (New Look – online exclusive) The name of one of 2NE1's songs.
What I love about putting the fandom into what I wear is that it's almost like a secret, and I don't have to explain what this matoki on my top is again. It's definitely more subtle than wearing a band t-shirt, but I feel like I'm representing my fandom still.
Win win!
(Unsure about a particular fandom name or colour? Never fear! Click here to find out.)