PSY has been one busy man ever since he arrived in London. He performed Gentleman on the Britain's Got Talent final last Saturday and then the following day he went to Wembley Stadium to perform at the Capital FM Summertime Ball 2013. His recent tweets before and after the event have been nothing but excitement.

From his Twitter:-
When I was 14, I saw a footage (of) Queen at Wembley Stadium, started to dream doing something in Music. and…I'll be at the venue tmrw!!

Following his music activities from that weekend PSY recently had dinner at BibigoUK with British songwriter Ed Sheeran after Summertime Ball finished.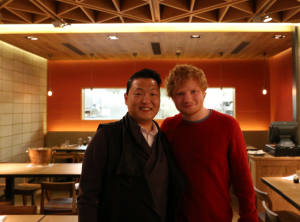 **photo credit goes to BibigoUK Facebook fanpage**
But PSY's latest London socialising doesn't stop there, he had brunch with one of his music idols – legendary Queen guitarist Dr Brian May . On the same day he also met West End superstar Kerry Ellis, who has been busy touring with Brian and promoting the Born Free Foundation.
But was it just an ordinary brunch meeting? PSY hinted in an interview with BBC Radio 1 DJ Scott Mills that he wanted to meet Brian to discuss the possibility of a collaboration. We previously posted about Robbie Williams' interest in working with PSY and PSY happens to be a fan of Robbie so these two dueting could definitely happen in future. But if this Brian May & PSY collab goes ahead, what kind of song could they create together? It's certainly an out of the blue team-up though we might be surprised by both parties.
Here are some pics from Brian, Kerry and PSY's Twitter accounts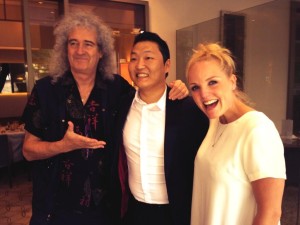 New Style ! @kerryjaneellis1 @psy_oppa Psy Rocks ! Bri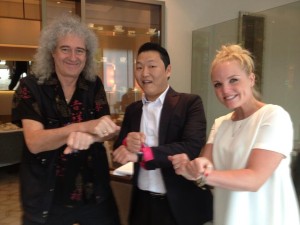 @psy_oppa @DrBrianMay brunch ! Great morning spent #gangnam style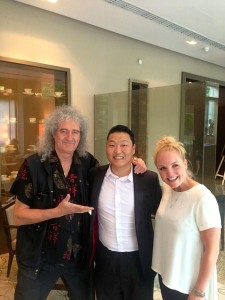 Had a brunch with @kerryjaneellis1 and the one&only @DrBrianMay!! #GodSaveTheQueen