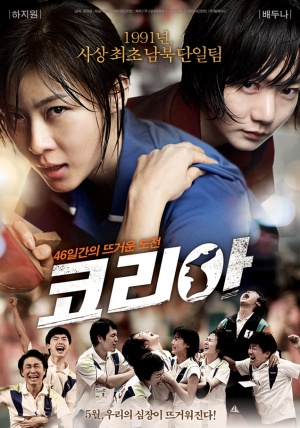 Today I'm going to be recommending one of the best films I've seen in a while; As One.
As One is a sports-drama film starring Ha Ji Won and Bae Doo Na, which retells the story of the first ever post-war Unified Korea sports team which won the gold at the 1991 World Table Tennis Championships in Japan. The film follows Jung Hwa, star of the South Korean Table Tennis team, and the rest of her teammates as they come to terms with the announcement that they will be grouping together with the North Korean team for the upcoming championship in Chiba, Japan.
We see Jung Hwa coming face-to-face with Bun Hui, her long term rival from the North, as the two mutually suspicious teams are forced to pair up and work together. There are many disagreements between the teams, and on more than one occasion fights break out between them as tempers and animosity rise the longer they are forced to interact with each other. When a twist leaves the Jung Hwa and Bun Hui paired up for the tournament, the two teams start to bond and tentative friendships strengthen.
As made obvious by the title of the film, the underlying theme of the film is unity, and this film showcases the fact that whether the players are from the North or South, they are still one Korea under it all, and that any differences they may have are only on the surface. The film is filled with political agendas, inbred discrimination, and reminders and references to the painful history that the two Korea's share.
I would absolutely recommend this film to anyone as it is a poignant film based on real events, and if you know little-to-nothing about the history between North and South Korea, then I would say that this film will help remedy that somewhat. This film gave me a new perspective of North Korea and a greater understanding of the consequences of being part of a divided nation, but more than anything it gave me a little bit of hope that maybe Korea will be a united nation again one day.
So, have you ever seen As One? Planning on watching it? Let me know what you think!