Ever wanted to be in a K-Pop Style Photoshoot? Are you a fan of Korean fashion and Korean cosmetics?
For one day only, Just Aya and KoKo Kosmetics have teamed up to open a "Beauty & Fashion Pop Up" shop where you will be able to feast your eyes on the Korean cosmetics range and K-Pop style fashion collection.
As well as getting a discount on both Just Aya and KoKo Kosmetics products, you will also have the opportunity to have FREE (yes FREE) manicure, makeovers and mini photoshoots.
This special event will take place on Sunday 4th August 2013 in Leytonstone, London at Classique Nails and directions can be found here.
Please note, the staff only accept cash payments so come prepared with enough money if you intend to do a lot of shopping.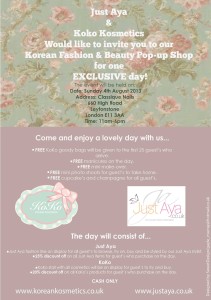 **Photo credit goes to Just Aya & KoKo Kosmetics**