A new release to dvd and blu-ray, Stoker is the first English language film directed by South Korean filmmaker Park Chan Wook.
Written by Wentworth Miller, produced by brothers Ridley & Tony Scott and Michael Costigan, the film stars Mia Wasikowska [Alice In Wonderland], Nicole Kidman [Moulin Rouge!] and the English actor Matthew Goode [Watchmen] as the Stoker family.
Stoker is a psychological thriller that tells the story of India [Wasikowska] who on her 18th birthday find her life changed horrifically as she is left living with her struggling mother [Kidman] after the death of her father.
India and her mother Evelyn are introduced to her father's charming brother Charlie [Goode] who has spent much of his life travelling the world.
Strange events begin to happen and India begins to question what is going on in her new family household.
Alongside her family life India too finds herself as the quiet outcast girl at school, as her confidence grows soon the two strange worlds collide.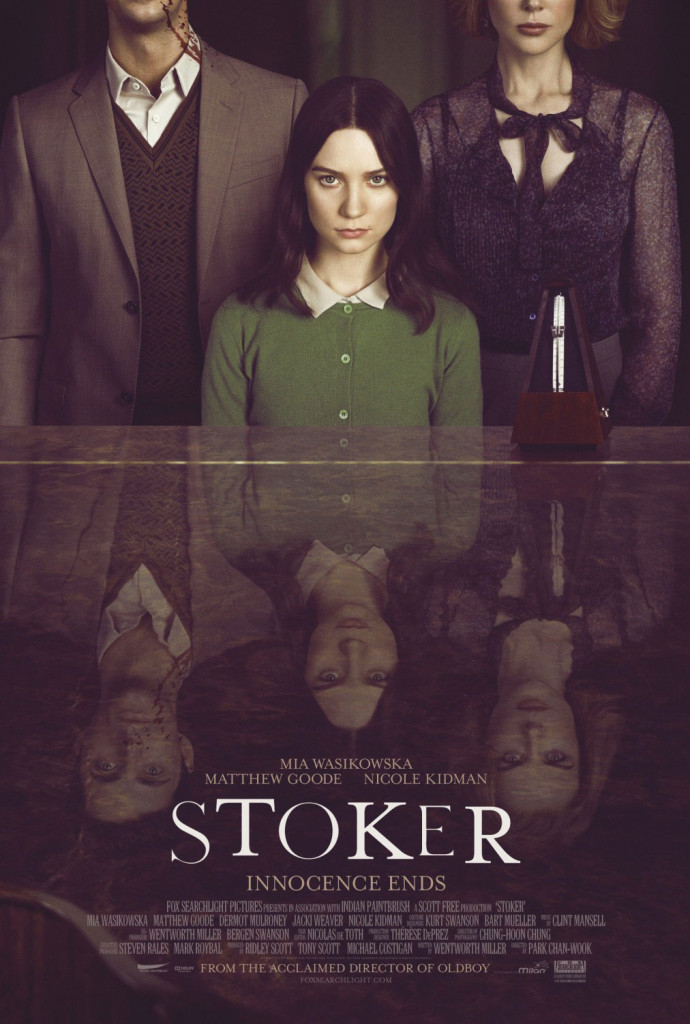 Stoker is filled with Hitchcock influences, the big influence being Shadow of a Doubt. In said Hitchcock movie there is an Uncle Charlie who too shares the similar role of a charming and charismatic man who is far more likeable than his character should be.
Charlie and India speak mostly on a staircase, something that too happens in Shadow of a Doubt. There is even a direct reference to a scene in Psycho.
In Stoker there is an important scene that occurs near a train track and a train passes by, the sound breaking through the scene, Hitchcock often used trains as a sexual euphemism and that is quite an apt reference for the particular point of the film.
All the clues and symbolism in Stoker will have you guessing and trying to figure out exactly what is going on in the family. That is key to Park's films. He enjoys the building mystery that lead to the answers the viewers sought for.
Stoker's script doesn't hold the weight of many of the films Park is known for: JSA: Joint Security Area; The Vengeance Trilogy (Sympathy for Mr. Vengeance, Oldboy, and Lady Vengeance); I'm A Cyborg. However, all of these works were both written and directed by Park himself whereas Stoker is a collaboration with the first time screenwriter Wentworth Miller, whom you may know as the British-American actor who played Michael Schofield in Prison Break.
Stoker does however show just how much Park has a passion for dark narrative, creating an atmosphere that draws you into an enclosed universe filled with mysterious characters. It is also filled with magnificent imagery that showcases the director's eye for detail and drama.
If you're a fan of the filmmaker you won't want to miss out on this film as you'll be able to see all his signatures here. It's possibly not the movie of choice to introduce someone to Park's work, something with his own script might be a better option if you're open to taking on a Korean language film with subtitles first. By doing so it is easier to see his influence on the Stoker script.
Highlight: The scene between India and Uncle Charlie at the piano shows off every strength of this film, the script, acting, directing, and the mysteries of the Stoker family as they begin to unravel. Its a very important scene for both characters and for the viewer in answering some of the questions they may be asking as they watch.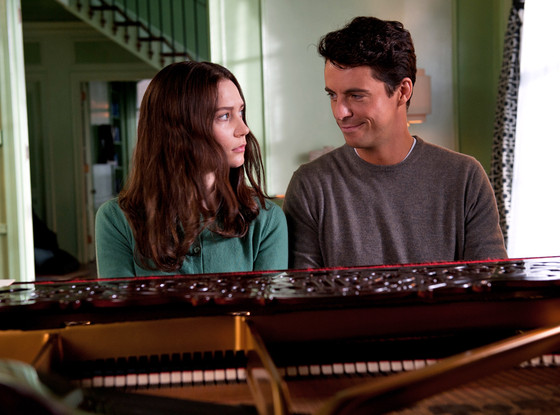 Check out the cinema trailer for Stoker here:
—
If you're new to Park Chan Wook and would like to watch one of his Korean movies, you might want to try Oldboy, its one of the most popular of his movies internationally and you can see the UnitedKpop review for the film in our film guide. It's also available to watch on Netflix.