Today we're taking a look at 2NE1's hotly anticipated comeback, Falling In Love.
Concept
The overall concept for Falling In Love is like a breath of fresh air, as it combines a sunshine-filled beach theme with touches of gold-embellished extravagance to create a truly fun and summery vibe. From the laidback reggae beat, the beach scenes, to the playful vibe, it all comes together to create a refreshing sense of just having fun in the sun, and throughout the video we see a lot of interaction between the girls as they show their close friendships by playing games and pointing out cute boys to each other. This is quite a contrast to a lot of kpop videos that focus on the performance of the dance and song, and it's also different to the fierce and powerful concepts that we usually see from 2NE1. Despite this being a more laidback concept than usual, Falling In Love still has the undeniable 2NE1 feel to it, with quirky gold props and unique fashion, naturally including pieces from designer Jeremy Scott and a lot of gold jewellery.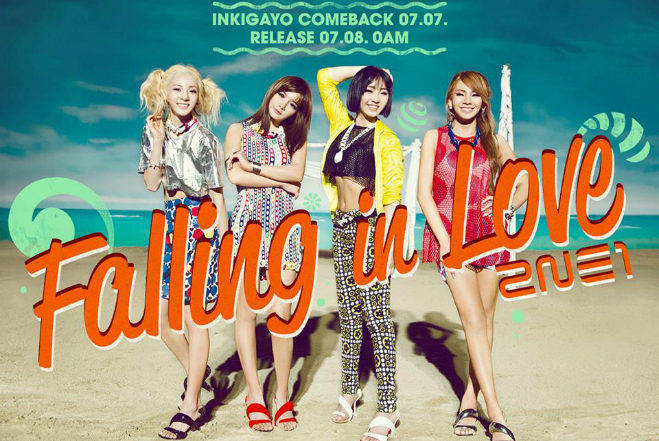 There isn't a huge amount of storyline to be found, apart from them attracting the attention of some boys, but there are three fairly distinctive settings in this MV; the beach, luxurious rooms, and some urban scenes.
It probably wouldn't matter to potential viewers, but it was interesting to see that one of the guys that 2NE1 caught the attention of in the MV was actually model Lee Soo Hyuk, who also starred in the MV for their track, It Hurts, and the other guy featured in Falling In Love is actor, Hong Jong Hyun.
In the beach scenes we see the girls dancing around and having fun in the sand, wearing colourful, summery clothes, and they're smiling and playful against a backdrop of a beautiful blue ocean and white sand. Most of these scenes are in the first half of the video and give way to the urban setting, but they ensure the overall concept remains cheerful and gives a summer holiday vibe. This kind of setting is probably the most different style in the MV from anything we've seen 2NE1 do before, but they clearly display their versatility as they show us that they can rock any concept from fierce to chilled out.
There are parts of the video which serve as reminders of 2NE1's fierce side that take place in very luxurious settings. During these scenes we see the girls sat down or standing in decadent rooms of gold and white, with pools, water features, golden statues of lions and men, and opulent furniture (golden tables, intricate golden thrones, etc). This section of the video boasts some impressive and striking style as they all wear eye-catching white outfits, paired up with a plethora of golden rings, necklaces and bracelets. During these scenes we also see some quirky accessory choices, such as Minzy sporting an unusual but awesome bubblegum pink bob hairstyle, Bom wearing very effective blue contact lenses, and even Dara showing once again that she can pull off any style as she wears gems as decorations above her eyebrows.
The other type of setting in this MV has a much more urban feel to it, and it has similarities to the more street style of some of their first songs, Fire and I Don't Care. These scenes are set around neighbourhood basketball courts, and an almost tropical-urban setting with palm trees, corrugated metal and wicker furniture which gives a similar feel to CL's solo track, The Baddest Female. Aside from the dancing scenes, these parts of the video also show the girls sitting together in some kind of bleachers checking out boys who are playing basketball, which is a really fun and flirty addition to the video. We see more golden objects in these scenes, such as a petrol pump, an SUV, a gameboy and even a stereo. The clothes worn are more urban too, as the outfits consist of short dresses, crop tops and plenty of loud, bright prints.
This urban part of the MV is a concept that is quite popular in the UK with various artists and groups doing similar things, such as Stooshe's track, My Man, which has a similar bright, urban concept.
This MV has the street style that 2NE1 debuted with mixed in with the sleek quality we've come to see more recently, and the fashion used isn't too much as it's quite toned down from the kinds of elaborate outfits we normally see from kpop. At some points the clothes are quite simple but still eye-catching and are similar to mainstream fashion here. This could benefit 2NE1 if they chose to release this song here as people will be able to appreciate the fashion that is similar to what we can find in this country, and with this in mind, I think this concept will really appeal to a lot of people here in the UK, particularly people who like to be up with current trends.
UK Potential: 4.5/5
Choreography
Matching well with the concept and the sound of the song, the dance for Falling In Love is quite laidback, massively fun and very cool. It's great to see that now the youngest member, Minzy, is now an adult in Korea, she's been allowed to go all-out with her dancing which means that parts of the routine have some slightly sexy overtones, but it ends up mostly being flirty and a little bit cute.
There are quite a few notable choreography points, such as during the chorus when Bom is singing there is a move that looks like a mix between Bollywood and a kind of tango dance move, and it just adds to the fun feel of the whole concept. There are also a lot of arm movements and body swivelling that keeps the choreography interesting and appealing, and in line with the Reggae beat.
The whole of the routine is much more laidback than it is energetic or technically difficult, but this gives it an effortless and cool edge, and also means that it becomes quite memorable to potential viewers as it's very easy to replicate.
UK Potential: 4/5
Song
Falling In Love sees 2NE1 venturing back into a reggae sound for the second time, with the first time being the remix of I Don't Care. This track contains an old school reggae beat layered with contemporary synths and electro, which results in a summery, very chill and trendy-sounding song. It's an unusual sound to come out of kpop, but in true 2NE1 fashion, they have embraced a new genre and made it their own. It has the unique 2NE1 sound and it is an exciting, new side of them.
This song is incredibly catchy and easy to sing along to, and the relaxed reggae beat just makes you want to dance to it which would help appeal to potential UK viewers. This slowed down, laidback sound is also another reason that this song reminds me of Stooshe's My Man, and seeing as that song is pretty popular right now, I don't see why Falling In Love wouldn't stand a good chance here in the UK too.
It's great to see that this style of song suits their voices really well, and we hear an awesome mix of Minzy's sultry singing, CL's signature rapping style, Bom's voice matching the reggae sound down to the ground, and despite being auto-tuned, Dara's sweet voice still provides a wonderful contrast to the others.
As expected from any song coming from YG Entertainment, or even any 2NE1 song, there is a fair amount of English used in this track. Everything used is perfectly pronounced and makes complete sense, and you wouldn't expect any less. A fair amount of the notable English used comes from CL's rap, 'Tonight I drop it low', 'that's what a queen do, Yeah in the club it's getting ugly I don't care, Can't nobody stop the fire, let them haters sit and stare'. Other bits of English are 'I keep falling in love, falling in love', 'touch me over here', and 'you're my boy'.
It is also worth mentioning that this track is actually the full version of the intro song used on the debut stage of I Love You last year, although the language has changed I'm happy that we finally get to hear it all the way through!
UK Potential: 4.5/5
Highlight: – The golden drink cup that Minzy has at the beginning of the video looks so awesome!
Overall UK Potential: 14/15 – The whole concept seems more overtly feminine and flirty than anything 2NE1 has done before, and the fun, reggae sound would definitely appeal to the UK as a feel-good, summer track. The cool and natural sounding English used would definitely help this song appeal to potential listeners as it's something that they can easily sing along with. I have said it before and I'll say it again, I truly believe that 2NE1 is one of the kpop bands that would probably stand the best chance of making it if they were to promote in the West, and I think this song is proof of that.
(Many thanks to fellow UKP blogger Mai Duff to for help and input!)
Thank you for reading! Do you agree? Let us know, and if you haven't seen the video yet, then check it out below.