After many promises and false hopes, it looks like UK Jaywalkers have finally hit the jackpot with a confirmed Jay Park concert in the UK as part of his European tour at the end of September.
But Invasi aren't giving you a lot of time to save, as tickets are touted to go on sale within a week, with more details regarding his European tour to come this weekend.
Jay Park will also be performing in Paris, Holland and Germany as part of his tour. Ticket sales for the London show have been postponed, but Invazi have promised to give at least 48 hours notice of sales & we'll be sure to let you know as soon as we find out when they re announce their sale. When they are available they should be £56 for early bird tickets and £70 for standard tickets. Concert will be on Sat, Sep 21st.
Are you excited to finally have Jay Park coming to the UK? With Infinite in tow to the UK a short 2 months later, I have a feeling many a wallet and purse will be left reeling, but I have no doubt that wont dampen anyone's concert-going spirits.
To get the buzz going, let us know in the comments what you'll be looking forward to the most at his concert!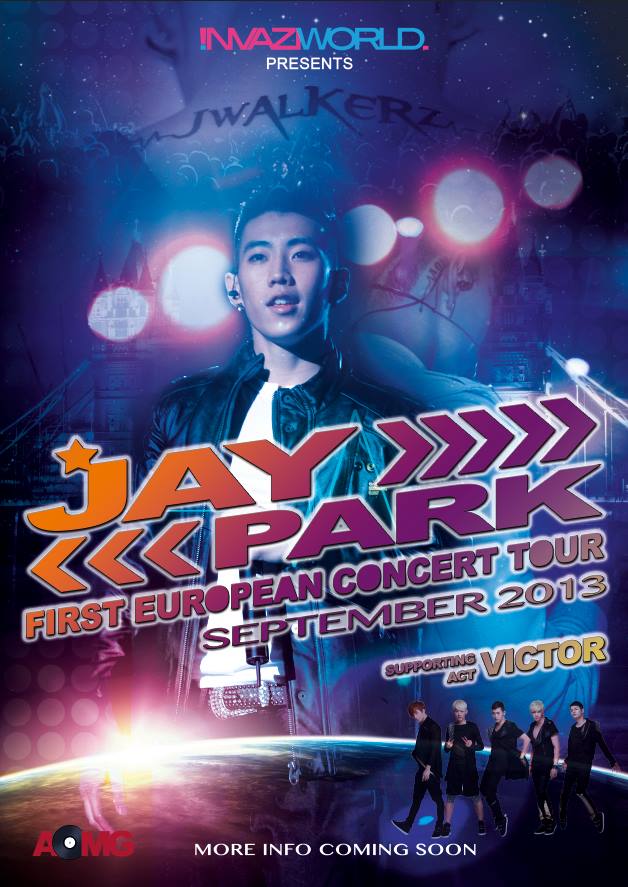 ——
Following their first announcement on Thursday Invasi have announced that Jay's European tour will take place between September 21st and 28th, even setting up an event page on Facebook where they will keep fans up to date with news!
They released a new 'slick' version of their poster too!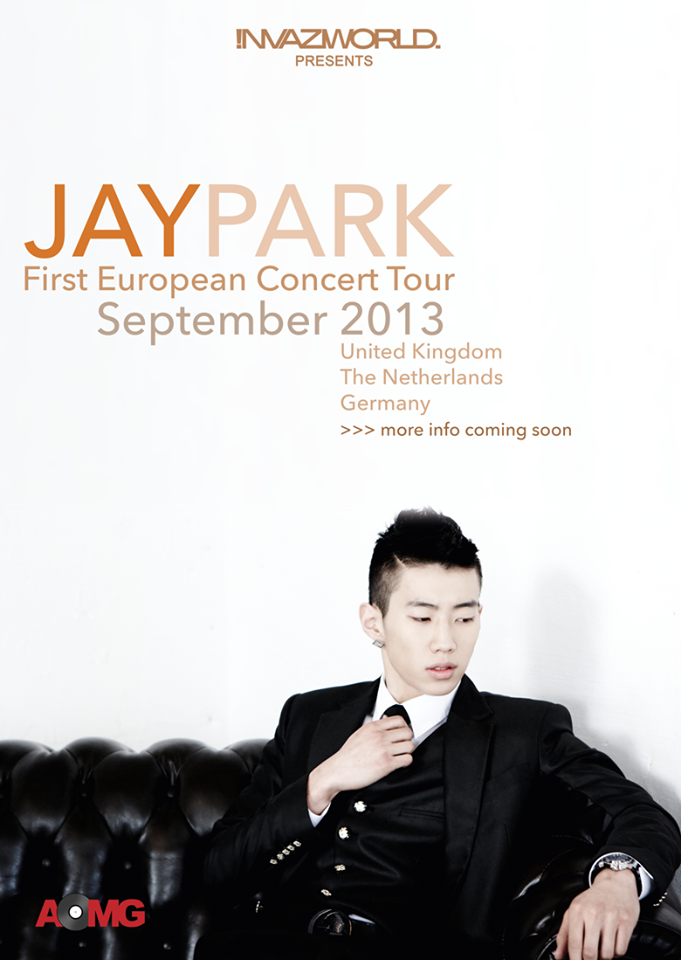 Earlier today the man himself also confirmed the tour via instagram!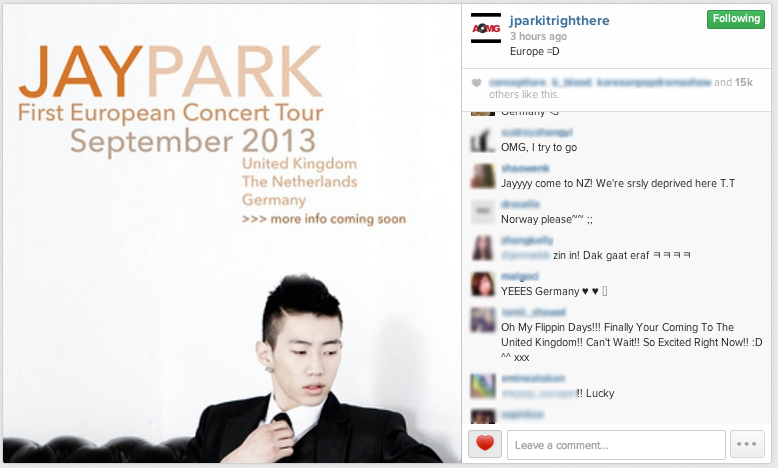 For anyone who wants to know more about Jay Park, it's almost hard to know where to start. The word 'artist' is far more appropriate than any of the idol terms you could give him. He's a singer, rapper, producer and writer. Then he's a dancer, b-boy, choreographer, and member of Art of Movement, the b-boy crew based out of Seattle. He's a model, and an actor too! He's now a regular cast member on Korea's Saturday Night Live.
Jay has been described as may things 'a born entertainer' being one of them.
Jay's music covers so many different styles that it's hard to box his genre. Across his discography you'll find elements of pop, hip hop, R&B, dance, essentially you'll find a whole host of music for all different kinds of moods and occasions.
His most recent release is the summer smash 'I Like 2 Party' which has this week topped the Billboard World Album chart!
Before that came Welcome, definitely one for the female Jaywalkerz, and Joah, a sweet track that without a doubt will have you singing along before the end!
Fancams to look up on youtube that he almost always sings at his live shows and go down a TREAT? Body 2 Body and Turn Off Your Phone.
Want to check out Jay on social media? Twitter, Facebook, Instagram
Jay's support group for the tour are a rookie group called VICTOR, who after extensively searching for them I've found have three Korean members and two Chinese members and are gaining quite the following in Thailand!

We're unable to find mvs by the group yet (do correct us in the comments section if we are wrong & we'll update!), though there are a few hd fancams of them around youtube. Here are VICTOR performing their first single 'Candy'.
You can check out the group on Twitter, Facebook or instagram to find out more.
Stay tuned to UnitedKpop for further updates regarding tickets and dates.