2NE1 made a big comeback recently with a surprisingly bouncy reggae-style track "Falling in Love". While the girls' usual themes exude sleek style and swag, they seem to be venturing into more feminine territory of late, especially when you consider the soft concept for their last single "I Love You". In this music video, you can see the girls smiling and laughing while bobbing along to this happy track whilst still maintaining that classic hip hop flavour. It definitely gives Blackjacks a refreshing summer tune to dance along to on the beach. (Or, if you're anything like me, to dance to inside your house away from the sunlight like some sort of vampire-esque creature).
The YG ladies are also very well-known poster boards for haute couture and high designer brands. However, it is usual for these designs to trickle down into the high street market and influence what types of clothes are sold on every store level as it is believed that this is what the average consumer wants.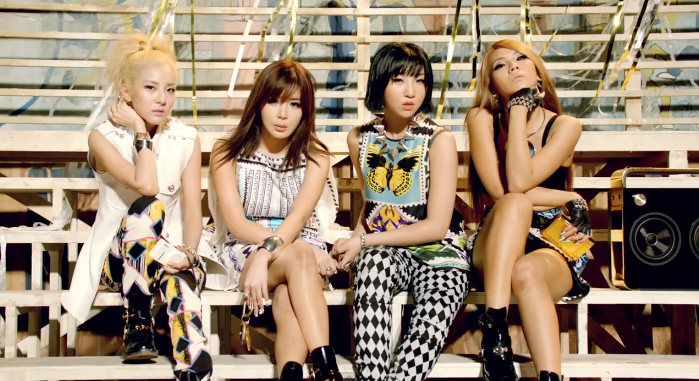 It seems that big and bold prints are in this summer with tribal, floral and gypsy patterns dominating the high-street racks almost everywhere you go these days. 2NE1's style for this concept is no different with all the girls showing off patterned pieces at some point throughout the video. This style is great if you are brave with what you wear, but it is advised to always pair bold prints with a simple top or bottom (such as Minzy's yellow blazer) so as not to overwhelm the eyes!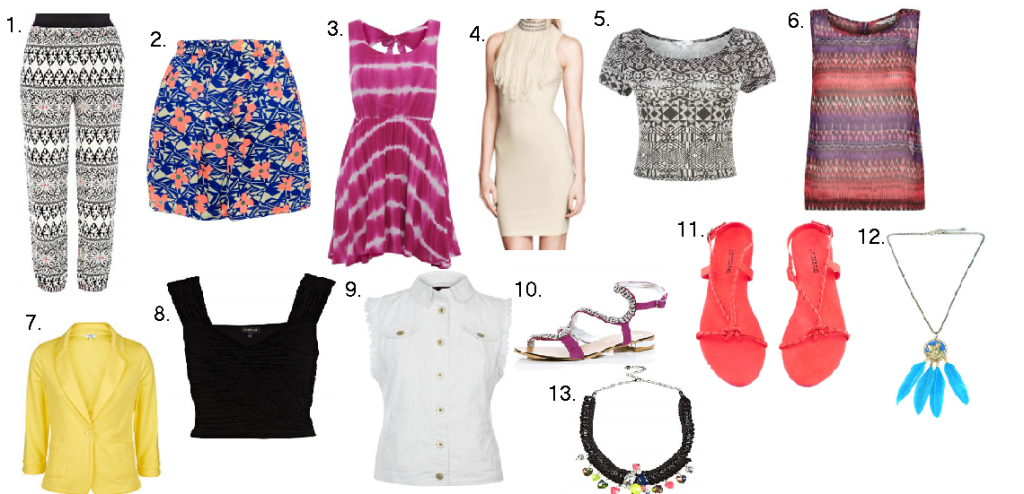 Another focal point of this look is clearly bright and fresh colours. If you are usually wary of pinks and yellows, you could always try a rich blue like that of Dara's floral print skirt. Crop tops are also on very trend right now and Minzy and Dara show off their midriffs here. This type of clothing is obviously very unforgiving – exposing the stomach, which can be a 'problem area' for many ladies. This is why a longer Aztec pattern top has also been featured in the suggestions. Fear not fellow tummy-shy individuals, there are many longer tops in this style to choose from!
Top your look off with some statement accessories, like chunky necklaces and bracelets and some flip flops or sandals that are perfect for running around on the beach in!
1.      White Tribal Print Trousers – River Island: £30
2.      Tenki Blue Geo Floral Skirt [Online Exclusive] – New Look: £19
3.      Blue Vanilla Tie Dye Dress – New Look: £26
4.      Dress with Fringes – H&M UK: £19.99
5.      Monochrome Aztec Crop T-Shirt – New Look: £9.99
6.      Red and Purple Aztec Button Black Vest – New Look: £12.99
7.      Yellow One Button Roll Sleeve Blazer – New Look: £19.99
8.      Black Ruched Sweetheart Crop Top – River Island: £20
9.      White Sleeveless Denim Jacket – New Look: £22.99
10.  Pink Diamante Embellished Spiral Sandals – River Island: £3511.  Sandals – H&M UK: £7.99
12.  Vintage Style Angel Medal with Blue Green Feather Necklace – ringsandtings.com: £4.50
13.  Black Cord and Chain Statement Necklace – River Island: £18
[All suggested items can be found on the respective store's official website, some are online exclusives, so be sure to look for them on there instead of going your nearest outlet!].
What do you think of this style or this article itself?
As always, please share your opinions in the comment section below!
[Sources: Google Images, River Island Website, New Look Website, H&M UK Website, ringsandtings.com].