Today we're going to take a look at the new, powerful track from B.A.P., Hurricane!
Concept
Very soon after releasing their chilled out song, Coffee Shop, BAP have turned 180 degrees and come back showing another musically diverse side with the strong and energetic track, Hurricane. Similar to Coffee Shop, Hurricane's MV is also USA-based, but this time instead of relaxing in San Francisco, we see BAP partying in Las Vegas.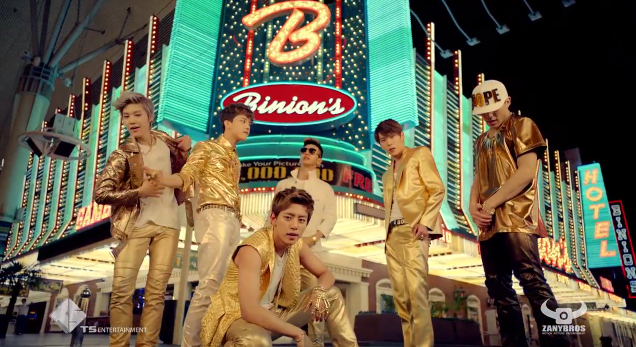 The MV for Hurricane doesn't have much of a storyline, and the concept doesn't really go much further than them having a good time in Vegas either, but it still looks pretty awesome, extravagant, and like they're having some fun.
Except, I couldn't help but wonder how much fun can a band have in Sin City when the majority of the members are under 21? A city well known for gambling, partying and a variety of things that only two members are old enough to legally take part in? Obviously none of these things are in the MV because minors can't get into casinos, it just struck me as a little odd that a party-style MV shot in Las Vegas contained no scenes of some of the things that make the city world-famous. I assume that if we put age issues aside, the fact that gambling activities are actually prohibited in Korea was probably also a factor in what kinds of things BAP were shown to be doing in Las Vegas; I imagine they would get in trouble and the MV might even be banned if gambling was included. Technically South Korea does actually allow some gambling activities, but only in highly regulated casinos which are only open to foreigners. There is currently only one casino in South Korea that is open to Korean nationals, but it is located in the remote countryside to restrict access to Korean citizens, whereas the hotel-run casinos for foreign nationals can be found throughout Seoul, Jeju Island and Incheon. What I'm trying to get at here, is that because gambling is quite prevalent in our society to the point that you can't walk down a British high street without seeing a betting shop, it might seem a little strange to potential viewers that no form of gambling is alluded to in this MV.
(Sorry, I'm going to move away from this pseudo-Culture lesson now.)
Going back to the fact that there are no shots inside casinos or gambling scenes in this MV, despite that you see some pretty cool landmarks and sights that you would definitely associate with Vegas, such as the bright lights and neon signs, outside shots of clubs and casinos, and scenes in the Nevada desert.
The MV switches between locations swiftly which fits well with the song, as true to the title of the track, they're out in Vegas like they're a hurricane blowing across the city; you see them riding in a limo, walking the streets of Vegas, dancing outside of iconic buildings, driving through the streets at night, etc. This MV contains visually awesome sights which are scenes that potential viewers will be used to linking with Las Vegas. Seeing as American culture is practically as familiar to us as British culture, some people may find this concept more appealing as it's less of a culture shock when combined with a Korean song.
The outfits and hair, despite the MV being shot in America, is completely Kpop in a way I don't think I've seen from BAP in an MV before; gold matching suits, matching black and white casual outfits, and Zelo's poodle hair are things that are quite likely to get a few raised eyebrows if this MV was released over here. They do wear matching black and cream suits at one point that are probably the only outfits worn that would be immediately acceptable in the UK, as we are so used to male singers and bands wearing toned down outfits over here. That being said, all outfits match well with the unique sound of the song, and even if you don't like it, you gotta have some respect for a guy wearing a gold suit right?
UK Potential: 3.5/5
Choreography
There's no set or seemingly fixed choreography in the MV from what can be seen, so we'll have to wait for it to be performed to see how it's choreographed. I can't really imagine what kind of performable dance routine would actually work with Hurricane as it has a strong and unique sound, but I'm very much looking forwards to finding out.
Most of any dancing seen in the video is freestyle from the two main dancers of the group, which looks powerful, masculine and pretty intense. The dancing we see includes some crumping, b-boying and a whole variety of impressive moves that looks like the boys have finally been allowed to let loose and show fans what they can truly do. Some of the most notable moves are hurricane-like spins and remarkable flips.
While it would be difficult for anyone to copy such moves, it should keep the MV some kind of memorable for a lot of people, and should definitely impress some potential viewers.
UK Potential: 5/5
Song
Hurricane offers a much more dance/electro sound than any of their previous songs, but they keep a unique BAP sound to the track as it's combined with a real hip hop vibe and even some touches of funk in places. We also hear the classic BAP sound from the use of whistles throughout the song that is something that is included in their fan chants since their debut. It all comes together to create a really unique, strong and unforgettable sound that should appeal to most people who like the edgy, up-tempo tracks that are popular here in the UK.
Despite this being another song that sees members Him Chan and Jong Up receiving the least amount of lines again, there is a good, even mix of vocals and rap split up throughout the song that sounds great together.
Compared to some kpop tracks that have been coming out recently, there is a fair amount of English used in Hurricane, but unfortunately it's not the best that I've ever heard. BAP don't have the best track record when it comes to either pronunciation or even getting English phrases right in lyrics, but Hurricane probably contains some of the dodgiest Engrish that I've heard in a while. 'I wanna baby' and 'the roof is on fire' are the most noticeable mistakes. I have included 'the roof is on fire' seeing as it took me a few seconds to realise that this was what Him Chan was saying, seeing as he was pronouncing it 'loof'. Anyone who knows even the tiniest bit about Korean language would know that Koreans can have difficultly differentiating between 'r' and 'l', hence the frequent mispronunciation of words like 'girl' and in this case, 'roof', but even with this knowledge, I still couldn't help but laugh seeing as he said it so deadpan. And if I have this reaction as a kpop fan with knowledge of Korean language, I can only image that potential listeners might just find it funny or even dismiss the song because the only part they could sing along with is badly pronounced.
That being said, there is pretty good English used too, such as 'gotta break it down, break it down, feeling good tonight' and 'turn it up now, burn it up now, grab the mic and shout it out to you now'. There are also times when according to the official lyrics the English used is mostly correct, but it's just the pronunciation that makes it sound off, such as 'We're hurricane', which is acceptable, but it sounds like they're saying 'we hurricane' instead.
Despite some iffy English phrases, I think the sound of the song would appeal quite easily to certain groups of people here in the UK as the hip hop sound can make it more accessible and similar to music that is popular in the UK mainstream.
UK Potential: 3.5/5 (Want to give it higher…but so much Engrish! OTL)
Highlight: – The party in the limo! Can I get in on that? Plus, I like to think that this track is an homage to the fact that 'hurricane' is almost like an inside joke for BAP and BABYs that originated on their show Ta Dah, It's BAP. Pretty cool for fans if that's true!
Overall UK Potential: 12/15 – To release Hurricane in the UK, I would really recommend revising the English used, and a simple change of phrases like 'we hurricane' to something more grammatically correct like, 'we are the hurricane', and even correcting some pronunciation would really go a long way in improving the chances of this track doing well if released here. Despite being adamant that music transcends language, I also think that to connect with people who only listen to music in the English language, the English in kpop songs should aim to be pretty accurate as it will be the only parts of the songs that they can sing along to…if the English used doesn't make sense, it's easy to dismiss something good.
All that aside, this song could stand a very good chance here in the UK as it has a strong, distinctive sound, and a bright, cool MV!
What do you guys think of the MV? Haven't seen it yet? Check it out below!