After only about a month since finishing promotions for What's Your Name, 4Minute are back with their new track, Is It Poppin'. (Yes, it is!)
Concept
I have to admit that the first thing that I noticed about Is It Poppin' is that it seems to have a fair few similarities to What's Your Name, such as the neon-bright concept, the minimalistic beat of the song combined with electro sounds and effects. At first glance, even the dance is a little similar, along with the clothing worn and the unexpected climactic scene of the video. With that being said, there are some differences, such as the girls dancing in water in this new MV, and while both concepts are bright, Is It Poppin' definitely has a more tropical feel than anything else.
The MV mostly consists of a big party being held in what looks like an old, disused room, and the other scenes are of the members dancing together or alone. This is a pretty standard set-up for an MV, but the bright colours, unusual locations and neon props really seem to help set it apart and make this video memorable, and keep everything matching really well with the overall feel of the song. In the scenes where the girls are dancing together, they're in a room with a shiny black floor seemingly surrounded by water with neon light trees behind them, and most times when they're dancing alone it's almost like they're in some tropical paradise as they dance around in pools of water surrounded by plants and flowers. It sounds odd when describing it, but this MV boasts some undeniably awesome sets.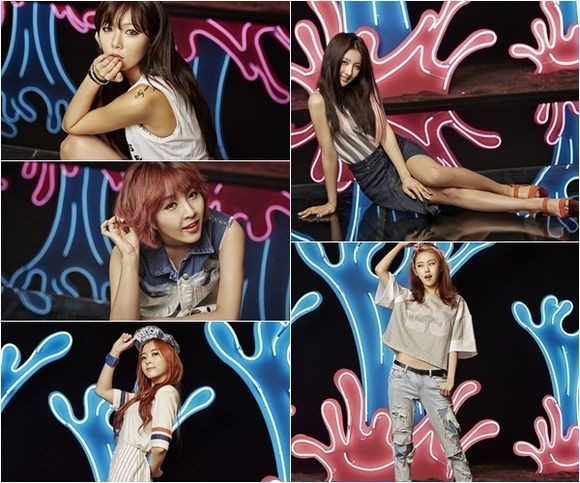 The climactic scene of the video was a little unexpected and confused me the first time I watched it as while everyone is having a great time dancing, suddenly the building starts to go up in flames, until the water sprinklers come on and put it out again. The second time that I watched it I suddenly realised what I was seeing; they literally party so hard that they set the roof on fire. Okay then. Well, that happens to me all the time.
Along with What's Your Name, this is another video where pretty much the entire wardrobe used looks like you could go and buy it straight from Topshop! It's all clothing that is very trendy and fashionable in the UK right now; American sport-style tops, denim shorts, oversized headbands, tie dye, neon's and Aztec prints. Love it. This is something that would definitely appeal to potential UK viewers as the fashion will be something they can relate to easily and might make them feel more comfortable listening to music in another language.
I feel like I have to mention the t-shirt that has word 'Satan' on the back and clear up any misunderstandings that are arising from it. As people like to do, they have been making claims about Illuminati and such because of the t-shirt, but apparently this is official Romanisation of the name of a Slovakian hockey player, Miroslav Šatan. This is probably an obscure reference for most of us if we're not into hockey, and despite being all for wearing what you want, this was probably a poor choice of clothing when making a video that will undoubtedly be seen in English speaking countries. I can see how this could offend someone if they didn't know the origin of the t-shirt.
UK Potential: 4.5/5
Choreography
Even the dance initially reminded me of What's Your Name, but this choreography is definitely on the cuter side with exaggerated mimicking of being on the phone, cute little swivels while standing on the spot, and even at one point the girls add a little sexiness into the routine as they bite their thumbs and do mini body rolls.
The dance definitely suits the song, and while looking quite cute it's quite relaxed with no over the top or hugely energetic moves. Cute dances aren't something that we're really used to in mainstream music here in the UK, and while this choreography isn't the most memorable to come out of kpop, I think the cute aspect would be what could make it stick in people's minds. Normally I would think that cutesy moves could be off-putting for people unused to kpop, but combined with the quirky concept and cool sound of the song, I think the choreography isn't too much.
UK Potential: 3/5
Song
Like I mentioned earlier, this song has a cool, minimalistic beat that has been combined with electro-synths, video game and phone sound effects which creates a really unique, quirky and overall fun sound. With this kind of sound, I think that this is most definitely a great summer track.
It has an almost 90's vibe with the phone sounds and it reminds me of Britney Spears' songs from that era (Email My Heart, anyone?), but mostly it keeps making me think of the song Babycakes by Three of a Kind. Is It Poppin' is a very enjoyable song, but I can imagine that it might be a love or hate kind of deal with all the sound effects, but seeing as most things that are retro or nostalgia-inducing tend to be quite popular in the UK right now, I think the sound of this song being a bit of a throwback to the 90's would be advantageous if they were to release it here.
There is very little English used in this song, and the few words used are mostly; 'hey boy, hey boy', 'okay, it's 4Minute', and 'get yo' big sass on right now'. I would say that that last phrase would sound strange to English speakers , I understand what they're saying but I've never heard that phrase in my life, but when you actually hear it in the song, it's been so edited that you can't even hear the word 'sass' so it doesn't sound that strange. Plus, overall, the English used is quite well pronounced and pretty effective, so no problems really!
UK Potential: 3.5/5
Highlight: – The solo scenes where they're dancing in water. It looks hella cool.
Overall UK Potential: 11/15 – Seeing as this track has such a unique, retro sound combined with UK-friendly fashion and a visually awesome video, I honestly think that Is It Poppin' has a lot going for it and would stand a fairly good chance if it was ever released into the UK market. It manages to mix a little bit of the traditional kpop cuteness with a cool and slightly sexy image which tones everything down into being just plain enjoyable. I don't think this song would be hugely popular with people over a certain age here, but I still think this song could enjoy some popularity.
Haven't see this video? Check it out below!