Louby McLoughin is a junior fashion editor for POP Magazine, from the UK. She updated her Instagram with a photo 2NE1 styled by loubymc.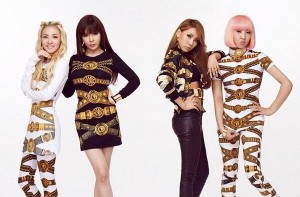 She mentions that 2NE1 will be in issue 29, their Autumn/Winter issue.
After a years wait, 2NE1 have finally made their comeback, complete with an image change. They have gone from from charismatic and tough to loving and approachable, which was unexpected among Blackajcks but highly praised.
The girls have been approaching their comeback with an unusual technique, releasing a new song every month. By October we will be presented with either a full length album or a mini album.
Look out for the magazine in newsagents or bookstores, it's out now!
[UPDATE – 4/9/2013]
We now have some photos of the issue of 'The Pop' that featured 2NE1 incase any UK Blackjacks missed it!
Interestingly, G-Dragon was also featured in a photograph with founder of the store 'Opening Ceremony' – Humberto Leon. It looks like GD was at the store re-launch in Tokyo!
There are also some photos of the covers, which featured British Model Kate Moss and Singer Iggy Azalea. Take a look!