On 06.08.2013 G-Dragon surprised UK VIP's by taking a  trip to London for unknown reasons.
On 07.08.2013 the rap star was spotted in Whitby Street, Shoreditch in East London filming something. This photo was posted onto Instagram by bigbang_vipswagg.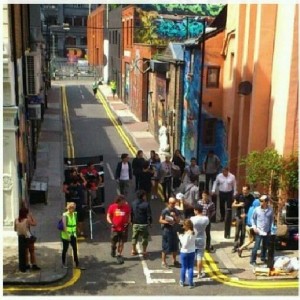 When we saw the camera, we automatically assumed he's filming a music video. It was a long shot and he really could have been doing anything.
But then, on 08.08.2013, Marc Davies (@marcdavies) posted these updates on twitter.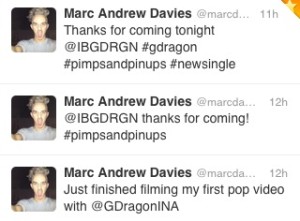 "Just finished filming my first pop video with @GDragonINA" In some of the replies, it's revealed that he's mentioned the wrong name and he was meaning to mention G-Dragon.
"@IBGDRGN thanks for coming! #pimpsandpinups"
"Thanks for coming tonight @IBGDRGN #gdragon #pimpsandpinups #newsingle"
He then went on to update a photo of G-Dragon, with the caption
"#gdragon on set at #pimpsandpinups for his #newsingle …. @ Pimps & Pinups" note that Pimps & Pinups is a hair salon located in Spitalfields.
pimpsandpinups posted the same photo onto their official Instagram, captioning it with "Last night we had the pleasure of having Korean superstar #GDragon shoot the video for his new single."
After about an hour, the photo from both accounts have since been deleted, as well as the tweets linking to it. He then sent a tweet explaining how he wasn't supposed to say anything about it until next week.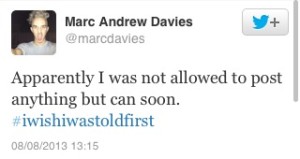 "Apparently I was not allowed to post anything but can soon. #iwishiwastoldfirst"
So, through a common mistake we now know that G-Dragon is in fact filming a music video in London! Who's excited?