All the UnitedKpop 'Get the K-Pop Look' articles have been previously directed at a more female audience in the sense that all the clothing suggestions made have been girl's items. This time around, we have an article featuring all male clothes! Our source of inspiration comes from the fierce rookies Bangtan Boys with their debut concept in 'No More Dream'!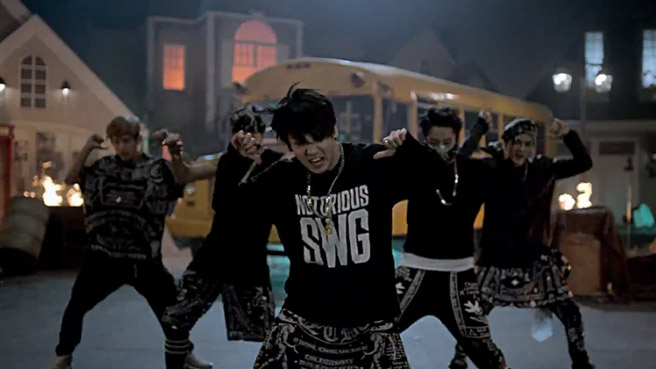 It does not take a genius to see how incredibly simple this look is, black and white with print designs mostly involving numbers or short, macho slogans. Even though the fashion industry is still much dominated by items for female consumers, there are now sections of many feminine-oriented stores with a lot of cool clothes for the males among us. New Look is one of the  British high street outlets that consistently provides some quite varied clothing for men, ranging from cooler clothing to more cute and eccentric for the slightly more adventurous 'fashionistos'.
This look is very comfortable and casual, but still carries a lot of attitude and flair. It seems that the availability for a larger variety of men's clothing is becoming ever more present on the British highstreet, and I'm sure a lot of you guys feel that it is about time!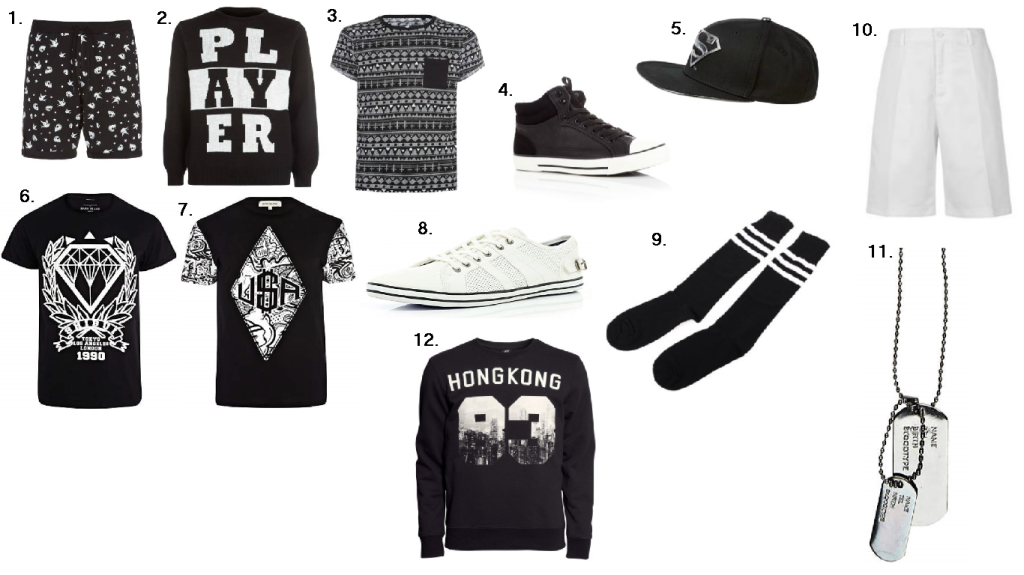 Black and White Skull Print Jogger Shorts – New Look: £19.99

Black and White Player Jumper – New Look: £19.99

Black and White Grunge Stripe T-Shirt – New Look: £9.99

Black Padded Cuff Hi-Tops – New Look: £24.99

Black Metal Superman Flat Peak Cap – New Look: £9.99

Black and White Diamond Crest Print T-Shirt – River Island: £16

Black USA Graffiti Print Two-Tone T-Shirt – River Island: £20

White Leather Look Buckle Lace Up Plimsolls – River Island: £20

Old School White Stripe on Black Knee High Athletic Sports Tube Sock – amazon.co.uk: £3.99

Dunlop Plain Golf Shorts Mens – amazon.co.uk: £4.99 [+ £3.99 UK delivery]

Grey Gunmetal Dogtag Necklace – River Island: £7

Sweatshirt with a Print – H&M: £19.99
I have been very biased in my past 'Get the K-Pop Look' articles (sorry!), but it is slightly easier for a female (such as myself) to suggest clothing for other girls, especially when so many versatile fashion choices for females are around. However, I hope this post satisfies our male readers!
Of course, another plus about being a girl is that no one really bats an eyelid if you are wearing clothes originally designed for men, so don't feel too left out, it's a totally unisex look!
In any case, this look will work for anyone, so go out and give it a go!
With special thanks to Lore Walsh for the article idea!
What do you think of this article/K-Pop style?
Is it something you would try out for yourself?

Let us know your opinions in the comment area below.
[Sources: Google Images, New Look website, River Island website, amazon.co.uk, H&M GB website].
—