A few weeks ago, UnitedKPop gave a review on the new Korean food stall HERE, but now we bring you an interview with one of the founders, Hanbit!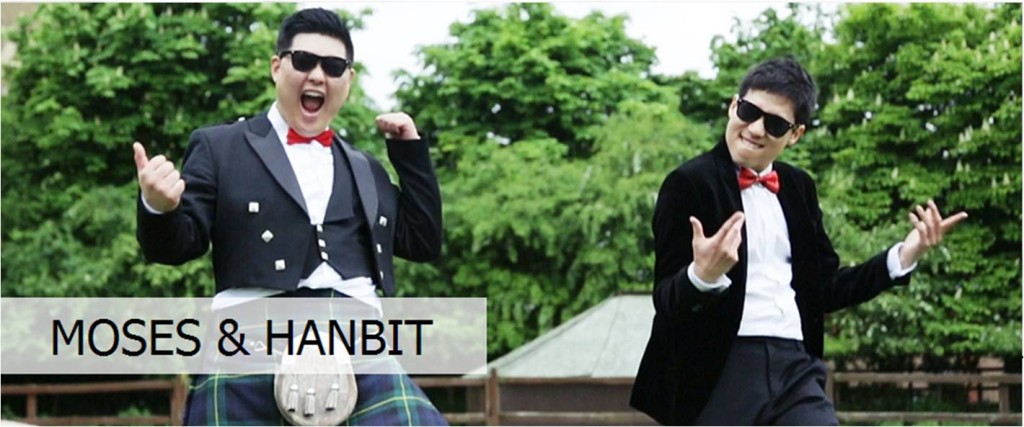 You may recognise both of the founders – Hanbit and Moses – as they also created the extremely successful Gangnam Style parody "London Style" which has so far hit over six million views and still counting! They recently both created and starred in their latest Psy parody "Gentleman."  So, how did they go from making videos on YouTube to creating their own Korean food stall? Check out the interview below!
UKP: Whose idea was it and what made you think of it?
It was our collective idea. After our successful video of London Style (Gangnam Style Parody) we were wondering what to do for our next project. Moses came up with the idea of a food business, and I narrowed it down to Korean BBQ burgers.
UKP: You both went to University and studied Mathematics and Law – both very serious subjects with high-paying careers. How hard was it to turn your back on your education and – pardon the phrase – start "flipping burgers" instead?
We are adventurous boys – always wanted to do something different. Moses had a promising career as a lawyer ahead of him and I had a comfortable job in the finance industry. However our dreams were to promote Korean food in the UK and that required sacrifice. And it actually turned out that flipping burgers were fun!
UKP: How has the reaction been so far? What are your future plans for Galbi Bros? Are you happy at a stall or do you wish to open a restaurant?
The response has been superb so far. People think the rice bun is absolutely cool. A lot of people are still unaware of what Korean food tastes like, but once they taste Galbi Bros. they came back saying that they love it. In the long run, we are looking to open a restaurant – in terms of the specific idea, we are still working on it.
UKP: At the moment you have 3 types of burgers which can include Kimchi, and you've also started to introduce Korean drinks, too. Will you introduce anything else, like kimbap or other small Korean snacks?
Yes, we are soon to introduce Don fries which is fries topped with Korean spicy pork, sour cream, gochujang mayo and kimchi.
UKP: Considering the success of Psy's Gangnam Style, do you think it's made the general public more aware of South Korea and more willing to try the food?
Yes, definitely in a way. We have had customers who come up and comment that Moses resembles Psy!
UKP: Have you had to change some of the seasoning of Korean food for the locals?
We tried to keep the flavours as Korean as possible but we made slight adjustments to suit a more international audience. For example we have toned down the hotness of our Don burger and Dak burger as we knew that the proper Korean way would burn the mouths of the locals.
UKP: Do you get any off-menu requests from customers and what is most frequently asked for?
People sometimes ask to mix up different types of meat into a single burger. For example, galbi with spicy chicken. Or some ask for cheese from time to time. This led to the Galbi Bros rolling out their new menu called the "Invincible Admiral Yi" which consists of galbi, spicy pork, cheddar, kimchi in a brioche bun.
UKP: Are your customers mainly Korean/Asian, or do you also have a lot of nationalities as well asking for Korean style burgers?
Our burgers are sought by all nationalities – in fact far less Koreans eat our burgers as they prefer to eat non-Korean foods when they come to a street market.
UKP: You're still fairly new to this business, how have you handled it and what have you learned/gained from this experience?
We are still new so it will take us time to expand but steadily we are getting there. It is our first time in the industry so there were so many things that we had to learn from scratch – it took us a week just to sort out our gas cylinders! But everyone has to go through this step and learn it the hard way. We are constantly on the search for new markets and we are finding new ones and trying them out.
So there you have it! The Galbi Bros. stall changes location all the time, so to keep up to date make sure to follow them on Facebook right HERE! So if you're ever in the same area, be sure to try out the very fruity and sweet plum juice and the succulent burgers! It's well worth the spend, and if you've already tried it, let us know what you think! In the meantime, here are some photos and you can also check out their website for more information here: www.galbibros.com