This restaurant based in North West London was previously known as Kimchee and has now been revived as Sarang.
On a quiet afternoon, I decided to have a quick lunch at Sarang and was immediately seated at huge tables by the wall. The decor is traditionally Korean once you enter the restaurant and you might notice it is rather dimly lit as well. Five minutes after browsing through the menu the waiter took my order which consisted of Haemul Dolsot Bibimbab as the main dish along with Seawoo + Sogogi Mari as the starter.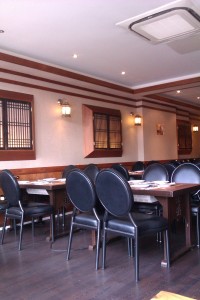 Sogogi and Seawoo Mari were vegetables and meat wrapped in rice paper with a mustard sauce for dipping. Surprisingly nice and light. Compliments the main meal rather well. I liked how crunchy the vegetables were inside the rice paper.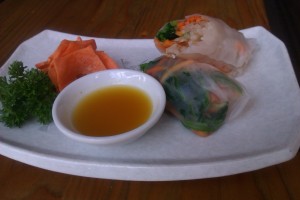 The banchan offered to me was Kimchi and beansprouts. Both very small portions. The Kimchi was not overpowering in any way and easy to eat though.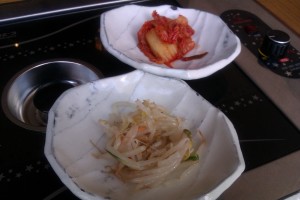 My main dish Haemul Dolsot Bibimbab. Sizzled when it was first placed on my table and calmed down after I mixed it for a few seconds and left it alone to cook by itself. There was *a lot* of seafood inside the stone bowl. Mostly squid and baby octopus with small prawns and one large curled prawn. There were plenty of vegetables to bring the overall dish some variety and the sauce already added inside the bowl softened the rice.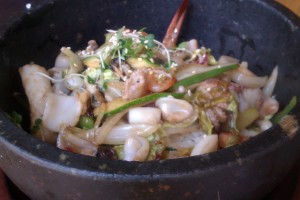 Overall: I haven't explored the BBQ side of Sarang yet so I can't comment on how good that is since I went for a simple lunch to play it safe on my first visit. Staff service was fine. The waiter was prompt and the female boss was briefly polite, asking if my food was good when she came to clear some of the dishes away. My order was taken quickly and my food and drink arrived in less than 30 minutes. Starter order and banchan came so fast and when I had just started eating them my Haemul Dolsot Bibimbab arrived at the table soon after that. It seemed the food and stone bowl were already prepared by the kitchen staff in advance.
The menu is varied and includes the various Bibimbab on offer and fried noodle dishes. Prices were similar to what you would find in Soho's Korean restaurants. £7.50 for the Haemul Dolsot Bibimbab and £3.20 for the Seawoo and Sogogi Mari. £1.50 service charge was added to the final bill. For a light lunchtime meal by yourself this might be a little pricey. On the other hand, the one waiter working that afternoon was courteous. He and his boss provided good service so the service charge may have been reasonable on that part.