International K-Pop fans, such as us Brits, have to be quite creative when it comes to bringing the genre closer to us. Unfortunately, we are unable to pop to our local shop to get our K-Pop fix in our home country, so we have to rely on the world of e-commerce to feed our needs.
Online shopping is not exactly uncommon nowadays and people all over the world are using the means to buy the things they want, even the daily shop can now be done at the click of a button.
However, when you aren't buying the item in person, there are a lot of factors that can leave the consumer feeling disappointed and annoyed with the service they have received. We hope that our reviews can help you make a well-informed future decision about where you chose to purchase your merchandise from!
Today's review is for KPOPTOWN (www.kpoptown.com)
Merchandise available
There is basically everything available on this website to satisfy a K-Pop fan (I promise I'm not paid to advertise for them, but if they want to send some merch my way…ahem). Anyway. there are a range of official CDs, Jewellery, 'Collectibles' like official tour goods, socks, cups and calendars, as well as South Korean fashion brand goods and cosmetic products advertised by certain K-Pop acts. Rather interestingly, even wigs are now available on the site which I guess would be perfect for any of us wanting to cosplay our biases!
Rating: 5/5
Pricing
The prices of most products are generally very reasonable. Most jewellery pieces, accessories and keyrings are around £5. Official CDs are often around £15 with optional extras like posters and photocards. Once you get onto the brand goods, things can start getting expensive, but that is to be expected when you are paying for the label as well as the item itself! Some caps and official t-shirts can push the £40 mark (my bank account is screaming!), but there are some slightly cheaper alternatives available too.
PayPal is also available for payment transfers.
Rating: 4/5
Shipping
There is a detailed information page about shipping to many different countries worldwide. The price for this varies occasionally, but I have never had to pay over £5 for any of the items I have bought to be shipped to the UK.
It usually takes them 1 or 2 days to dispatch the item and then a subsequent 2 weeks until arrival. The information page advises you to allow 2-4 weeks for the item to arrive and to take into consideration special holidays in Korea (e.g. Chuseok) and your native country into account.
Posters in tubes often come separately if you have ordered them alongside albums, you usually have to wait a few extra days after receiving the CD for them to arrive.
Rating: 4/5
Website Interface
Given the vast variation and amount of products available here, it is quite a task to organise it all into searchable components. However, this website does a good job, allowing you to search a product by type of even by K-Pop idol association. This allows for you to have a general browse or hone the results down to your favourite idols' products and styles. This is great if you like a certain idol's taste and fashion.
If you want to have a general browse, there are a lot of pages to navigate through and small numbers in the left hand corner make this quite laborious, but if you don't mind spending a bit of time seeing what is around and clicking your way through, it is not a major problem.
Rating: 4/5
Communication
The only problem I have ever had with this site was when I ordered a cap that turned out to be out of stock. I had to message them first to see what was going on before getting a full refund. I found this slightly annoying, but the team were incredibly apologetic for what had happened, so I did not feel like I was seen simply as a source of income by them. They did seem very remorseful and got my money back to me very quickly.
The team's English is not the best, but still very much comprehendible. Channels of communication are made very obvious and open to customers and responses are quite prompt.
There was a time when my sister forgot to select a poster to come with an album, she messaged KPOPTOWN and they made it very easy for her to transfer a couple of pounds through PayPal for it and sent the poster soon afterwards.
Rating: 5/5
Packaging
Items I have ordered have always been well packaged, often in thick, bubblewrap envelopes or thick cardboard poster tubes.
Items of jewellery often come in little, cute boxes with bows on them (see the bottom right-hand section of first photo below) which I think is a really nice extra and has worked really well when I am buying things as a gift for others. All items have been in their original packaging as stated on the website.
Things are well packaged, but you don't feel as though you are being wasteful by throwing the packaging away, which a lot of online stores can make you feel when they go a little over the top!
Rating: 5/5
Quality of products
Everything I have ordered has been completely brand new and undamaged. The jewellery pieces are sturdy and long-lasting (I have a pair of earrings that I wear an awful lot and they are still in pretty good condition!) Some pieces are made of slightly cheaper material, so leathery of tin smells can start to rub off them after a while of wear. However, all earrings are made of surgical steel and most items are durable and well-made.
Rating: 4/5
Here are some of the purchases my sister and I have made from KPOPTOWN in the past: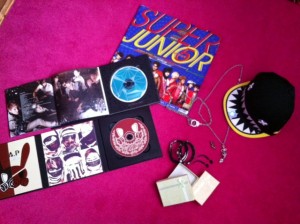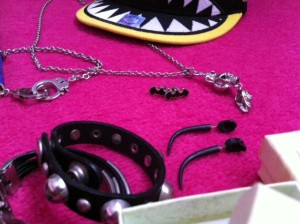 Overall
I have bought many items from KPOPTOWN (perhaps more than my purse would care to remember) and I have never been overly disappointed. There are a lot of items for a generally good price and items are reliably packaged and shipped. What more could you want as an international K-Pop fan?
A few elements are slightly lacking, for example, I cannot see the loyalty points reward system motivating customers to buy more as you would need to buy a considerable amount in order to amass a reasonable collection that you could use and some items are not built for 24/7 wear.
Nonetheless, I would definitely recommend this site to fellow K-Pop lovers!
Overall Rating: 4.5/5