During ALT we've looked at artists from genres such as indie, hip hop, R&B – but today we are going to venture back to what we do best, Kpop. Why? The artist I want to cover today has a career spanning forty-four years, covering genres such as pop, trot and rock.
His release completely shadowed PSY's Gentleman, knocking him from the top of the charts, and on Korean music shows over numerous weeks he managed to grab the top spot over the likes of PSY's Gentleman, which had a strong reign, Roy Kim's Spring Spring Spring, and SHINee's Why So Serious?.
Cho Yong Pil
Cho Yong Pil first began his music career as a guitarist but his success would come much later as a singer. His early years consisted of being part of a country & western group called Atkins that played for the US Army, Five Fingers that played music by black artists & Kim Trio which bore his love of rock music.
His success came in 1975 after his first single Come Back to Busan Port, with success following in Japan. In 1980 Cho Yong Pil was the first Korean singer to ever play Carnegie Hall in New York.
Once Seo Taiji and Boys rose to fame in 1992, and the idol wave followed, Cho Yong Pil stopped releasing studio albums as they begun to fall in their success. He concentrated on his live performances, not even appearing on television. In 1993 he was the first artist to gather a record one million strong audience to a concert in Busan. The star even performed in the North Korean capital, Pyongyang, a very rare event for a South Korean singer.
Even now, having passed the age of sixty, Cho Yong Pil continues to create a diverse range of music and sell out over thirty shows a year, including many at Seoul World Cup Stadium.
In April the iconic Korean singer released his nineteenth album, Hello, and as I began, this album went straight in a number one, dominating the realtime charts, weekly charts, and it was the tracks Hello and Bounce that pushed all the popular young idols out of the spotlight in the weekly music shows. That isn't something that happens too often. Since then Cho has also released mvs for Bounce, Walking Along With You and Romance, but I'm going to focus on the title track.
Chances are a Kpop idol you love is a really big fan of Cho Yong Pil! Notably PHANTOM wrote a song called Like Cho Yong Pil and were personally invited to perform the track at the star's comeback showcase!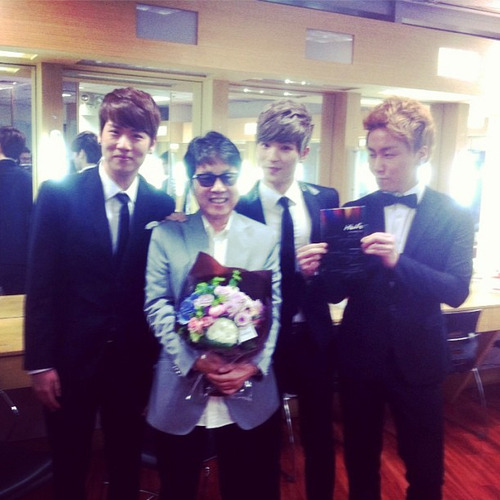 Other big fans include: BIGBANG's Taeyang (also a personally invited guest to the showcase) and G Dragon; Shinhwa; SHINee's Jonghyun; Super Junior's Ryeowook; 2AM, SNSD's Taeyeon, BTOB; Kang Ji Young & Gyuri of Kara; D.O of EXO; Taecyeon of 2PM; – I could go on.
Hello
Cho Yong Pil's aim with Hello was to re-invent his music and bridge a gap between the generations that listen to music. He doesn't just have older fans of course, but in his many years in music he's been able to see the changes in the industry and its listeners and he wanted to create something that was accessible to fans young and old.
So, what is the title track like?
[youtube id="t9AhglqU0gs"]
Music & Lyrics
The music marries many of Cho Yong Pil's influences. It has a catchy pop hook with the use of repetition and strong beats, but also implements his love of rock music with his guitar playing throughout.
The lyrics are maybe what you'd expect from a staple pop artist, it is a song about feelings for a woman, know that 'you' are the woman he is falling for and needs to know absolutely everything about. Essentially it is a story of love at first sight.
The track also features well respected hip hop rapper Verbal Jint and as he raps you can hear the addition of a slight piece of scratch in the track. Scratching is a technique used by DJs where a vinyl record is moved backwards & forwards on a turntable, the sound can also be manipulated further with the crossfader on a mixer. This is a very modern element to the track to compliment VJ's hip hop roots, and continues Cho's aim to knit the old and new.
MV Production
The mv is very much a mini movie, and is a creation from Lumpens. Lumpens is a design studio headed by Yong Suk Choi, who is now also the Creative Director at FeelGhood Music, Drunken Tiger's new record label.
The credit sequence at the beginning introduced us to the three characters Julian Banks, MaeMae and James Lee McQuown, a popular Korean American model whom you might recognise from Ailee's Heaven mv.
MV Concept
The mv sees young Julian arrive home from school to see MaeMae moving in to the house next door to him, he is captivated, especially as she says hello.
A power from above strikes Julian with lightening and he is transformed into the cool, and suitably rock looking male model, James Lee McQuown. Quite symbolically he stands with his palms out to the camera and his head pointed to the sky as if thanking the power that changed him, James' looks are often said to be 'Jesus-like' so the idea of his character here being sent from God is a little bit of fun in the concept.
Luckily, coincidentally, whatever we may want to call it, James & MaeMae's bedrooms look right into each others, the perfect way for James to get her attention, and it is Cho Yong Pil that helps him do so. One of the many posters in James' room is a rather large one of Cho playing guitar, the wall mysteriously opens up and the posterised arm of the icon emerges out of the wall to give the junior his guitar, and with it a whole lot of rock and roll power.
Cue the rock costume changes: leather jackets; plaid shirts; and the essential super skinny black jeans. Bust out the comic book graphics to show off the rock and roll power Cho Yong Pil has given James. Then, get the girl's attention with the almighty rock move, the dive … onto your bed? Well, it's no crowd surfing but it gets MaeMae's attention anyway.
What happens when you've got the attention of the girl? Apparently fireworks, then you get a rock band and take your shirt off! Though attention isn't the goal, getting the girl is, so as Verbal Jint steps up the pace James, with the power he has been given, is able to run through the wall and make his way to MaeMae.
The mv ends with a mixture of intensely crazy graphics that show James alone, cut with shot of James and MaeMae still in their respective houses dancing away. James never got the girl, though you can tell from MaeMae's reaction, he certainly got her attention.
MV Design
James' room references many popular movies such as The Avengers, The Shining, Superman and British cult classic A Clockwork Orange. International musicians such as Sum41, Metallica and Green Day. British groups such as Oasis, The Rolling Stones, David Bowie and the Sex Pistols.
Even Korean musicians such as MFBTY, this one may be a shout out to the longterm friendship Lumpens has with the trio, he also created the Sweet Dream mv. There are even popular products included in the mv such as Red Bull, and Apple.
This combination of current and older popular culture displayed through James' room allows the audience to pick up on the details and relate to something they love, or used to love and make a connection to the music. There should be something for a lot of different ages all over the room, bringing together the generations, as was Cho's aim.
Where else can you find Cho Yong Pil?
Here are Cho Yong Pil & Verbal Jint performing Hello at the album showcase back in April.
In the video you'll see a lot of the other guests from the showcase, these included James Lee McQuown, hybrid hip hop group PHANTOM, electronic group Idiotape, rockers Guckkasten and Jaurim, R&B vocalist Lena park – really bringing together the genres.
How about the mv for Romance, another Lumpens video and not your average Kpop love mv, this is a gorgeous romance played out in the most innocent way, with two children
There is Let's Go On A Trip. This has been covered by SMTown for their 2007 Summer Family track and Lee Seung Gi!
You can even see him singing the longtime loved ballad Unchained Melody!
What did you think of this track? Do you think Cho Yong Pil appeals to all ages?
Are there any genres you'd like to see featured in ALT?