While this is not a new concept, with the song having been released almost a year ago now, the fashion for B.A.P's 'Stop It' is perfect for the changing of the seasons. It is around this time of year (especially in Britain) when the weather is slowly adjusting from a slight mugginess to cold, but still not really settling on either. It may leave many of us pondering what to wear to suit it without being too hot or too cold.
The style for this music video is great in that it is lightweight, though still able to keep you quite warm. You may not be ready to dust off the old winter coat just yet, and this bright and fashionable style can help extend that summer feeling for just a little while longer.
Bold coloured, skinny jeans paired with a chunky cardigan or a thin, yet funky raincoat is something simple and stylish. If you are really brave, you can add in some yellow items like Zelo, or some really jazzed-up jeans like Himchan. If you want to add some jewellery also, it's best to keep it low-key like the B.A.P boys have with a few gold or silver items as you don't want to draw too much attention away from your colourful outfit.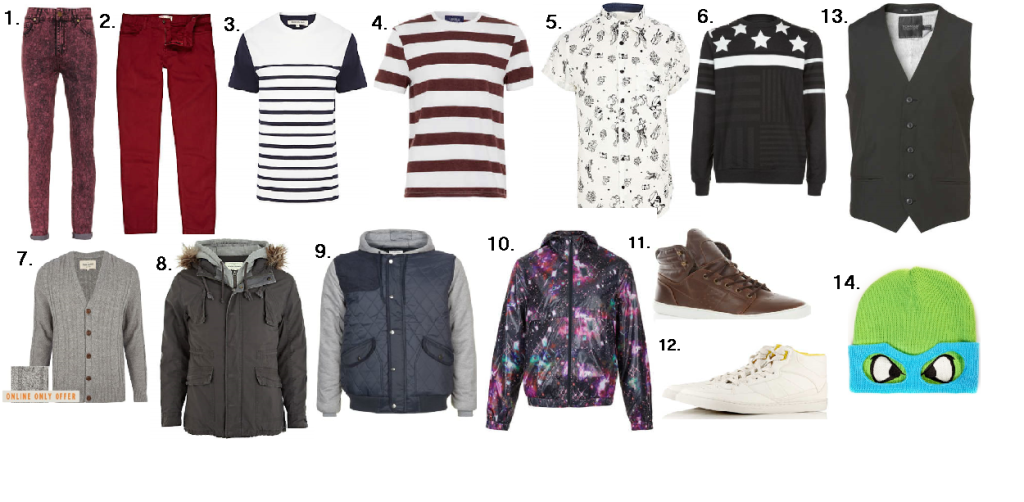 Red Criminal Damage Skinny Jeans – Topman: £40
Dark Red Sid Skinny Stretch Jeans – River Island: £29
Navy Stripe Panel T-Shirt – River Island: £12
Burgundy and White Stripe T-Shirt – Topman: £14
White Tattoo Print Short-Sleeve Shirt – River Island: £28
Monochrome Stars and Stripes Jumper – New Look: £19.99
Grey Cable Twist V Neck Cardigan – River Island: £20
Grey 2 in 1 Hoodie Parka Jacket – River Island: £95
Navy Quilted Contrast Hooded Jacket – New Look: £39.99
Multi Galactic Print Lightweight Jacket – Topman: £45
Brown Leather-Look Cuff Hi-Tops – New Look: £29.99
White Hi Top Boots – Topman: £42
Black Five Button Waistcoat – Topman: £20
Teenage Mutant Ninja Turtles Leo Face Beanie – attitudeclothing.co.uk: £17.99
Burgundy Striped Cardigan – Topman: £40
Mustard Yellow Long Sleeve Poplin Shirt – River Island: £20
Monsta Munch Crazey Snapback – attitudeclothing.co.uk: £16.99
Twisted Chain Necklace – Topman: £20
Silver Tone Antique-style Pocket Watch – River Island: £15
The autumn season in itself is very colourful, so why not co-ordinate with Mother Nature and keep the brightness going!
What do you think of this style?
Will you be trying it, or have you already done so?
Let us know by leaving a comment below.
[Sources: Topman Official Website, River Island Official Website, New Look Official Website, attitudeclothing.co.uk].