In honour of VICTOR supporting Jay Park in his European tour and the great performance they gave during the London stop on the 21st at the Hammersmith Apollo, we thought we would create a 'Get the K-Pop Look' for the rookie group!
This look is clearly incredibly simple and understated, quite refreshing when you consider the usual fashion that adorns many a K-Pop artist! This look will suit anyone – it is simple enough to please the shyest of us, yet fashionable enough to sate the tastes of slightly more adventurous fashionistos and fashionistas.

This look is all about layering, with inclusion of some comfy knitwear. It is perfect for the upcoming autumnal weather (yes I'm sorry, but summer is indeed coming to an end).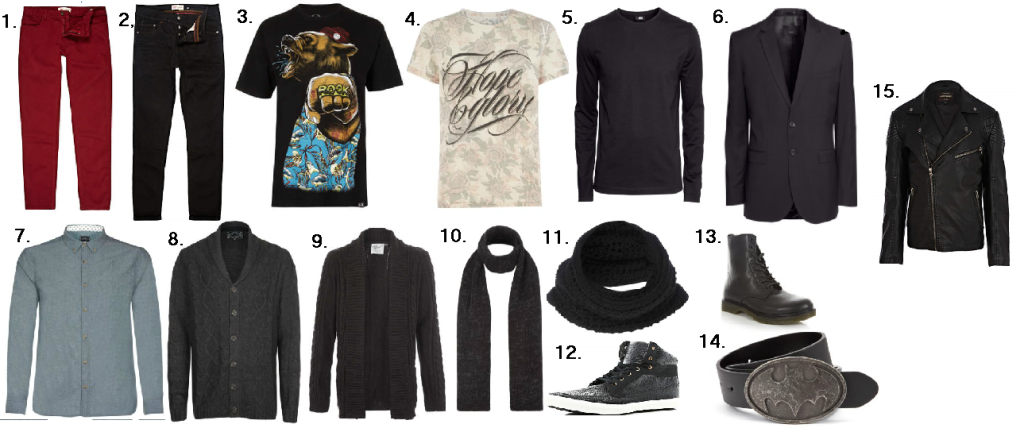 Dark Red Sid Skinny Fit Jeans – River Island: £25

Black Dylan Slim Jeans – River Island: £40

Rook 'Bear Knucks' T-Shirt – Topman: £30

Cream Hope and Glory Tattoo Print T-Shirt – New Look: £14.99

T-Shirt – H&M UK: £7:99

Jacket – H&M UK: £29.99

Jade Green Long Sleeve Oxford Shirt – New Look: £14.99

Grey Chunky Cable Knit Cardigan – New Look £19.99

Black Textured Cardigan – Topman: £46

Black Twist Scarf – New Look: £7.99

 Energie Mercers Snood – New Look: £20.99

Black Croc Panel High Tops – River Island: £49

Black Leather-Look Army Boots – New Look: £29.99

Black Distressed Batman Buckle Belt – New Look: £9.99

Black Biker Jacket – River Island: £65
Some of the suggested items, such as the boots, blazer, leather jacket and thick cardigans are on the slightly more expensive side, but these are the sorts of items that you will want to spend a little bit more on as you want them to last. Even the most stingy of us (myself included) cannot deny that good quality comes at a higher price, but for the amount of wear and versatility you will probably get out of these items, you have to agree that the extra expense is often worth it.
You may have noticed, the feet of the members is not in the photo, but I reckon some masculine boots or black and white high-top trainers would complete this look really well!
If you wish, you can also add a little bit more flair to this style fairly easily, if you want to add a cool belt or funky jewellery on top, this look certainly leaves space for it while equally looking complete without it.
So, no excuses, please your mothers and start getting fashionably wrapped up warm just like VICTOR!
| Whilst you are at it, why not take a look at VICTOR's Official Facebook Page? |
What do you guys think of this article/look?
Are you looking forward to what VICTOR will bring in the near future?
Share your thoughts in the comment section below!
[River Island Official Website,  Topman Official Website, New Look Official Website, Official H&M UK Website].