Also known as Po Cha, this is one of the restaurants you see very close to Tottenham Court Road's Centre Point. Its neighbours are Woo Jung, Seoul Bakery and Assa. The first time I went to Po Cha was back in 2008. Since I didn't remember much from that visit I thought I'd try their food again.
Managed to get a table near the bar where one of the staff would prepare the rice and Banchan and also wash a few plates when it wasn't busy. Po Cha had a special lunch menu that was from 12pm – 3pm. You just picked a main dish from that menu and it came with Banchan and Miso soup. All for £6.90.
Examples of what you could order at lunch rate were Bibimbab, beef bulgogi/chicken/spicy pork with rice, big pot stew and Kimchi Fried Rice. I hadn't eaten Kimchi in quite a while so I thought I'd go for the Kimchi Fried Rice as my lunch for the day.
The starters were prepared very quickly and I just picked the dishes up from the counter along with my cup of hot green tea. The kitchen was nearby and open space so you could see the chefs and staff walk in and out as freely as they wanted without having to open or close the doors.
Here is what I ate for the starters.  The Banchan consisted of a portion of beansprouts, shredded carrots, sliced cucumber, onion and seaweed.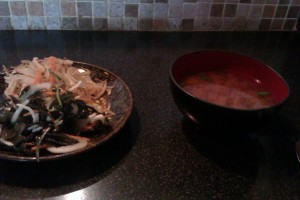 My Miso soup was rather clear. Not many spring onions inside and I did not spot any tofu cubes. The taste was fine though, just like any Miso soup really. I liked the beansprouts and seaweed for the side dishes. The beansprouts were crunchy and not too oily.
Kimchi Fried Rice arrived ten minutes later. The rice was steaming hot and I had to take it easy when eating. Plus the portion shocked me when I realised I could feel myself getting full up as time passed.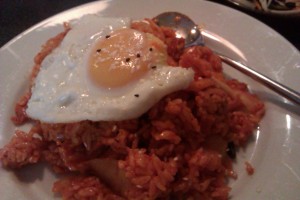 The Kimchi tasted rather strong at first but the fried egg that came with the rice proved useful as it made the Kimchi taste less salty and go very well with the various vegetables and meat. I'm not sure what meat was in my dish but it did remind me of Spam ham and it was really nice.
Overall:- Po Cha's lunch menu is definitely worth the money. My main meal felt like 2 bowls of rice and when you add the Miso soup to your drink order it makes you full very quickly. I did not expect the rice to be so much however it satisfied my hunger that afternoon.
Service was generally good and fast although I felt one of the waiters was rushing me to finish my drink so that another seat could be taken for any incoming customers wanting to eat (it wasn't that busy during this hour though). I'd say this restaurant has a similar number of seats as Assa and is of the same size overall. During the lunch hour there is no service charge added to your bill and I'm assuming it will be added if you choose to dine in the evening.