Alternate Listening Tuesday this week began with a little difference. UnitedKpop readers over at our facebook were given the opportunity to vote for the artist that would be featured here today. The artist you chose is one that, although all Korean, make music in English.
AZIATIX
AZIATIX are an Asian American R&B hip hop trio composed of Eddie Shin (Korean, born in Boston), Jay 'Flowsik' Pak (Korean, raised in New York) & Nicky Lee (born in Korea, raised in LA). The group were brought together by the well respected producer Jae Chong. Jae had been one of the original members of SOLID, the first R&B group in Korea, and after began producing for artists all over Asia such as BoA, Shin Seung Hun and Ryu Shi Won. He was the producer who helped bring together the collaboration between JYJ & Kanye West.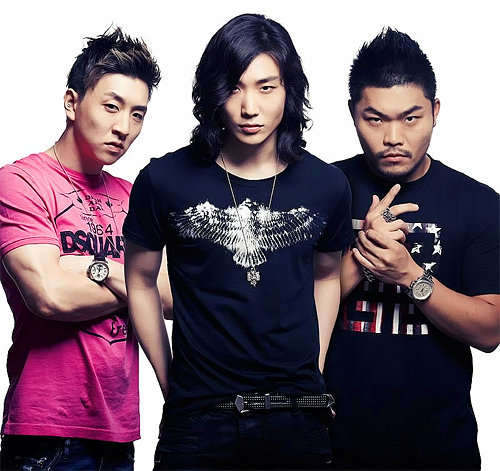 Left to right: Flowsik, Eddie, Nicky
AZIATIX have their biggest followings in Japan and the US, have name for themselves in Korea after their work with the numerous Korean artists.
Before AZIATIX Nicky was already an established R&B and soul vocalist with five solo albums released in the Taiwanese market, his music has been used in the OST for Jackie Chan & Jet Li movies, and his acting career includes the movie Mulan, and the Taiwanese drama So I'm Not Handsome.
Eddie has been singing & writing since he was a teenager. He released three singles between 05 & 09. He's also written & composed for artists such as Ivy, Wheesung and Soulstar. He co-wrote, produced & directed the song for the 2010 G20 summit in South Korea Let's Go that featured members of 2PM, SNSD, BEAST, and SHINee. More recently he's featured on G.Na's English version of Thing's I'd Like To Do With My Lover and has written with Shinhwa's Shin Hye Sung for The Return.
Flowsik is the member whose voice you might know the most. Apart from his work in the underground hip hop scene, appearing on & hosting MTV Korea, and collaborating with Ice-T, Flowsik has featured on a number of popular kpop albums. XIA's Tarantallegra features rap vocals from Flowsik, though he was not available for the mv so is not the face featured. Fellow JYJ member Jaejoong also features Flowsik on Kiss B. The just released Trouble Maker album also features the rapper on Hyuna's solo track I Like.
In February AZIATIX signed a deal with YMCMB for a reported $11.3 million, the label is a subsidiary of Universal Music Group and is owned by rapper Bryan 'Birdman' Williams and his brother Ronald 'Slim' Williams. Artists such as Lil Wayne, Drake, Nicki Minaj, Limp Bizkit and Kevin Rudolf are currently signed with them.
Their latest single is the first track to come from AZIATIX whist with YMCMB.
Baby Let's Go
Baby Let's Go is made in collaboration with Toyota USA as the soundtrack to their advertisement for the 2014 Corolla. Not only have the group made a music video but they have created an advert for US television and feature on the Toyota Corolla Ready website.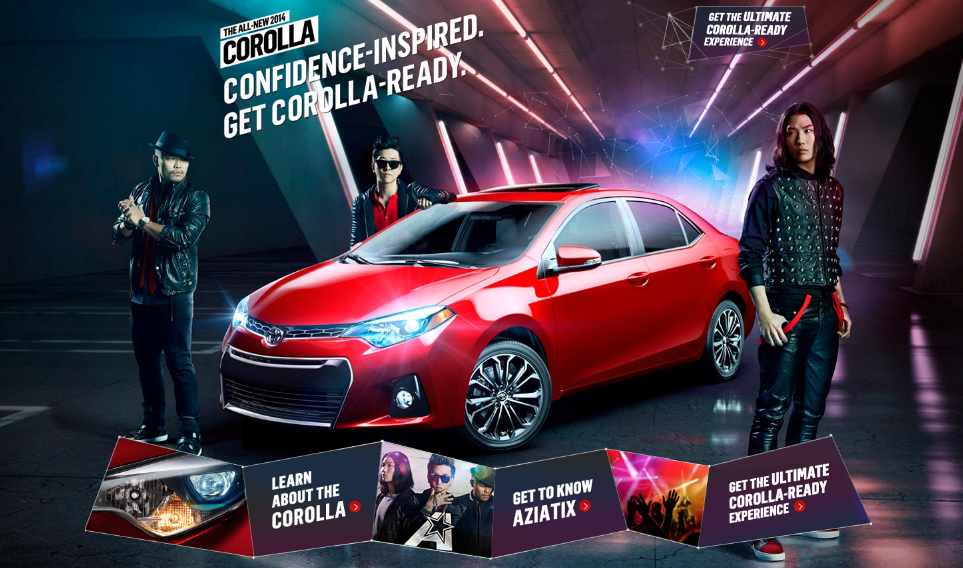 The ad
[youtube id="dnpXS3mwoac"]
The mv
[youtube id="7avMUhHOCR8″]
Concept
The mv captures the hip hop style of AZIATIX and blends it with an extension of a car advert. Exaggerating the social features of the cars smart 'Entune App Suite' and the bright and attractive LED headlights the mv transforms the members casual look into party ready style perfect for a parking garage party led by the stylish Corolla.
As the video nears its end the radio station in the car turns off and the parking garages lights flicker. The party ends. AZIATIX are alone and in their casual clothes again. As the lyrics say, the Corolla is the car that makes dreams come alive.
Where else can you find AZIATIX?
AZIATIX's last single Ready, Set, Go! was created for KBS2's promotion for the 2012 London Olympic Games to not only inspire the Olympic teams of South Korea but to send messages of hope and courage to anyone who heard it all around the world.
Fancy something a little less pop? They remixed Be With You into a 'rock mix'.
Want to hear Flowsik's hip hop influence at its fullest? A Game will give you that.