SMTOWN are holding a contest that will allow participants the chance to work at SM Entertainment in South Korea for around 3 months as an SNS Marketer! Get ready to get creative!
GUIDLINES
– Participants must be 18 or over.
– Korean speakers are preferred.
~~~~
1st Round: Creating SNS Contents
Creative contents related to S.M.ENTERTAINMENT and/or S.M. Artists that could be used for SNS Marketing.
2nd Round:   Planning SNS Marketing Strategy
SNS promotional plans and/or marketing ideas about S.M.ENTERTAINMENT and S.M.Artists using SNS for local and international promotion.
~~~~
PROCESS
1st Round: Selection of 1st Round winners after inspecting produced contents
2nd Round: Application of 2nd Round for 1st Round winners.  Selection of 2nd Round winners after inspecting submitted marketing ideas to have interview.
Awards: Announcement of final winners and awards presentation.
~~~~
FORM OF APPLICATIONS
1st Round: Making Contents for SNS.
– Format is not limited. However, videos should last less than 5 minutes.
– Upload freely the contents you made to your personal SNS such as Facebook, Twitter, YouTube, Blog, etc.
– After uploading it, input the URL of the post and the contents thumbnail to the application form and submit it to the following e-mail : globalsns_en@smtown.com
– Application Form: http://goo.gl/Zb8aVy
 2nd Round: SNS Marketing 
– Should be in MS-PowerPoint, less than 10 pages.
– Size: less than 20MB
* Any disadvantage incurred as a result of exceeding file size shall be applicant's responsibility.
<File name> Date of Birth_Name.ppt
ex) 911209_Minho Choi.ppt
You can apply from the 21st October 2013 and the application period closes 17th November 2013 !!
EXAMPLE OF APPLICATION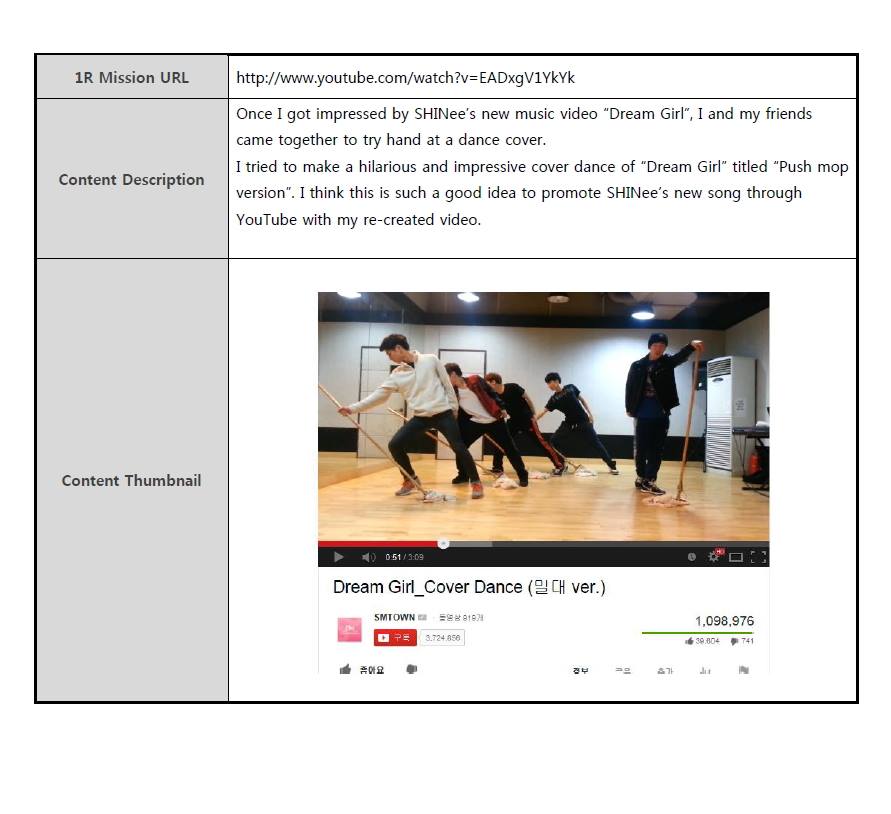 All this information, as well as a few other updates are available on the Contest's Official Facebook Page and join it if you are interested in taking part so you don't miss out on any future information!
[Source]