British actor Tom Hiddleston had recently finished an overseas visit to Sydney, Beijing and Seoul to promote upcoming film Thor: The Dark World. Arriving in Seoul and being greeted by a very enthusiastic crowd of Thor fans (or would that be Loki's Korean Army?), one couldn't help but wonder if he'd ever meet any Hallyu stars during his brief stay. Turns out he did.
Tiffany of girl group Girls'Generation was chosen to be his lucky tour guide for Seoul and to interview him on Mnet Wide Entertainment News. Tom also made a guest appearance on SNL Korea.
Here are some updates from SNSD, SM and Tom's social network sites. All credit goes to their original sources as shown on the watermark.

I met the lovely Tiffany from Girls' Generation yesterday & she showed me around Seoul. #LokiInKorea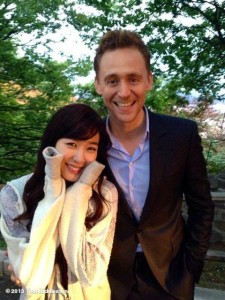 Tiffany with Tom Hiddleston!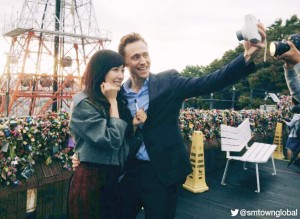 Girls' Generation Tiffany with Tom Hiddleston ('Loki' in the film "Thor")! Meet their story on "Mnet Wide Entertainment News" on October 18th.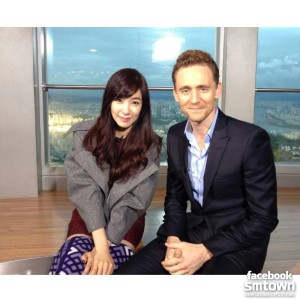 The full interview from Mnet Wide Entertainment News can be seen below.  On a day out in Seoul, Tiffany has a chat with Tom about his acting career, what he thinks of Korea and even shows him a famous fan-made video compiling all his laughs (if you're a Tom fan you may have seen it before).
[youtube id="http://www.youtube.com/watch?v=KSmklk4xzf4″]
Bumped into an old friend at SNL Korea. *with comedian Kim Min Kyo as Thor*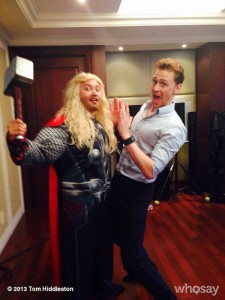 Here is his little sketch on SNL Korea. Yes the Ahjumma really did do that. You're not seeing things.
edit Here's another version of the sketch along with English subtitles to translate the Korean dialogue:-
[youtube id="http://www.youtube.com/watch?v=491X6NWtWT4″]
Other video clips of interest
Tom Hiddleston sending the Korean fans a message from Loki, followed by a clip of him dancing which was in response to a question about his feet. He also sings a Michael Jackson song.
[youtube id="http://www.youtube.com/watch?v=hf5kOiPtDI4″]
Dancing crazily in front of the huge crowd.  Enjoy.
[youtube id="http://www.youtube.com/watch?v=E8l6uA0-nO8″]
Singing a bit of Man In The Mirror
[youtube id="http://www.youtube.com/watch?v=gpr9pufncpc"]