After what must seem like an eternity to British BBCs, Block B has finally had their comeback since traversing even more difficulties. After not receiving payment from their previous agency Stardom Entertainment, the members filed a lawsuit against them. This obviously meant that their activities as a group were put on hold for the foreseeable future. The boys actually lost the lawsuit, but fortunately they were able to negotiate things and transfer over to a new company – Seven Seasons. Even though many of the members were still working separately on their own projects, there are clearly many people incredibly happy to see them working as a group again. They have since released two songs, 'Be the Light' and 'Very Good'. In this review we are focusing on the latter single.
Concept
The concept for this song is definitely crazy. It's sort of like hip-hop/pop on steroids. Block B have always been very energetic and explosive, they have a certain bravado that would potentially put many people off. However, surely this perception would change once it is realised how silly and playful they can be. Every time they give a section of serious machismo and build themselves up, they proceed to serve up a slice of humour that knocks themselves back down.
This song's music video involves the guys robbing a big bank whilst wearing freaky clown masks  – rather similar to the opening scenes of 'The Dark Knight' film, right? The chaos is unleashed as they start blowing up safes, battling security and trying to infiltrate the building in any way they can. As you can imagine, they do this whilst clad in some pretty crazy and high-class fashion. The many sets used are expensive and glossy, often in plain whites and blacks so as to accentuate the members' performance in the foreground. Everything is big and bold, with a ton of sparkly bling to boot, but you can definitely see a theme here – a slick criminal operation with influences of Hollywood cinema and the most crazy facets of the K-Pop genre.
A few parts of the video were so random that I felt they clashed with the concept though, such as the boxing with a scantily-clad and buxom female security and Kyung's head being served on a silver platter at an arbitrary dining room scene, however this all could be said to add to the excitement of the video. Overall it is a very fun and adventurous idea, which is easily pulled off by the brave and often slightly unhinged-looking Block B.
UK Potential 4/5
Choreography
The dancing in this video is very bouncy and full of big, sweeping movements which correspond with the energy of the entire single and concept. Parts of the dance are quite silly and reminiscent of Dick Van Dyke's moves in the 'Mary Poppins' film. I can imagine this bringing a lot of enjoyment for fans (it certainly does to me) and you may feel the urge to attempt the dance yourself. Having said this though, the dance seems the kind that could be quite strenuous on untrained muscles that are not used to dancing, so injury could be quite likely! The choreography is fun, but still requires quite a bit of skill to pull off properly. This is not unusual for K-Pop dances, but it is probably a dance you will either love or hate for its quirk.
UK Potential 3/5
Song
The song is loud and full of energy. It is a really pumping dance track that is quite infectious despite its sporadic progression. The English hook-line: "I'm very very good-"is perfectly pronounced and succeeds in its aim to lodge itself into your brain. I think it is a song that is quite like Marmite, there will be some blaring it from their iPods or perhaps using it as a new way to answer the question: "How are you?" in order to amuse themselves, and there will be some that will recoil in horror and avoid all the coverage this song will get. There is a bit of vocal manipulation at a very high pitch in this song and it will not be something everyone's ears can stand. However, as usual, the rapping parts and vocals (that are not manipulated) are amazing, you can see the great amount of talent these guys have which is great. After all, it's all well and good to have the bling and the shock factor, but if you don't have skills to back it up, you probably won't last too long on this competitive scene.
UK Potential 3.5/5
Highlight – When U-Kwon is being all cool and calm in front of a scary security dog, but instantly turns into a coward when it is released and begins chasing him.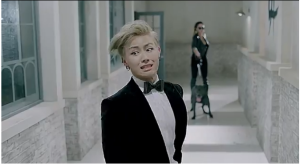 Overall UK Potential 10.5/15
This song is a great to dance to, it is slick and unusual, I'm sure a lot of UK listeners would really appreciate the creativity that has gone into its production. It is very cool and the fashion is adventurous in a way not dissimilar to what many Western female pop stars sport. I'm also sure that the vocal manipulation would not bother a lot of the British audience too much, considering what Nicki Minaj uses in a lot of her work that frequently tops the UK charts.
However, I am not sure if this single has too much K-Pop wackiness to sit well within the UK mainstream and it would be in danger of falling into the 'Gangnam Style' category of 'Those-crazy-Asians!' The average K-Pop fan that is a little more used to the genre might be able to focus on the talents of the members and locate the substance over the style, whereas people new to the K-Pop world might just be too taken aback to notice.
Haven't seen the music video yet? Take a look!
What do you think of this single?
Good or bad?
Are you looking forward to what else Block B will be coming out with next?