Today we'll be taking a look at 2NE1's breathtaking new track, Missing You.
Concept
The overall concept for Missing You, of loss and missing someone, is pretty obvious from the moment the MV begins, as the first scene is a group shot that sees the girls dressed almost as if going to a funeral. There is no storyline in this MV but the first scene at the beginning with the car, where they're dressed in funeral-appropriate attire, sets the tone for the rest of the MV and gives us an idea of what to expect from the song.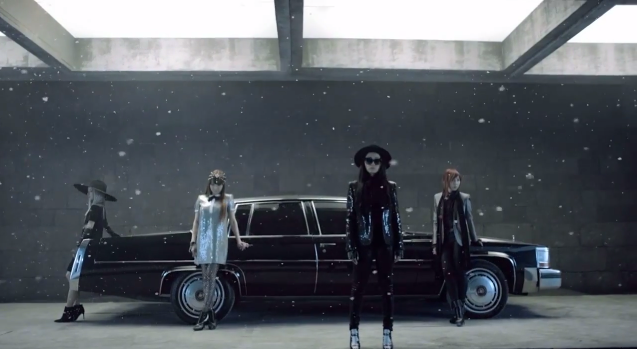 The entire MV is comprised mostly of solo shots of each of the members, with the occasional group shot, and each scene is beautiful and exquisite in its own right. The backgrounds of the scenes tend to be dark, muted and a little blurred while the colours of their clothes are vivid against the dull setting. You might think that the bright reds, blues and yellows of parts of their outfits should be out of place in such a sad concept, but it creates such a stark concept. It seemed almost to represent how loss can affect people, like how losing someone you love can make everything else fade into the background and they are all that is really on your mind.
The styling is still very 2NE1 even though this more sombre overall concept is a little different to their usual strong, fierce charisma, as it's slightly unconventional, and yet it's wonderfully done. The outfits are exquisite, and we see red leopard print jackets, yellow furry coats, vivid red whole outfits, unusual makeup, and even blue fluffy hair accessories. But we also see a more monochrome side to the styling at the beginning of the MV as they wear black and white clothing that looks funeral appropriate, with long black gloves, structured and tailored clothing, dark glasses and hats.
Like I mentioned earlier, a majority of the scenes are solo shots of the members, which shows scenes of things like a member playing chess alone, talking to a mirror, and even in some scenes it's snowing inside the rooms they're in. The surroundings are always minimally furnished, and it's like having the bare minimum to carry on with when you lose someone you love. Another notable part of the MV is CL's nude scene which was somewhat of a controversial topic before the MV was released. People seemed worried that it would be an unnecessary scene, but it was a beautiful and striking scene that fitted in well with the overall concept, as it seemed to be symbolic of how vulnerable loss can leave people feeling. It was tasteful and even though 2NE1 have never had something like that in an MV before, it worked well.
Overall, every scene in this MV is so beautiful and captivating that you just don't want to look away. I think this will appeal to many people as each scene is different to the one before it yet just as attention grabbing.
UK Potential: 5/5
Choreography
Considering this is a sentimental yet sad love song, the fact that there is no choreography makes complete sense. This isn't the kind of song that would suit any kind of choreography, so I'll be looking forwards to see what kind of stage they'll do for Missing You, as with previous slow songs they haven't really promoted them very much. I hope they promote Missing You for a full promotion cycle this time, and while I doubt there would be choreography in it, I'm sure the stage will still be strong and beautiful.
UK Potential: 5/5
Song
Missing You falls under a musical genre that 2NE1 haven't really tackled in the past, apart from It Hurts and Lonely, as it can best be described as an emotional ballad. This is relatively new for 2NE1 seeing as they are well known for their fierce and energetic tracks like I Am The Best, Falling In Love, and Can't Nobody.
This song contains beautiful voice layering and harmonising by the members which creates a sentimental dreamy sound, combined with the strong yet soothing vocals which makes sure this song leaves a lasting impression. The track itself switches between a piano melody and a minimalistic electro beat, which is unusual for such an emotionally charged song. It's unusual and yet it works so well, very unlike your typical ballad and even helps add to the hopeless, almost desolate feel the lyrics and vocals bring to the overall track.  Missing You also contains a really memorable, irresistible sort-of-hummed hook that begins the song, and it's definitely going to be one of the parts of the song that makes it really distinctive and unforgettable.
There are no particularly huge, long notes or showy vocals which makes the sadness and emotion seeping through their voices striking – it allows the emphasis to fall on what they're saying. Despite Dara having the least amount of lines, her sweet voice adds a lovely tone to the track, and no member really overpowers another. The sorrow of the track is truly palpable through the last line of the song, as Bom's voice is shaky and raw as she delivers the line. Missing You is the kind of song that is beautiful to hear, but sad at the same time.
Compared to some 2NE1 songs, Missing You doesn't actually contain much English, which I find to be a refreshing change. Don't get me wrong, I enjoy being able to sing along to English lyrics as much as the next fan, but it's nice sometimes to just be able to enjoy the Korean lyrics, and it's really not necessary to have more English lyrics to be able to understand what the message of this song is. They are singing about the end of a relationship that quite possibly ended on bad terms, and yet they can't help but want to still be with that person but are resigned to the fact that that will never happen. The sadness of the lyrics is obvious through their voices and people will be able to understand this song and identify with losing someone in their life despite not knowing the language. 2NE1 truly make music that transcends language barriers. The only English really used is CL's line 'I know, I've been there before', which as expected is pronounced fluently and naturally.
I think this track would definitely be able to hold a mass appeal to a British audience, because as a nation I think that we tend to hold a soft spot for ballads and sad songs. Not too long ago singers like Adele were topping the charts with their sad love songs which shows how popular that genre can be in this country, so I don't see why a song like Missing You wouldn't catch the attention of the UK audience too.
UK Potential: 5/5
Highlight: – It's so hard to choose one favourite thing, but the last line of the song where Bom sounds all choked up was absolutely beautiful. It actually brought a tear to my eye.
Overall UK Potential: 15/15 – This is the first track that I've ever given full marks with regard to how well I think it would do in the UK market, but I really do believe that Missing You would hold a very strong appeal to many people. Also, this track further emphasises 2NE1's diversity and skill range as we've seen them tackle reggae inspired tracks, dubstep, edgy pop and now ballads can well and truly be added to an impressive repertoire. The fashion is edgy yet feminine, the concept is striking and pretty, and the song itself is exquisite. I fail to see how this wouldn't hold some kind of appeal to people in the UK.
I'm sure some people might not agree with my review, do you? Have you seen the MV yet? Be sure to check it out below…you won't regret it!