This week's ALT returns to Amoeba Culture, as we take a look at a group that have won one of the MelOn Top 10 Artist Awards and the MAMA Best Rap Performance award. 
Dynamic Duo
Dynamic Duo are, as the name suggests, a duo formed of Choiza (Choi Jae Ho) and Gaeko (Kim Yoon Sung).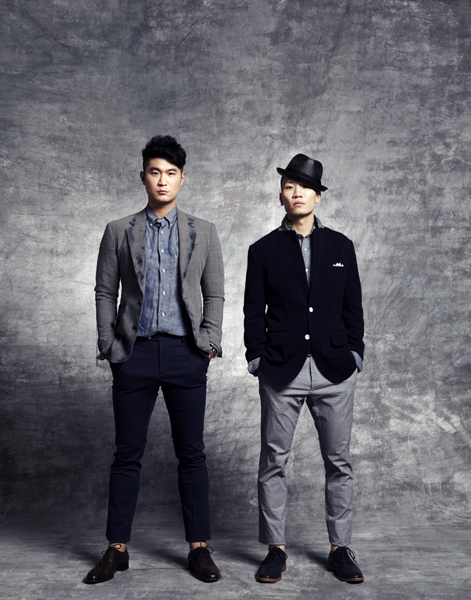 Dynamic Duo: Choiza & Gaeko
Friends since sixth grade the pair were half of KOD and two thirds of CB MASS from 1999 until they formed Dynamic Duo in 2003. It was with Dynamic Duo they captured attention with lyrics that represent the youth & a unique flow of music. Dynamic Duo's debut album Taxi Driver at the time became the best selling hip hop album in South Korea.
During their time in CB MASS the duo met Ko Kyung Min who would go on to found their current hip hop label Amoeba Culture with them, Ko Kyung Min is currently AC's CEO. Amoeba Culture is home to Primary, Zion.T, Planet Shiver, Yankie, Rhythm Power, Crush, and Simon D.
In August Dynamic Duo released their seventh full length album Lucky Numbers, with it's lead track BAAAM.
BAAAM
BAAAM was, dare I say it, the Korean hip hop equivalent of those summer smash tracks that you just can't get out of your head. Think:
Even if you're not the biggest fan of Western pop music you'd probably know at least one of those tracks without having to click the link, they were everywhere over the summer.
BAAAM essentially has a similar formula, blending addictive beats, catchy English lyrics, and very clever Korean ones with strings and Muzie's vocoder.
Interestingly, Daft Punk mentioned above used a vocoder to produce the synthesised voice on their summer smash Get Lucky, their Random Access Memories album was one of the few western albums to soar straight into the usually Korean dominant Gaon Music Chart.
Though, as always, Double D never copy their American counterparts, these reminiscent elements may be why BAAAM was bound to be a hit from the start?
The MV
 [youtube id="cYxYHa2YrEI"]
The Lyrics
BAAAM is another story of a bad girl. This bad girl has lured him in and made him fall for her charm. She is really bad for him and it's frustrating to him because he cannot help but be attracted to her, she is in his heart.
The lyrics aren't as simple as that though. Dynamic Duo are known for their unique lyrics and always being on trend, and BAAAM is no different.
Clever lyrics include:
You're like the controversial character, Bat Girl / You torture my heart with a whip called hope / I'm a knight of darkness, put on the belt

It's so frustrating, my heart is like a chimney / You fly away like smoke

But why do you slide away like a snake? / Why have you coiled around my heart?
The Concept
Contrary to popular belief that 'Amoeba don't dance' BAAAM just wouldn't have been complete without dancers. The mv includes Monster Woo Fam, Korea's first, and leading, krump crew lead by Monster Woo. They even made a full dance version of the mv.
The mv also features another big name. As Dynamic Duo perform BAAAM for a crowd we discover that Infinite form some of their enthusiastic crowd, dancing along, jumping and cheering on the hip hop duo they play fanboys to. Double D and Infinite already have links, Gaeko features on Infinite H track I Can't.
The mv has a chic and sophisticated look, with its widescreen letterbox format, mixture of suits and hip hop style and its colourful lighting on a black setting.
Where else can you find Dynamic Duo?
Also from their seventh album Lucky Numbers the duo have released Three Dope Boyz featuring Amoeba Culture rising star Zion.T
Also a recent release is Hot Wings featuring Hyolin of Sistar
 Content may be similar to that featured on the bloggers personal website.
What do you think of this track and its mv? Did you love it or hate it, let us know!

Are there any kinds of genres you're interested in seeing from Korea or any niche artists or groups you're in love with that you really want us to feature on ALT? Leave us a comment and we'll definitely have a look! 
Monster Woo Fam