Blippo.com is a website that sells all manner of 'kawaii' products. As you can imagine, most of these items have Japanese origin, though many also derive from South Korea and other East Asian countries. The selection includes sweets, pencil cases, plushies, fashion and accessories, magazines, DIY decoration kits and more. All items have free worldwide shipping and you are able to pay for them through secure payment providers like PayPal, Visa and WorldPay.
Being a lover of both Japanese and South Korean culture and all things unique, cute and silly, I was instantly drawn to the site. Here is a small product and website review for any readers who might have similar loves.
ANIMAL BENTO BOX [BEAR VERSION]: £6.43
This is a pretty small bento box, but when you unpack it, two separate compartments are revealed. It also comes with a sturdy plastic spoon that has its own layer. The writing on the front reads "Enjoy your meal!" and there are four versions available. Bear, frog, panda and pig. As aforementioned, this box is not huge, but it would be perfect for a homemade sandwich/small portion of pasta with some extra snacks. If you make your own lunch for school/college/university/work this would be great to be able to slip into your bag. As there are two separate layers, you can have something quite sloppy underneath something dry and it won't mix.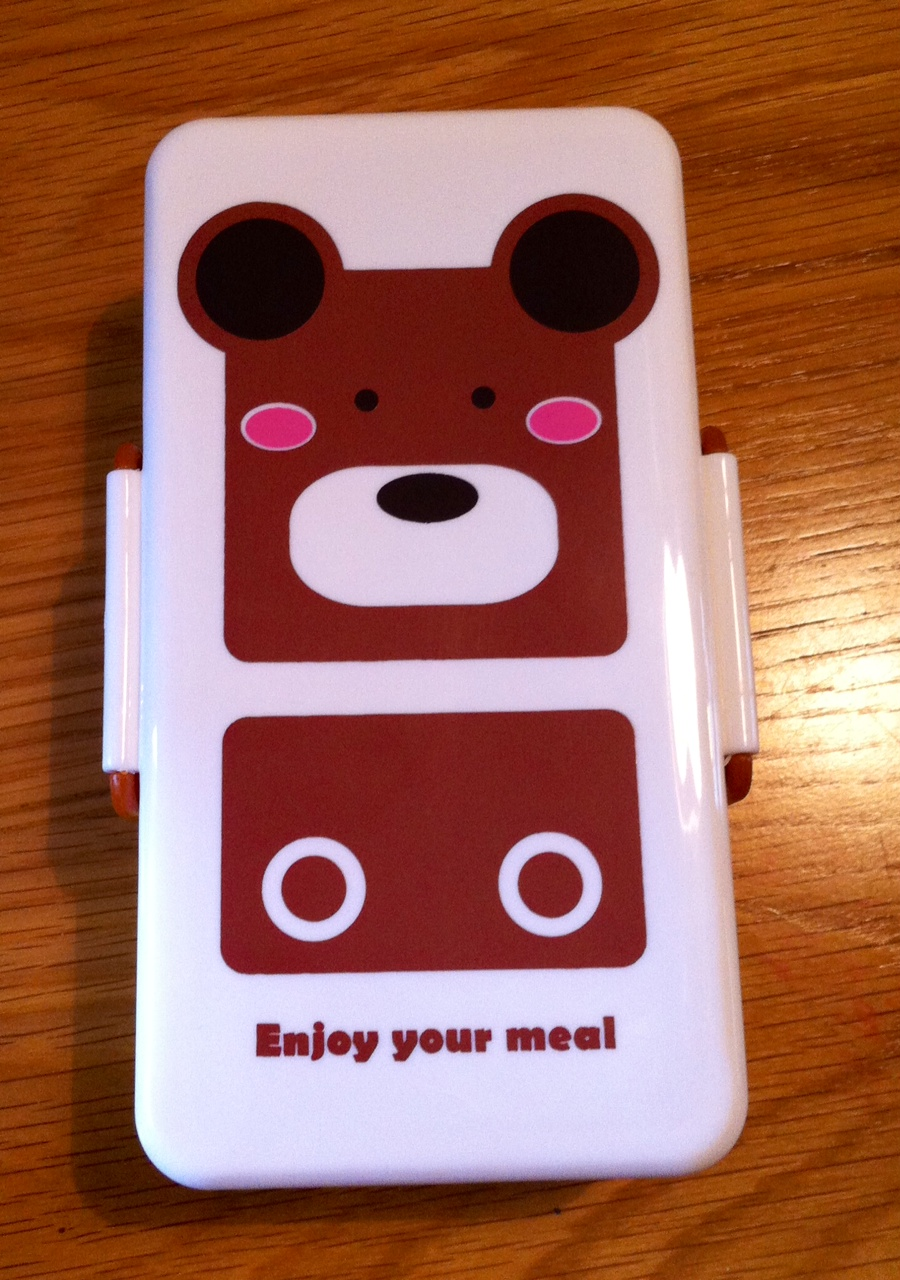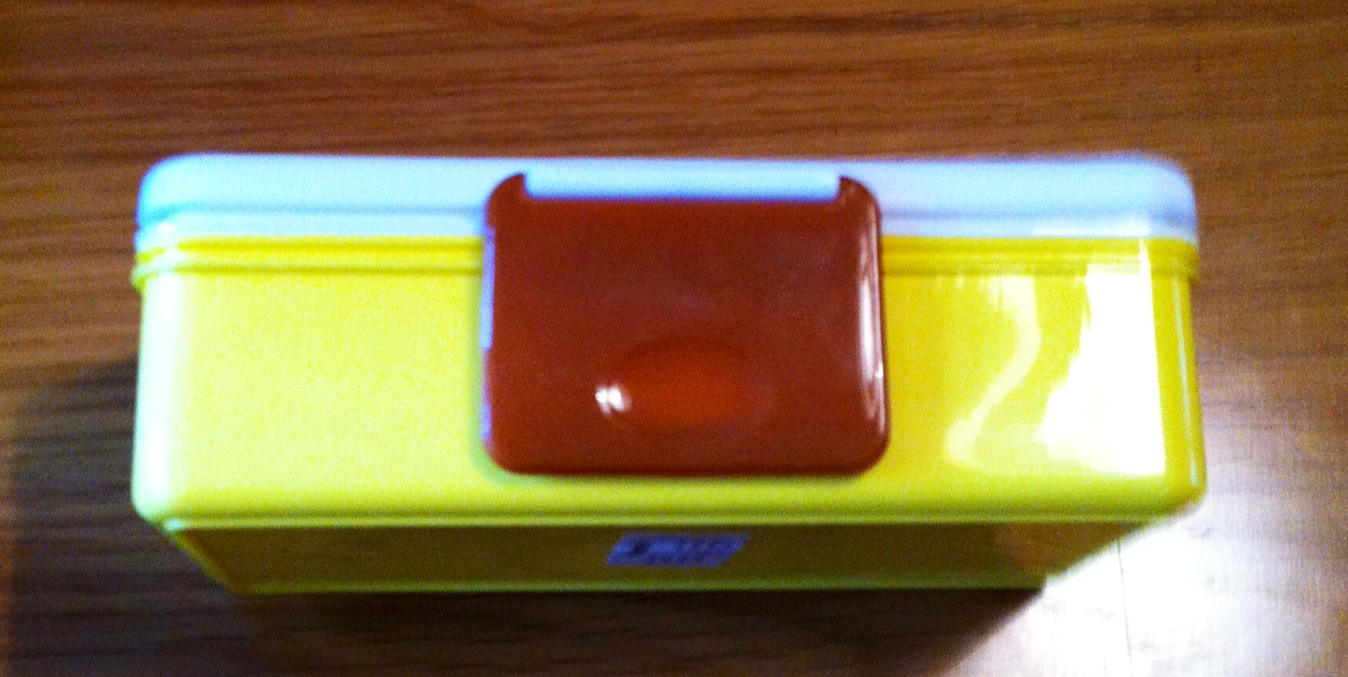 The quality of the box is very sturdy and seemingly quite durable. To be honest, I would have liked the lid clasps to be a little tougher as it doesn't deliver that satisfactory 'snap' when you shut them and you have to double check that it is closed properly. Aside from this though, it does the job and will probably serve as a nice talking point with your friends/colleagues!

RILAKKUMA NOTEBOOK [RELAX]: £2.36
This is only a thin and quite small notebook, with a card exterior. I would have liked it to be a hardback, but given the price, you can't complain. Each page is lined and decorated with Rilakkuma and his friends, the outer front and back pages are also entirely covered in decoration. There is a little box on the overleaf of the front cover for you to write your name etc. which is really sweet. (It does have a space for you to write your school and your timetable too, which may not be what everyone wants!)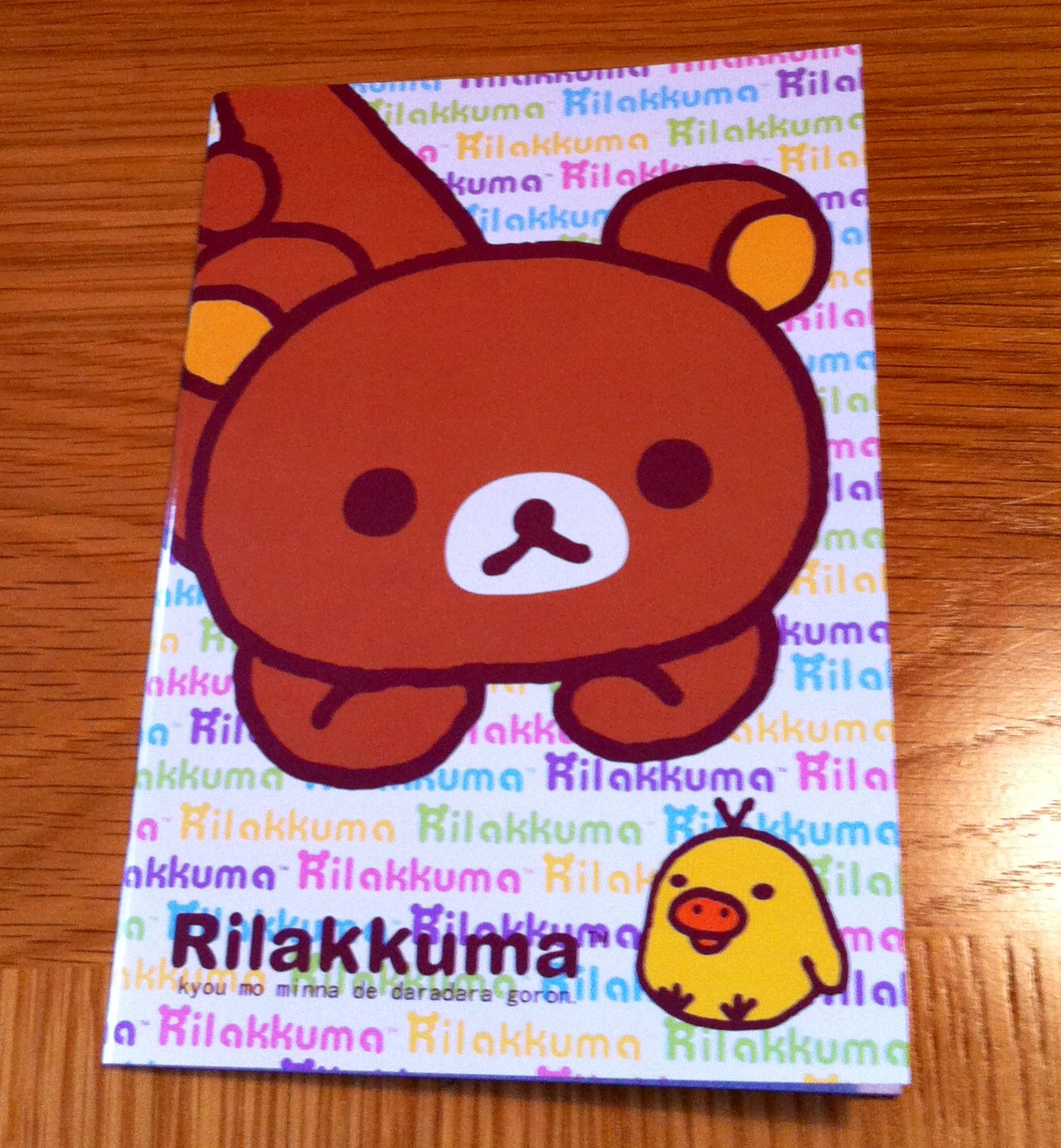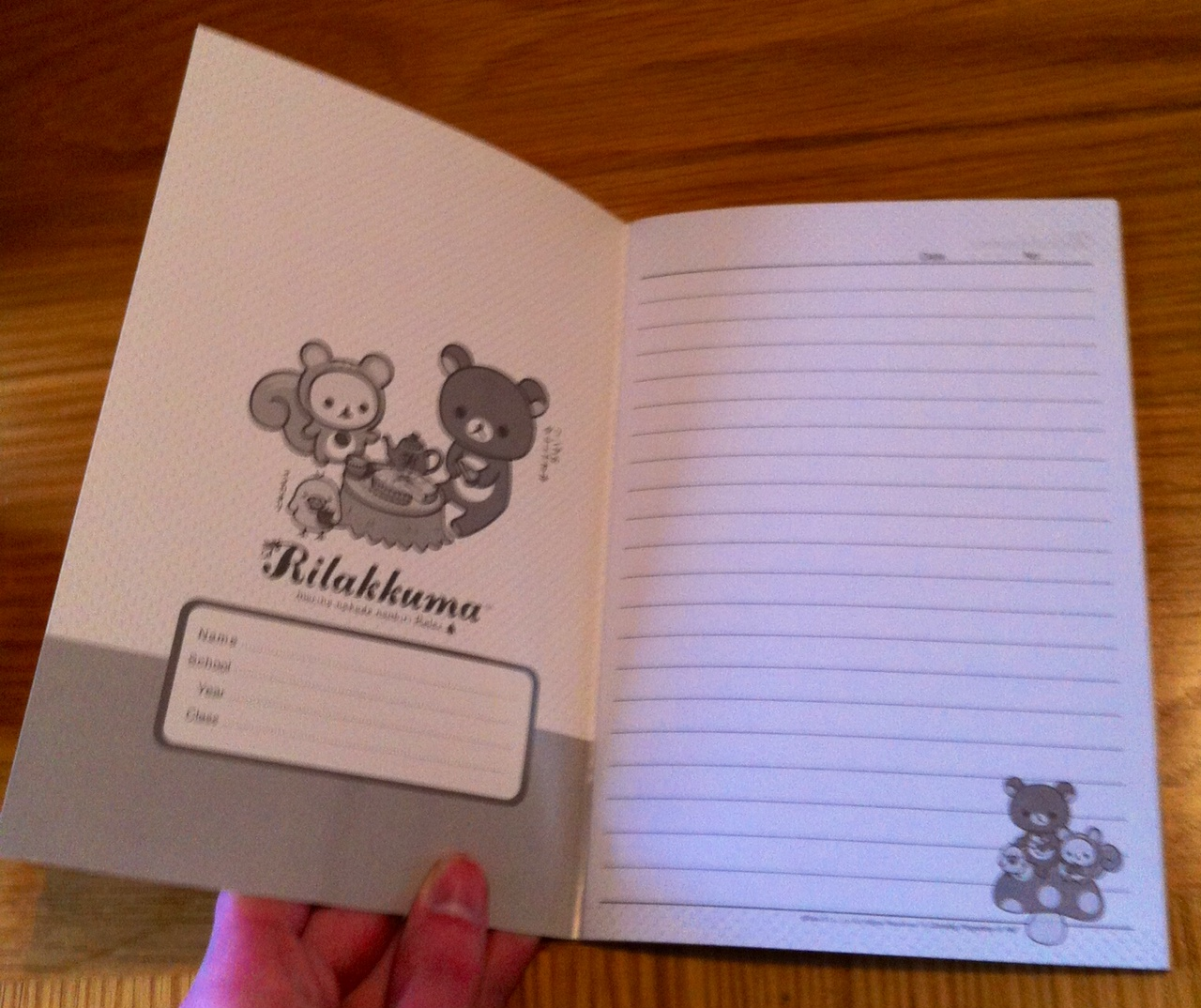 POCKY MIDI BISCUIT STICKS [GREEN TEA FLAVOUR]: £3.99
In Japan, they are called 'Pocky', in South Korea, they are known as 'Pepero' and in the UK – 'Mikado'. All you need to know really is that they are thin biscuit sticks covered almost all over in chocolate (part is left uncovered to stop your fingers getting sticky while you eat).
These were green tea flavour, one that is very popular in Japan. I'm not going to sugar-coat it (or should I say – chocolate-coat it? Hehehe -ahem), but this flavour isn't for everyone. Personally, I think the green tea chocolate is very creamy and smooth, with a slightly fresh aftertaste. My father is a fan of more 'traditional' chocolate, however, and said they were "evil" when I made him try one.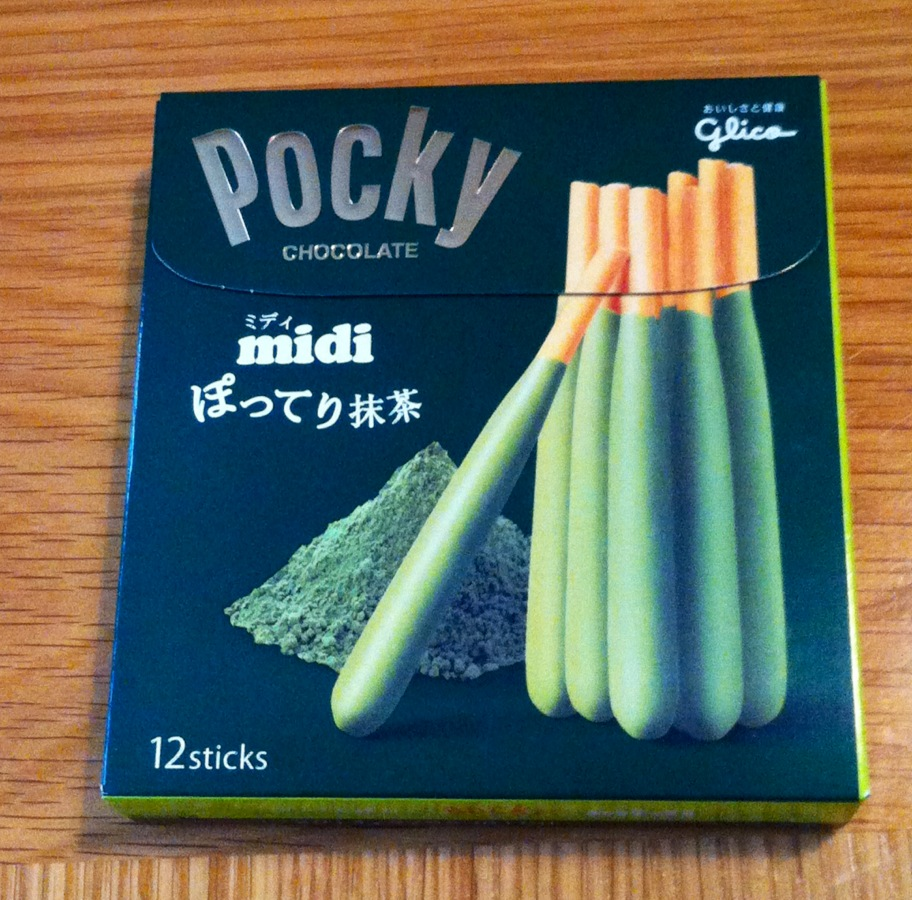 I would recommend everyone give them a go though, as it's definitely an interesting experience in any case!
These particular versions have a very thick chocolate layer too, which is always a plus in my book! The only complaint I have is that they were quite broken up inside the packet, despite the outer-packaging being on perfect condition. But these are obviously quite fragile snacks by nature and a little breakage doesn't affect the taste at all, of course.
JJOCO AND PIE PENCIL CASE [BLUE]: £3.17
Here we have some South Korean cartoon characters on a pencil case. To be honest, I was not previously familiar with them and nor did I really require a pencil case. However, I was simply sucked into the bright colours and cuteness.

The case is made of thick plastic. It is very thin and definitely not ideal if you have a lot of stationary to store. I only managed to get about three or four pens in there. You must also be careful of over-stuffing it as the hinges pop apart easily. Luckily, this was fixable with no permanent damage occurring.

So, for a pencil case, it is not too practical, but if you only have a few pens to store – it does the job. It is also extremely cute, sweet and has a satisfying 'click' shut sound (you can tell that I like that sort of thing, right?)
NANAL KOREA 'POP-UP' CARD [HEART]: £1.55
Another item from South Korea here. I had a thank you note to send and I thought this would be something different. As you can see from the images, it is a little 'pop-up' card. There are many versions available, all with a cheerful message. I couldn't actually find one which I liked that said 'thank you' though, so I went for one that said 'Have a nice day' on the front and 'Good' as the pop-up message.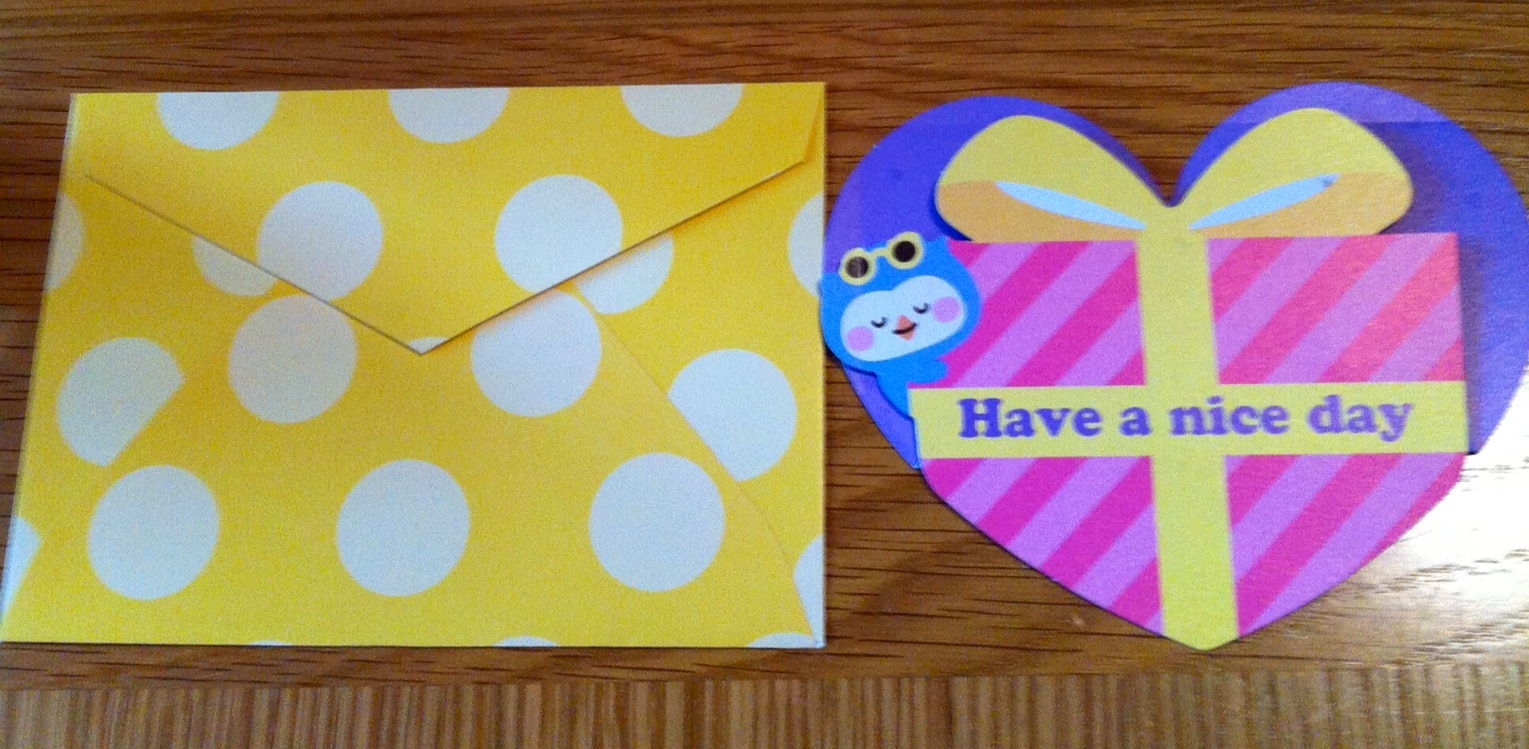 I found this so funny, it is probably a classic case of 'Engrish' and I had to explain it to the person I was sending it to in an accompanying letter as she would probably be unfamiliar with the concept.

The quality of both the note and envelope is very good and will please any stationary-ophile. There is only a little space to write a message inside, but you can still squeeze in a small note below the pop-up letters.
Despite the interesting use of English, I think this is a really interesting and unique note to send people. It is very cute and will undoubtedly bring a smile to the receiver's face.
—
A little extra, unexpected gift was this Blippo keyring. It's a little random, talking about a Shibuya Dance Crew. I always think of these ploys for extra advertising on the customer's part a little cheeky. Having said that though, I will probably still have it on my keys soon enough! 😛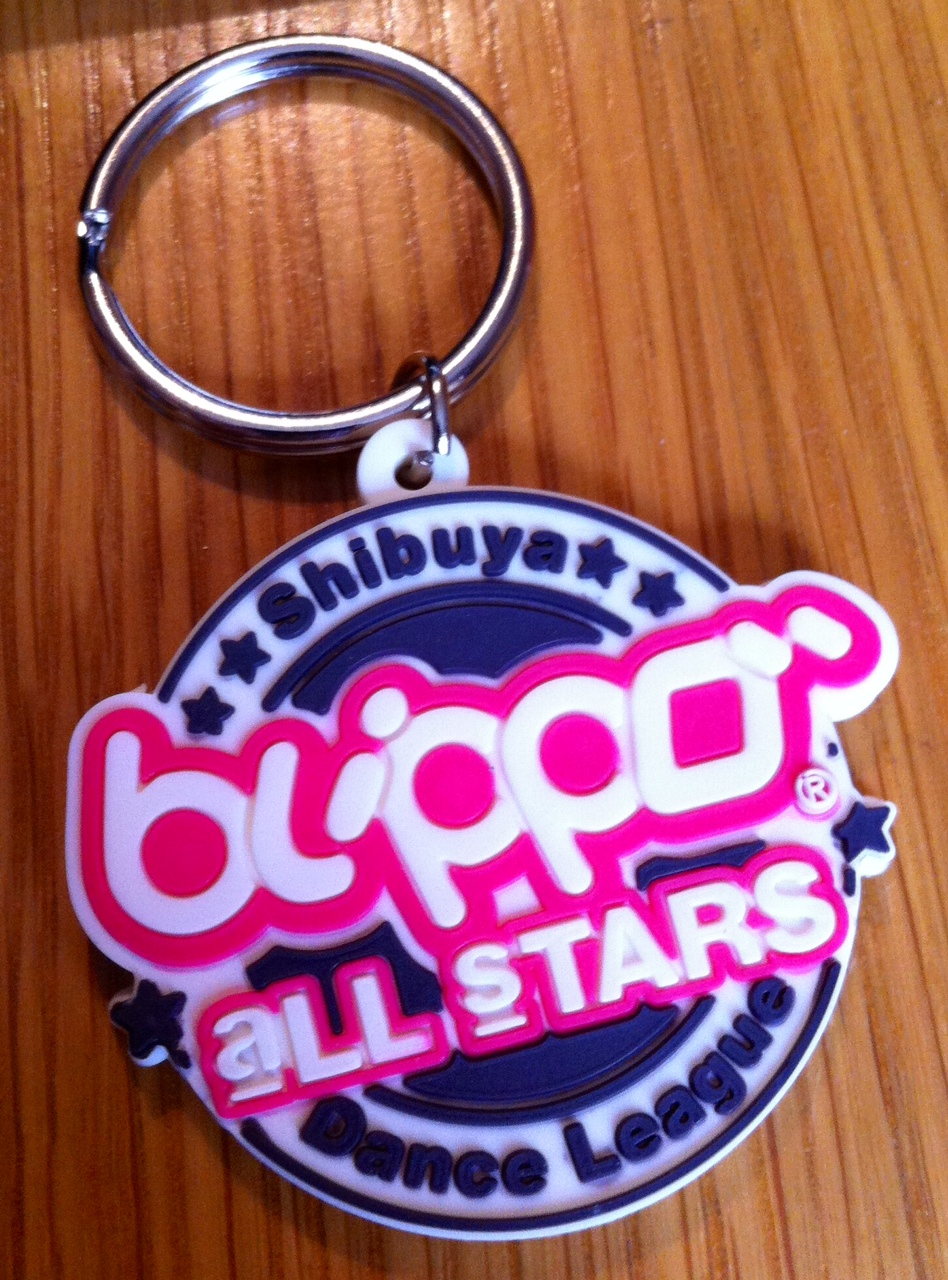 OVERALL
Blippo.com is a great site of you want to give someone (or yourself) a cute and unusual gift. I have really only scratched the surface of what they offer here. There are so many cheap DIY bits you could use even as part of a homemade gift like a scrapbook or card. Let alone magazines and various Japanese and South Korean characters' merchandise.
Everything is at a fairly affordable price too, and with free shipping, there is less danger of that nasty surprise when you reach the checkout! It is very important to bear in mind though that the shipping is fairly long. It took around a month for me to receive my order, which is no problem (especially considering that delivery is free), but if you are buying something as a gift for a certain occasion, be sure to order well in advance!
Interested? Check out the website here!
Have you shopped at blippo.com before?
Or are you planning to?
Let us know what you think in the comment section below!
[Images: Holly Smith].