Welcome to this week's Style Steal! The styles we're going to steal today will take us back a few weeks, as we're going to take a look at the style from AOA's new MV, Miniskirt! I've picked this concept because I found it really refreshing to have the kind of fashion in an MV that could translate over well into office wear, so those of us who work in an office can keep kpop-inspired style all day long.
As long as you don't start dancing on chairs like they do in the MV. Probs get you fired.
Without further ado, let's take a look at the outfits!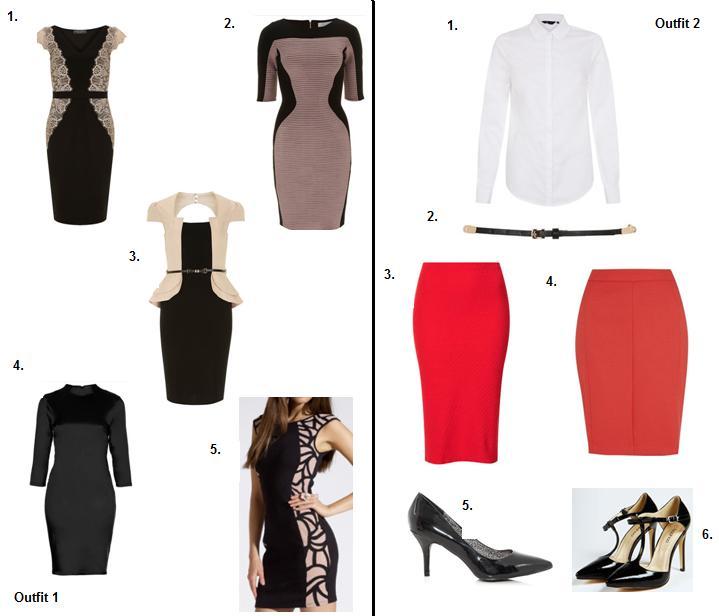 (Outfit information below) 
Outfit 1 is based on the black and tan mini dress that they unzip slightly in the choreography. As the outfit is in the MV, it might be a little inappropriate to wear to work, so to make it more professional choose a slightly more structured garment as opposed to just bodycon, and also try to lower the hemline. Match a dress like this plain black heels, and you're good to go!
Tall Black Neoprene Dress – Dorothy Perkins (£35.00)
Pale Pink Wide Rib Dress – Dorothy Perkins (£45.00)
Cream + Black Peplum Dress – Dorothy Perkins (£50.00)
Satin Funnel Neck Dress – TopShop (now £45.00 on sale)
Lipsy Side Cornelli Bodycon Dress – Lipsy (£60.00)
Outfit 2 is based on the more secretarial look of a classic white shirt and pencil skirt, but with a pop of vibrant red and a gold accented belt to give the oufit loads of personality and a more unique vibe. This look is guaranteed to turn heads!
White Long Sleeve Shirt – New Look (£17.99)
2 Part Stretch Belt – TopShop (£12.00)
Texture Midi Tube Skirt – TopShop (£20.00)
Dark Red Wavy Textured Pencil Skirt – New Look (£17.99)
Wide Fit Black Patent Pointed Court Shoes – New Look (£14.99)
Melissa Pointed Heel With Bow Trim – Boohoo.com (£25.00)
What do you guys think of the style in the Miniskirt MV? If you're an office worker, would you wear these kinds of things to work? Let us know!
Until next time!