Back at the end of last year, JYJ's Jaejoong released an MV for his emotional song 'Just Another Girl'. This song is part of his first solo album entitled 'WWW (Who When Why)' released at around the same time. Arguably, the most prominent outfit of this music video is the beautiful deep red suit that Jaejoong is shown storming around in. Instead of this outfit though, we will be focusing on how to mimic the more casual looks shown in this music video.
Fans of Jaejoong will be aware that he has a very distinctive dress sense. He tends to favour black and white colours, but also clearly enjoys fashion that has flamboyant and flowing details. His style could perhaps be broadly described as 'rock and roll' in its nature, but Jaejoong is also very brave in that he embraces some quite feminine traits in his clothing.
If you are either unfamiliar with or cannot remember what Jaejoong is wearing in the MV, you can watch it below:
Jaejoong pairs his edgy clothes with some softer items like cardigans and hoodies. We can also see that the clothes he is wearing seem to reflect his mood. The comfortable jumpers are seen when he is with the girl he loves, the red suit when he is moving around angrily and feeling confused, and the black items and chunky boots when he is rocking out and singing about his pain.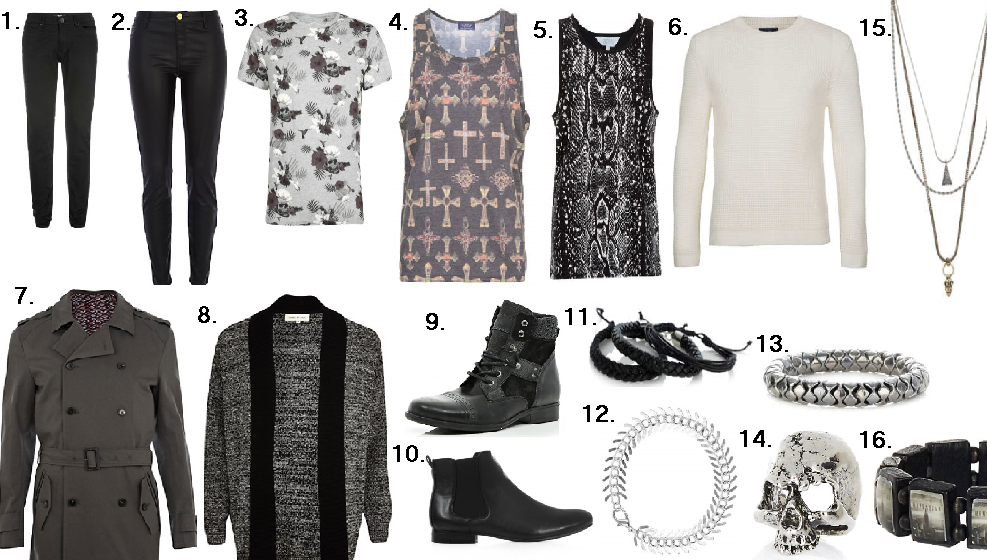 Men's Black Skinny Jeans – New Look: £17:99

Women's Black Leather-look Skinny Trousers – River Island: £35
Men's Grey Floral Skull Print T-Shirt – New Look: £5
Washed Black Crosses Vest – Topman: £18
SYSTVM 'Black Serpent' Vest – Topman: £30
White Waffle Jumper – Topman: £32
Men's Dark Grey Smart Mac Jacket – River Island: £70
Men's Black Textured Unfastened Cardigan – River Island: £20
Men's Black Contrast Panel Military Boots – River Island: £45
Men's Black Flat Heel Chelsea Boots – New Look: £29.99
Thread and Leather Bracelet [Three Pack] – Topman: £8

Fish Bone Bracelet – Topman: £5
Zig Zag Bracelet – Topman: £5
Silver Tone Lusardi Skull Ring – River Island: £12
 Three Row Charm Necklace – Topman: £15
Black Manhattan Tile Bracelet – River Island: £3
Some leather women's trousers have been included in the suggestions to show what other way the look could be taken for the girls; of course, black or leather leggings could work for this look too.
The main idea of this look is obviously the black/leather with silver jewellery, with some grey colours. knitwear or a mac jacket. It is the type of look that you could mix and match really easily and wear out to look casual and cool at the same time.
As you can see, Jaejoong is a big fan of his silver, chunky jewellery, so you are advised to go all out if you want to really emulate his style. Layer the bracelets and necklaces – go big or go home! Jaejoong is often seen wearing skulls or big, dangling pendants.
[N.B. Please look on the online stores of these high street shops if you are interested in the items suggested!]
What do you think of this look and this article?
Will you be trying it out for yourself?
Are you a fan of Jaejoong?
Let us know!
[Sources: New Look Website, River Island Website, Topman Website].