Another mouthful of a name this time guys…. I think it'll never end!
Hi again guys! It's time for yet another make-up review, and this time I'll be telling you a bit about this BB Cream I've been testing for a few months from Holika Holika.
Previously, I've always found Holika Holika to be a tad bit too….. well, 14-year-old looking for me. It's all glitzy and graphic and screaming colours everywhere on their products. However, after enjoying a few of their less extravagant stuff, I've decided to be a bit more open minded. I've just ordered a huge packet on Ebay where half of the products are Holika Holika – let's see how it goes!
Last winter I was loving the Roller Face BB cream. But I'm an experimenter by heart, and I rarely buy the same product twice. So this winter I was looking for something new yet again. My friend recommended me this one. A winter BB cream should to me, hold a heavier coverage than a summer one. It also needs a lot of moisture and should be able to stay natural looking throughout a day of temperature changes and extreme weather conditions. It's a lot to ask.
The Petit Aqua Jelly BB Cream (PAJ), comes in a jar, and has a small spatula to get it out and apply to your face. It's cute, but a bit of a problem when it's starting to run out. The Jar doesn't protect the cream from drying out as well as a tube, and it's difficult to reach the actual cream with the spatula when there's not much left.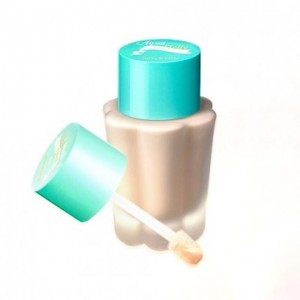 I usually find that a spatula or two, at the back of my hand, will reach plenty enough, and the coverage is fantastic. I use a clean brush to apply it, but working with your hands is just as good for this BB. The trick here, is to be quick to smear the cream out onto your face, as the consistency changes slightly when you apply it, and it melts into your skin after a while, making it more difficult to blend outwards and spread.
I did find that the PAJ BB works well during winter, as I often have trouble with acne and it covers everything. I did however, feel that while it's great for a short day out, a full day will make the BB slightly dry on my skin, and at times made my skin slightly patched.
All in all, the product is fine, but nothing compared to their previous Face 2 Change roller BB cream. I was slightly disappointed, but perhaps if you do not have much trouble with needing your skin to stay moisturised throughout the day, you will enjoy this product more. It's all about different skin types in the end!
Through and through, not a bad BB Cream. However, I doubt I will be getting this again. Too heavy for summer, and simply not smooth enough or long lasting enough on my skin for winter conditions.
User Ratings (

0

Votes)