As releases are still on hold today we take a look at a track by the group that graced the stage of the O2 Academy Brixton last night – B.A.P
B.A.P's mini album Badman contains three releases, Coffee Shop and Hurricane came first, but for MV Monday today we're focussing on the title track, one of their most controversial yet most impressive mvs: Badman.
Brain child of the Zanybros team, as all B.A.P mvs are, Badman is a large scale production in downtown Detroit, locations sometimes recognisable are those used to film 2007 blockbuster Transformers, such as Michigan Central Station.

The members are once again bringing back their strong unit of warriors image with this mv as they stand amongst the hundred extras in the visual.
The lyrics are by leader and main rapper Bang Yong Guk. He was inspired by how we often hear the same issues in society on the news but can forget them easily.
His lyrics tell of a world that fears and closes their eyes at what they don't want to see. The artist however is the bad and evil and will remind you of it, because it exists in the world and will always come back, no matter how much you try to escape.
They also have some vigilante justice themes with references to a war on crime, an eye for an eye, tooth for a tooth. Vigilante justice can often be something that incites a riot. It's also interesting to note that Yong Guk has been watching films like V for Vendetta recently, the story of a masked vigilante.
Simply bringing back B.A.P as the warriors of their established branding isn't all their is to this mv. Its setting, story, style, they all tell many deep stories.
So let's break this down.
Detroit. The location for the mv, out of context wouldn't tell you anything but, as we watch we can see just how fitting Detroit is to this concept.
According to Forbes Magazine Detroit is the most Dangerous city in the US.
They have the highest capita of violent crimes amongst the 25 largest US cities, with a crime rate of 5 per 1000 residents for violent crimes.
65 – 70 percent of all murders in Detroit are drug related, with unsolved murders being a massive 70 percent.
To say Detroit has a serious crime problem might be an understatement.
This links us back to the idea of the badman, never escaping him and always being reminded.
Detroit's physical state isn't exclusive to the downtown. Detroit is in urban decay at a major scale. There are 70,000 abandoned buildings, 31,000 abandoned homes, 90,000 abandoned lots. The city have trouble providing what the US call municipal services – basics such as sanitation, water, health care and emergency services. In 2010 the mayor proposed to bulldoze up to a quarter of the city and move smaller populations to denser areas to provide better response from their emergency services.
Even historical public buildings like the Michigan Central Station are abandoned, having been closed since 1988. It needs millions of dollars in reparations and the city perseveres to do so in an attempt to one day sell the large building to prospective buyers.
The physical state of Detroit gives it a dystopian feel, this strengthens the image of the badman and the message than you can't forget he is always there.
For the past thirteen years Detroit's population has been declining, dropping their ranking in the largest US city scale, but more importantly indicating a long-changing decline in the city's economic strength.
This year the state Governor Rick Snyder declared city finances were no longer of their own control, and in July Emergency Financial Adviser Kevyn Orr filed the largest municipal bankruptcy case in US history. The city has financial obligations to up to 100,000 creditors, with a value of approximately $18.5 billion.
Economic crisis leads to and doesn't help their urban decay and also in Detroit having the highest unemployment rate in the US.
Economy, unemployment, urban decay, all very different to violence and crime but they are all embodiments of societies 'bad men' that plague people every day, things they cannot hide from – and Detroit is one of the United States' best examples of that.
The extras. Race and it's relation to Detroit is very prominent to the mv.

A whopping 82.7 percent of the 2010 consensus for Detroit is recorded as being black / African American. With only a 1.1 percent minority being Asian.
This not only explains the higher percentage of African Americans, both rioters and police I must add are of all races – this isn't a black versus white war – but also goes in part to explaining the war paint Yong Guk is wearing.
He is the first member to have a close up in the mv, his face half black and half white. B.A.P never fight, they are just surrounded by the gangs of mixed races. Therefore Yong Guk represents everyone, every race, and both good and evil.
As the riot ensues another crime takes place in the mv. An exchange takes place and as one man walks away the other shoots him in the back.
Assumptions could be made based on Detroit crime knowledge and the visual of remote location, bag swap, and use of a gun to ensure both bags leave with one man, that this could be a drugs and money exchange – but the important thing is the crime in relation to the riot.
This crime is smaller, much easier to forget, this badman may walk away because the bigger and badder ones over shadow him this time. Another unsolved murder in Detroit – though fictional this time.
Also intertwined are glimpses of life, a couple kiss, men play basketball – they all continue with life – but always we return to the riot, the reminder of society's evils: economy; urban decay; violence; crime. Things we cannot escape.

A good concept. A great concept maybe. Though is it one that had been done almost exactly the same just over two months previous?
Jay-Z and Kanye West's No Church In The Wild featuring Frank Ocean and The-Dream poses that question.
Created by Romain Gavras in the Czech Republic we see many similar visuals.
The mv opens with a Molotov cocktail being thrown at the riot control police which starts the fighting.

Again we are presented with masked faces or rioters – focus on black rioters (some being the American artists) seems key though the Czech Republics population of Afro Europeans is an extremely small minority. I don't claim to know the genre and audience well enough but would assume this focus is based on these factors, as opposed to the location as it is in Badman.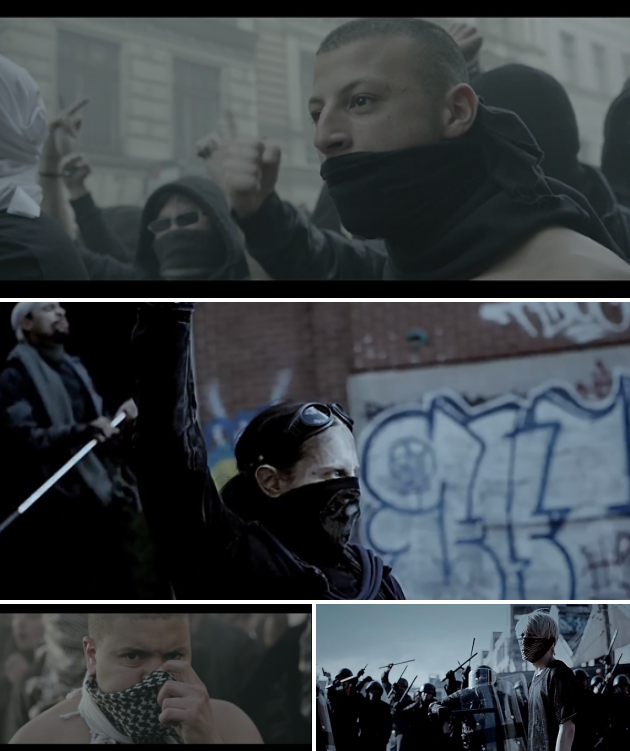 As in Badman we see the police force beat the civilians during the riot in their form of control.

The mvs, at the same time, have very different messages but both hold many parallels, including some in their themes. Especially that evil is trying to always overcome the forces of good. Which leads us to the ends of the mvs and how they differ most.
War wages on as Jay-Z and Kanye's track comes to an end but it doesn't in Badman. B.A.P remind you how fear is within you always with the lyrics
Look at you in fear
I'm a Badman
I will put you all away
Don't tell me any excuses in the end
leaving them surrounded by the reminder of the carnage and war that has occurred, but also this ending allows for what inspired Young Guk, the forgetting after the action until the issue is repeated.
This is a very strong mv from B.A.P that raises much discussion about its themes and influences.
I'd recommend any Korean music fan put this on their watch list as B.A.P and Zanybros have done a knock out job once again.
The content of this article may be similar to that appearing on the personal website of the writer

Do you like the Badman mv? Which of B.A.P's music videos is your favourite?