You may have seen that the female singer duo Davichi have recently been in Budapest filming for some of their latest MVs. This GTL will be based on their very emotional 'Cry Again' MV!
Here it is to remind yourself of the fashion:
It has been extremely cold in the UK recently, with snow hitting many of the northern parts of Britain and most other areas being covered in frost and blown by icy winds. This makes the styles featured in 'Cry Again' perfect for right now.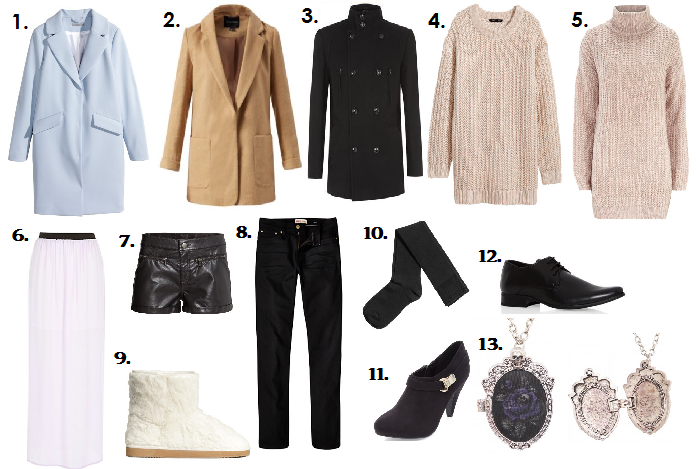 Women's Light Blue Coat – H&M: £49.99
Women's Stone Patch Pocket Coat – New Look: £33
Men's Black Wool Mix Military Coat – New Look: £59.99
Women's Light Beige Knitted Jumper – H&M: £19.99
Women's Cream Roll Neck Jumper – Dorothy Perkins: £20
Purple Soft Woven Maxi Skirt – River Island: £30
Women's Imitation Leather Shorts – H&M: £14.99
Men's Black Dylan Slim Jeans – River Island: £40
Women's Pile-lined Boots – H&M: £14.99
Black 2-Pack Over Knee Socks – H&M: £5.99
Women's Black Buckle Side Shoe Boots – New Look: £19.99
Men's Black Pointed Lace Up Shoes – New Look: £19.99
Restyle Deadly Rose Locket Brooch Necklace – attitudeclothing.co.uk: £11.99
The thick, woollen coats and knitted jumpers suggested here show that you don't have to give up your style just because you have to wrap up warm. The Davichi girls pair their jumpers with a long skirt/some black shorts, but these looks would work equally well with a pair of skinny jeans or some very thick tights.
Bit mean of me to include a locket, right?!
– Make sure you search for the suggested items in their respective online stores if you are interested in purchasing them for yourself! –
What do you think of this look?
Would you try it out for yourself?
[Sources: H&M UK, New Look, Dorothy Perkins, River Island, attitudeclothing.co.uk].