FIESTAR have recently made a comeback with the sexy and glamorous single 'You're Pitiful'. Here's our style suggestions inspired by the beautiful MV!

If you haven't seen the video yet, here it is!:
The look is very classy, yet it still oozes sex appeal with its use of reds, blacks and whites. There is also a lot of leather involved in this concept, which ramps up the sexiness even further!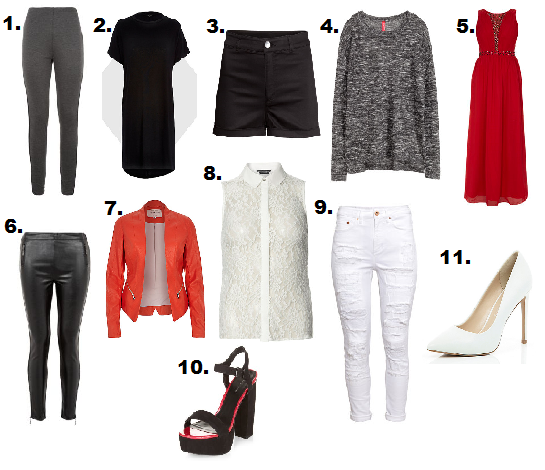 Grey Contrast Side Stripe Leggings – New Look: £7
Plain Black Short Sleeve Side Split Shirt – River Island: £20
Black Twill Shorts High Waist – H&M: £12.99
Black Marl Fine-knit Jumper – H&M: £7.99
Chi Chi Embellished Maxi Dress – Dorothy Perkins: £52.99
Black Contrast Leather-Look Front Leggings – New Look: £10
Red Leather-Look Fitted Jacket – River Island: £55
White Lace Sleeveless Shirt – Dorothy Perkins: £20
White Skinny High Ankle Jeans – H&M: £14.99
Black Chunky Ankle Strap Heels – New Look: £24.99
White Leather Point Court Shoes – River Island: £50
The look is quite saucy (How 'Carry On' do I sound?!) but there is actually not a lot of skin on show. This makes it a very approachable style, plus, one that won't expose you too much to the crisp spring weather! Still, it is advisable that you keep this style for the sunnier days, just to be safe.
You could also wear a pair of chunky boots or flat sandals with these outfits if heels are not your thing. Finish off the look with some gold accessories and you will have a very classy and statement style going – easy!
– As always, all suggested items are available on the respective online stores! –
[Sources: New Look Website, River Island Website, H&M UK Website, Dorothy Perkins Website].